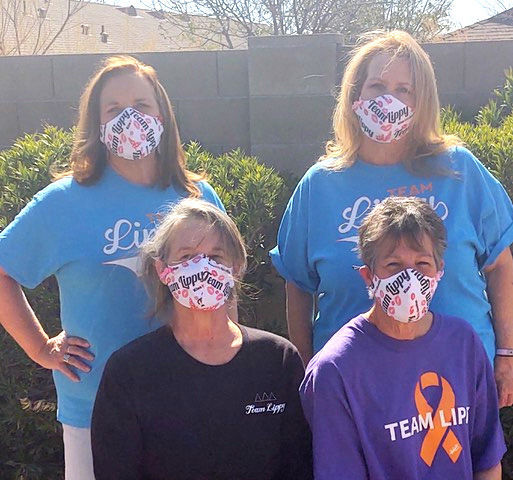 Cathy Lipsman and Team Lippy want to kiss Multiple Sclerosis goodbye.
For more than 10 years they have been marching forward to make that happen, and this year is no exception in spite of COVID-19.
Team Lippy — comprised of Lipsman's Tri Delta sorority sisters, former TUSD colleagues, childhood friends, family and neighbors — will come together with their signature style for the virtual Walk MS: Tucson on Saturday, March 6.
"Normally my sorority sisters and friends come from all over the country, and we have a cocktail party and a weekend of activities — kind of like a mini-reunion — and we do the walk at Reid Park. This year will be different. A handful of friends, family and sorority sisters will walk, possibly on the Pantano Loop, in our Team Lippy masks and shirts," said Lipsman, who was diagnosed with MS in 1996 after first experiencing symptoms about 15 years earlier.
The Iowa native, who moved to Tucson to study elementary education at the University of Arizona, initially noticed numbness in her face during her senior year.
"There weren't MRI machines then, so they did a spinal tap and other tests and ruled out certain things, but there was nothing definitive. … years later my parents were summering in Utah, and I had the same thing. I came back to Tucson for an MRI, and I was diagnosed with MS. I was so happy there was a name for it and I wasn't nuts," said Lipsman.
Lipsman's experience is not unusual; diagnosis can be difficult since MS differs from person to person, said Karen LaPolice Cummins, president of the Arizona Chapter of the National MS Society.
MS is a chronic autoimmune disease in which the body attacks the myelin sheaths surrounding nerves and impairs the normal functions of the central nervous system. Symptoms can include numbness and tingling in the limbs, mobility challenges, paralysis, loss of vision, fatigue, balance and coordination issues, and cognitive problems.
Prevalence of MS is three times higher among women than men, and an estimated 1 million Americans are living with the disease. Currently 21 disease-modifying drugs have been developed to treat MS; many are the result of more than $1 billion in research funded by the National MS Society and other partners. The organization also provides advocacy, education and resources for those impacted by the disease.
LaPolice Cummins said the pandemic has presented additional challenges for nearly 20,000 Arizonans living with MS.
"Traditionally we have 14 self-help groups across the state. We have had to change those to a virtual format via Zoom, and 11 have continued with that. We are covering Zoom costs to bring people together virtually and with some, technology can be a challenge depending on their skill set," she said.
One positive aspect is that the virtual format makes it easier for people in different communities to network.
"Some people are excited about attending a self-help group in Prescott when they live down in Tucson, and I am able to jump on calls in Yuma and other areas around the state that I might normally be unable to participate in since they are too far away," LaPolice Cummins said.
The Arizona Chapter has also pivoted to virtual workshops, conferences and other presentations in hopes of countering the social isolation resulting from COVID. Anyone with questions about MS can also contact the MS Navigator Program at 1-800-344-4867.
"We are always concerned about whether people are getting the resources they need and want to make sure people with MS have the connections that are so important to them," she said.
COVID-19 has been an additional cause of concern, since MS impacts the immune system, according to LaPolice Cummins.
"The No. 1 question for people living with MS and other chronic diseases is, 'How is COVID going to impact me if I get it, and should I get the vaccine?' There is lots of misinformation out there, and we want people to contact their qualified health-care professionals to find out what to do regarding the vaccine and their medications. Our website has lots of education and information about COVID even if you don't have MS," she said.
Lipsman has dealt with COVID-19 concerns firsthand. In spite of taking precautions, she contracted the virus in January after bringing her 91-year old mother home from an independent living facility.
"I knew my mother had COVID, but when I got sick, I didn't know if it was my MS, since sometimes I get flu-like symptoms. I was able to get a drive-by test and when that was positive, my sorority sister put me in the back seat of her car and took me for a monoclonal antibody treatment that really helped me," she said.
Lipsman said that she is still dealing with a lingering cough, and she looks forward to receiving her vaccine.
"My doctor said I can't get it until 90 days after I had COVID, so that is the end of April," she said.
In the meantime, Lipsman is happy to have raised nearly $5,000 this year for the upcoming walk.
"MS doesn't define me. I am going to do what I want until the disease progresses, but knock on wood, I have been stable.
"My advice to others is to get as much information as you can and not to let this diagnosis hold you back. Plan for the future and enjoy life, and don't hesitate to ask for help if you need it, because it is out there," Lipsman said.