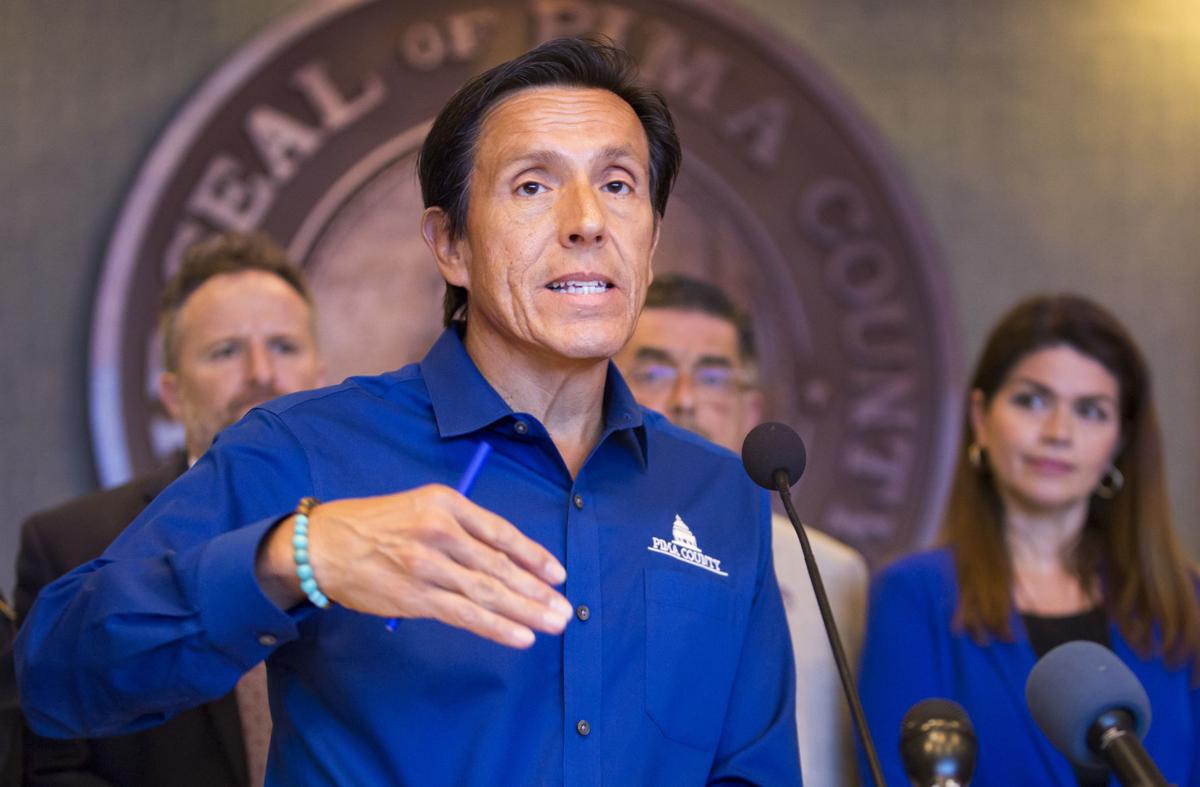 The number of COVID-19 cases among children 11 and younger not yet eligible to receive a vaccine is increasing locally, Pima County Chief Medical Officer Dr. Francisco Garcia said Tuesday.
Last week, cases in this age group increased by 340 in Pima County, Garcia said during a news conference.
When he checked Tuesday morning there were six pediatric patients reported to be in local hospitals because of COVID-19.
The county Health Department has identified 1,235 school-related cases since July, and Garcia said "the vast majority of them are in that age group of less than 12."
More than 4,000 people in school settings have been recommended to quarantine due to exposure, and 50 outbreaks were identified in county schools last week, he said.
The chief medical officer said the county's overall case count increased by 2,065 last week. For the 12 to 19 age group, 242 new cases were added, while the greatest growth occurred in 20- to 44-year-olds with 858 additional cases.
Garcia says there are several factors driving up school-based cases this year: the highly contagious delta variant, more kids returning to school in-person and the inability of schools to implement mitigation measures because of state restrictions.
When the back-to-school process commenced last year, "the schools had complete liberty to implement whatever mitigation strategies they wanted to," Garcia said. "That's really different from the reality that we're living now, which is many more children in the classroom, a very highly transmissible variant and a population of very vulnerable children, that is, children who are not vaccine age-eligible."
Overall, Garcia said the percentage of cases in schools with mask requirements tends to be lower.
"When we look at the number of cases, (schools with masking requirements) are the school districts that, right now, are having a lower infection rate," he said. "So we do believe that mask mandates in schools actually have an impact."
Hospitalizations may plateau
About 20% of the county's ICU beds are being used by COVID-19 patients, and Garcia said he's "not concerned about ICU bed capacity at this time."
"Other counties are experiencing way higher ICU utilization on the part of COVID patients," he said. "It's too early to sort of claim victory, and I'm certainly not doing that. But the overall trend looks like we may be starting to plateau at the very least."
On Tuesday, the CDC reported 63% of those 12 and older eligible to receive a vaccine have been fully vaccinated while 73% have received at least one dose. Garcia says this could be influencing the county's ability to handle COVID-19 hospitalizations.
"In general, our vaccination effort continues to track well, and I believe that we continue to be in good shape," he said. "I believe that is part of the reason why we are not seeing a greater impact in terms of our hospitalization numbers."
Error in state COVID numbers
Cases reported so far in August have more than doubled the number of cases reported in July, according to data from the Arizona Department of Health Services.
But the state health department reported an unusually low level of COVID-19 cases across the state Tuesday due to a data-processing issue. As a result, Wednesday's case counts will be "artificially high," the department's interim Director Don Herrington explained in a blog post.
"The unfortunate trend is that COVID-19 cases and deaths are up since mid-July. In addition, nearly all cases, hospitalizations, and deaths are occurring among those who aren't fully vaccinated," Herrington said.