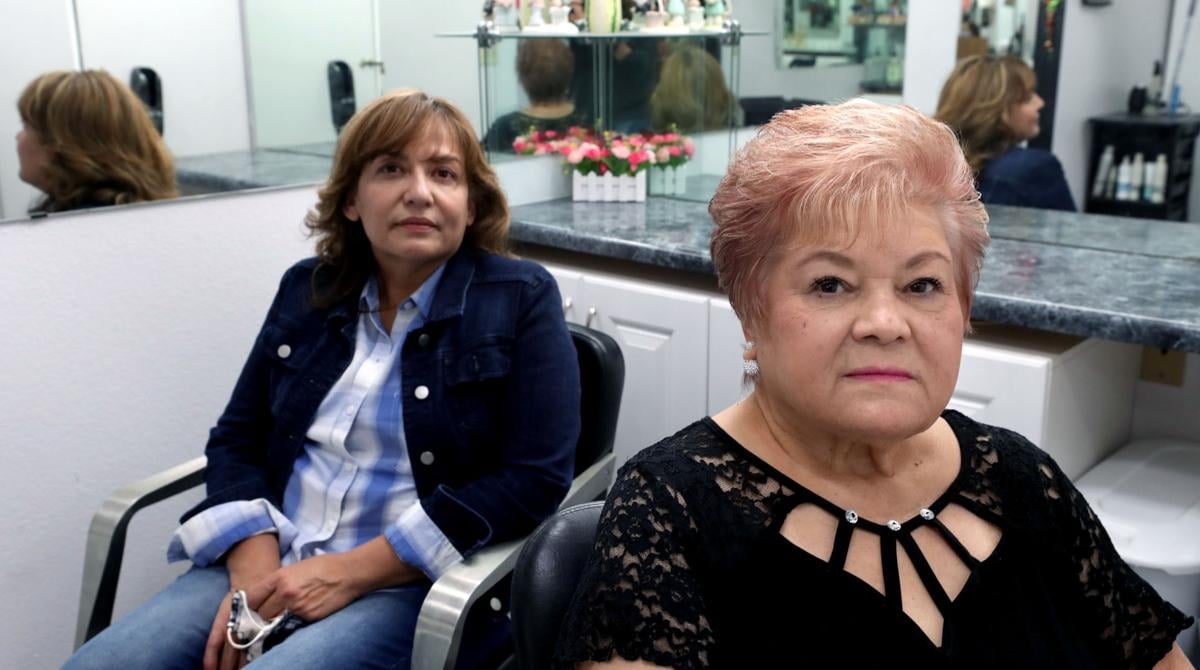 A Marana salon owner is working to restock supplies for a fledgling program in Nogales, Sonora, that teaches impoverished women a trade that helps them escape severe poverty.
One of the efforts for Project Promesa (Proyecto México Ecuatoriano al Servicio de los Abandonados) is to teach a small group of women a trade, like hair styling or sewing, so they can support themselves. After its first session last year, about a dozen women, many of them moms, entered the workforce.
This year's class was suspended because of the coronavirus pandemic, but its founder and volunteers were hopeful of starting fresh early in 2021.
Then the group's supplies and equipment stored in a former church building the group had renovated were stolen. Everything.
Kathy Frklich, who owns KC's Hair and More on the northeast corner of Ina and Shannon roads, was one of the teachers. Before the pandemic, she would go to Nogales on Mondays and stay through Wednesday each week to teach hair styling.
Having recently renovated her shop, Frklich took old furniture and equipment to the program's school. She worked with suppliers to get product donations. Her staff cleaned out their own work stations and donated items.
"When we started doing the classes, I bought all of the girls black shirts," Frklich said, wanting the students to look, and feel, professional.
Then Frklich noticed more than classroom training was needed.
"As I'm teaching, I'm hearing stomachs growling," she says.
So Frklich contacted a cousin who lives near the school and sent her shopping for lunch supplies. That cousin began cooking meals for the students on the three days of weekly classes. Frklich dipped into her own pocket for the lunches.
The women had to have 800 hours of training during the first session in 2019. Because of the time spent training, the students were given a stipend that began at $80 a month to help them feed themselves and their children.
When many of the students began bringing their children along because there was no one to watch them, Promesa enclosed and upgraded an area of the building to create a day care center, complete with a caregiver.
Founder Elena Parra says Project Promesa is a nonprofit group of mostly women who work to improve the lives of the poorest communities in Mexico as well as Ecuador. Its focus primarily is on helping women, many who are abused, abandoned and trying to raise children.
Promesa worked with a Nogales priest who offered the use of a run-down church for the training classes. Extensive renovation was required, before the doors opened for a class of six women to learn to be seamstresses and six more to learn hairstyling and related skills.
The first group of students were in desperate need. Many lived in makeshift shacks.
At the graduation ceremony for the first class, the sewing students wore clothes they'd made. Each graduate was given a package of all the tools needed to start their businesses, including sewing machines, fabric, hair dryers and curling irons.
The women who completed the training are all working.
Frklich's students have kept in touch. They send her updates and photos of their accomplishments.
Frklich said she expects to have a former student help teach the next session.
The second session began in January, but was suspended when the pandemic hit.
Promesa still sends money, food and other supplies to the families.
With classes shuttered, the tools and supplies were stored in the church.
Despite security bars on the windows, the group recently was told by the maintenance man that a hole was cut in the metal roof and that everything that could be carried was stolen. "They wiped us out," Frklich said.
Heaters, fans, sewing machines, hair dryers, curling irons, scissors and hair color tubes were among the items taken. Heavy and bulky items like styling station chairs, carts and large appliances were left behind. The thieves even stripped out the wiring from the building and cut off the cords from larger appliances, presumably for the copper.
Since the theft, Frklich has been buying new supplies, a little at a time.
Some generous co-workers and friends have been helping, but times are hard and donations are slower to come in than when the program launched.
Frklich said she hopes they will be able to continue with the second session beginning in February, depending on the situation with the virus. But nothing can happen until repairs are made to the building and supplies are restocked.
Installation of a security system is planned and someone will be sleeping in the building to help keep watch.
Meanwhile, the members of Promesa are gathering Christmas gifts for about 150 children who live around the Nogales school, Parra says.
Last year, Frklich said, many of the children requested blankets instead of toys. They each received one.