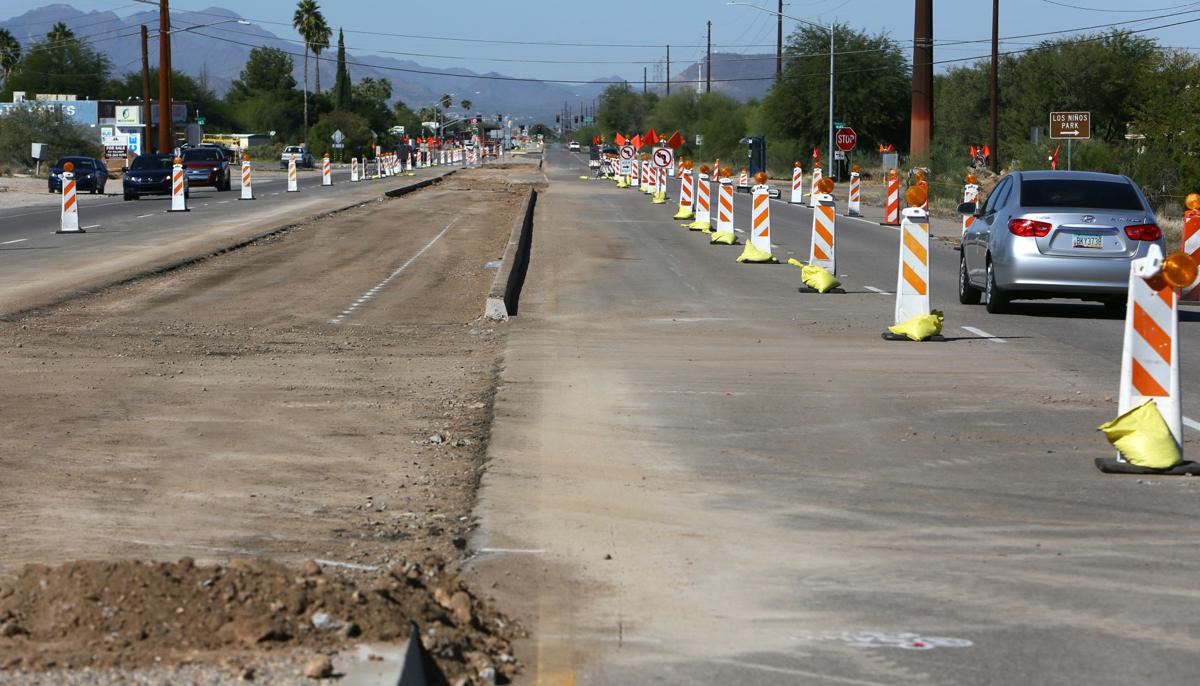 Five years after Tucson drivers were introduced to the "Michigan left," a traffic-control design intended to reduce crashes at intersections, work is underway to bring the design to Tucson's south side, and, further down the road, to two other locations.
Currently in place at Grant and Oracle roads and the Ina and Oracle intersection, the indirect left-turn design prevents motorists from immediately turning left at an intersection, instead forcing them to continue on to a specified U-turn area and then be sent back to make a right turn.
Now work is underway at Drexel Road and Benson Highway to build a Michigan left, said to help motorists with reduced travel times among other benefits, according to Jim DeGrood, deputy director with the Pima Association of Governments.
The new intersection improvements include a pedestrian signal across Benson Highway, sidewalks and accessible curb ramps.
Slated for a summer 2019 completion, the project will include a left-turn lane from northbound Benson to westbound Drexel, as well as an indirect left from southbound Benson to eastbound Drexel. It will provide an indirect left onto Benson for traffic on Drexel wishing to turn left onto Benson or continue straight on Drexel.
The Pima County Transportation Department says the design makes it easier for a range of vehicles to make a U-turn, as they are given a widened road to make the turn. A traffic signal in the area stops oncoming traffic to create a path to turn and merge.
According to a department fact sheet, a Michigan left lessens total crashes at intersections by 16 percent and injury crashes by 30 percent.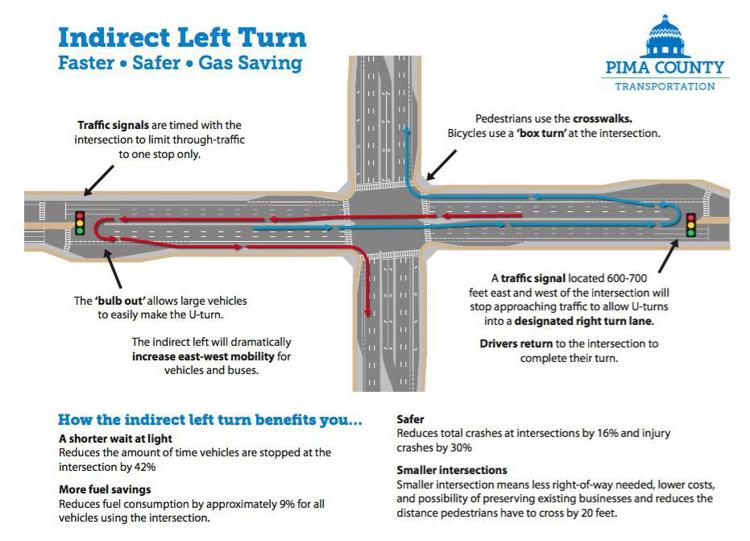 It also provides smaller intersections to reduce the distance pedestrians must travel to cross the road by at least 20 feet, the fact sheet says.
DeGrood said taking away the left turns "demonstrated reduced delays" through an intersection, which Pima County claims reduces the amount of time vehicles are idle by 42 percent. The design eliminates the need for a separate signal phase, which means more time for green lights.
The construction of the turn comes several years after the first sets were installed at Grant and Oracle roads and at Ina and Oracle in 2013. We'll soon see the turns installed at Stone and First avenues and at Valencia and Kolb roads, too.
DeGrood says if motorists don't immediately see the benefits of the design, "It's because they haven't returned yet," noting that normal traffic returns to an area around six months after a project's completion.
Integrated Bluetooth will be set up at the intersection to help researchers detail the differences in traffic after completion. But DeGrood says not to worry — officials won't be listening in on our Bluetooth-connected devices.
Officials expect a closure of Drexel Road, east of Earp Boulevard and west of Felix Boulevard, to last until March 4, 2019. Traffic will detour through the area during construction. The $1.03 million project is being paid for with 1997 Highway User Revenue Funds and the Federal Highway Administration.
Expect lane closures on Pinal Air Park Road , nW of Marana
Travel on the Pinal Air Park Road bridge over Interstate 10, which is northwest of Marana, will be restricted to all traffic starting Tuesday, Nov. 13.
Crews will be working on a bridge-rehabilitation project for the next four months. Traffic will be reduced to one lane from 7 p.m. to 5 a.m. Monday through Thursday. The road will be reduced to two lanes in each direction during off hours.
Marana and Red Rock roads will be used by motorists depending on the direction of travel. Ramps to and from eastbound I-10 will not be affected.
Westbound ramps at Exit 232 will be closed. Drivers will go to the Red Rock Road, Exit 226, re-enter and travel east to Pinal Air Park Road, Exit 232.
Input sought on Nogales bicycle/pedestrian master plan
Residents in Nogales, Ariz., are invited to a community open house on Wednesday, Nov. 14, to provide input about a Nogales bicycle and pedestrian master plan.
The Arizona Department of Transpiration is hosting the open house from 6 p.m. to 7:30 p.m. at the Nogales Public Works Conference Room, 1450 N. Hohokam Drive.
Contact Star reporter Shaq Davis at 573-4218 or sdavis@tucson.com. On Twitter: @ShaqDavis1