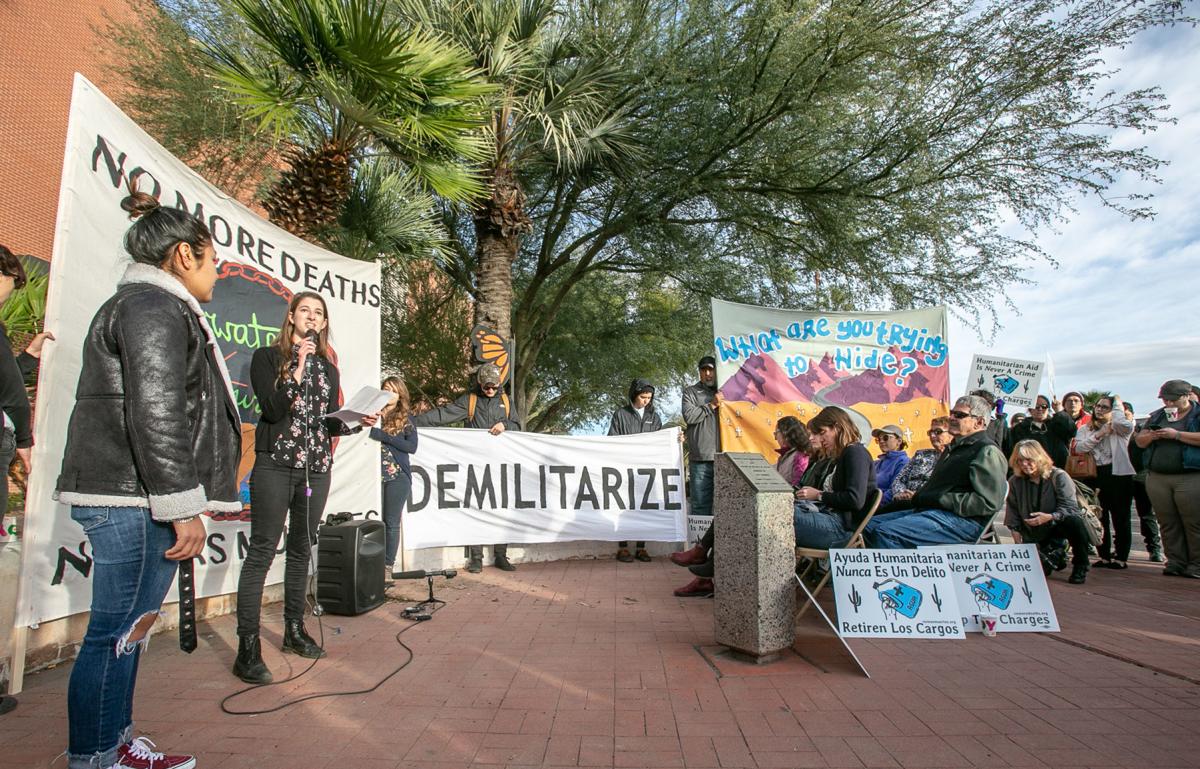 The first of several trials of humanitarian-aid volunteers ended with a guilty verdict Friday, as a federal judge in Tucson said four volunteers broke the law when they left food and water in a desolate border area.
The volunteers with Tucson-based No More Deaths left water jugs and cans of beans in an area west of Tucson where dozens of sets of human remains were recovered in recent years. The August 2017 trip to the Cabeza Prieta National Wildlife Refuge broke the law when the volunteers failed to obtain a permit, drove on prohibited roads and left food and water on the refuge, according to a verdict filed Friday in U.S. District Court.
After a trial this week, U.S. Magistrate Judge Bernardo P. Velasco found the volunteers guilty of all charges. They face up to six months in federal prison. A sentencing date has not been set.
Natalie Hoffman was convicted of operating a motor vehicle in a wilderness area. Hoffman and Oona Holcomb, Madeline Huse and Zaachila Orozco McCormick were convicted of entering a national wildlife refuge without a permit and abandoning property there. All of the charges are misdemeanors.
"This verdict challenges not only No More Deaths volunteers, but people of conscience throughout the country," Catherine Gaffney, a long-time volunteer with the group, said in a statement issued after the verdict. "If giving water to someone dying of thirst is illegal, what humanity is left in the law of this country?"
The Cabeza Prieta refuge is a desolate area of 860,000 acres that stretches north from the U.S.-Mexico border. Records from the Pima County Office of the Medical Examiner show 43 sets of human remains were recovered on the refuge since the start of 2017.
In their defense, the volunteers argued they were exercising sincerely held religious beliefs to help those in need.
While living in Seattle, Orozco McCormick, 21, learned about No More Deaths and described its efforts as "a cause that I found was very just and very necessary." She testified Thursday she saw the need to help by "giving the dead the respect they deserve."
Huse, 23, of Bellingham, Washington, testified that during one month in the Ajo area, they found more than a dozen sets of human remains. "It was traumatizing to see the tragedy out there," she said.
The volunteers said the reason they did not obtain a permit, as volunteers with the group had done in the past, was because a change in permit rules weeks earlier prohibited leaving food and water. Rather than sign a permit they had no intention of adhering to, they decided not to get one.
Velasco noted in his verdict that the refuge is "littered with unexploded military ordinance, the detritus of illegal entry into the United States, and the on-road and off-road vehicular traffic of the U.S. Border Patrol efforts to apprehend illegal entrants/undocumented immigrants."
"None of the above obtain access permits from the Department of the Interior," Velasco wrote. "There is, however, a federal law that requires people who access Cabeza Prieta to obtain a permit authorizing entry.
"The permit requires the applicant to remain on designated roads, not travel on restricted roads, and not leave anything within the Refuge," Velasco wrote. "In short: with authorized permits, pack it in/pack it out."
The four volunteers argued the changes to the permit rules, along with Fish and Wildlife records indicating No More Deaths volunteers were the only people criminally charged on the wildlife refuge in recent years, showed they were singled out by law enforcement and the U.S. Attorney's Office.
They also pointed to statements made by an assistant U.S. attorney at a meeting with No More Deaths saying his office was not interested in prosecuting volunteers for leaving food and water.
Hoffman, a 23-year-old Tucsonan, testified she expected the "most extreme" consequence for leaving the water and food on the refuge would have been a ticket or a fine, not a criminal prosecution.
Each of the four defendants "made a decision to act without knowing her conduct could be punishable by up to six months incarceration," Velasco wrote in his verdict. "Each one acted on the mistaken belief that the worst that could happen was that they could be banned, debarred (meaning unknown to the Defendants) or fined."
"No one in charge of No More Deaths ever informed them that their conduct could be prosecuted as a criminal offense nor did any of the Defendants make any independent inquiry into the legality or consequences of their activities," Velasco wrote.
In the coming months, five other No More Deaths volunteers face misdemeanor charges related to providing humanitarian aid on the Cabeza Prieta refuge.
Caitlin Deighan is accused of driving in a wilderness area in July 2017. She and Zoe Anderson, Logan Hollarsmith and Rebecca Grossman Richeimer are accused of entering a national wildlife refuge without a permit.
Scott Warren is accused of driving in a wilderness area in June 2017 and abandoning property there. He also faces felony human-smuggling charges after Border Patrol agents said he was harboring two illegal border-crossers at an aid station in Ajo in January 2018.