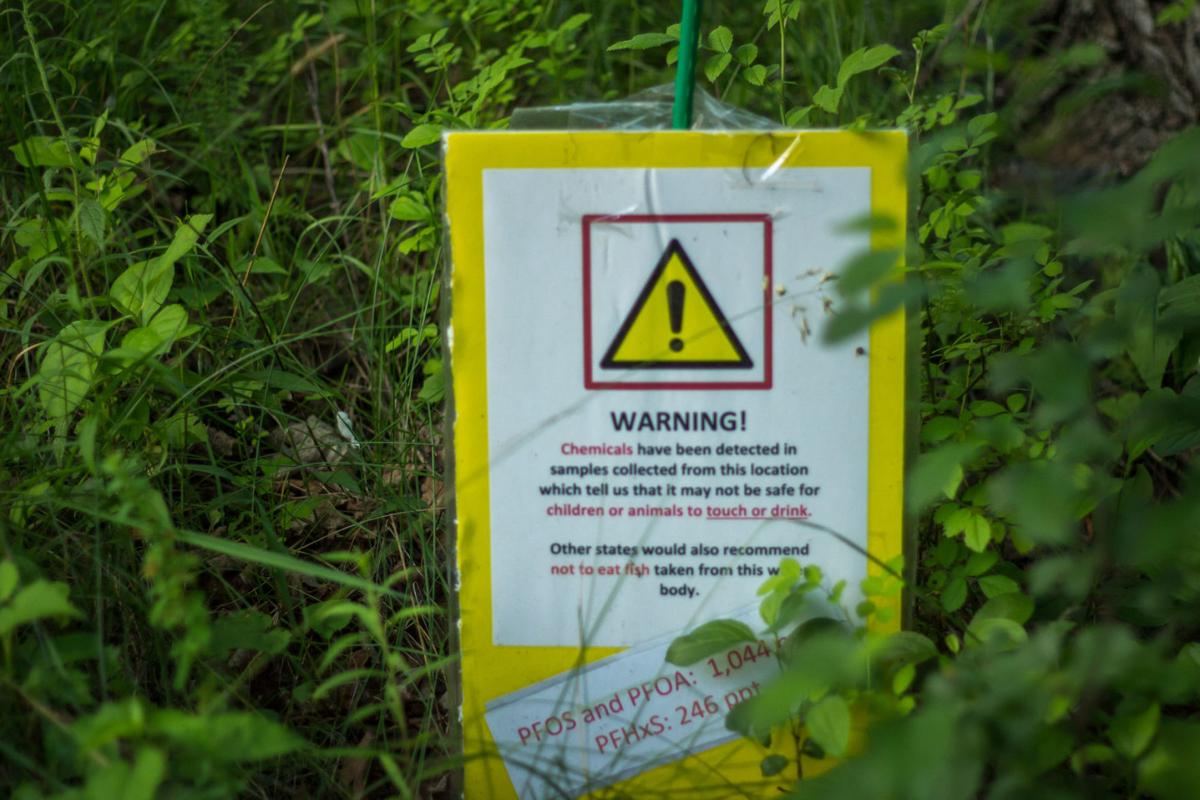 Toxic compounds that have commonly turned up in groundwater near military bases around the country have been found in two city wells just north of Davis-Monthan Air Force Base.
Tucson Water officials shut the wells off when the pollution was discovered. They say these wells were only rarely used before, and that it's unlikely people were exposed to enough contamination from them to be harmed.
Officials are concerned about the contamination, however, because the pollution levels have risen since they were discovered in 2016 and 2017, respectively.
That raises the possibility the pollution could ultimately spread farther north and west toward numerous other city wells in the midtown area's central well field.
Tucson has drastically reduced use of the central well field since Colorado River water started being used here for drinking in 2001. But city officials want to ensure the wells stay in good shape in case they're needed during a future cutback in river water deliveries via the Central Arizona Project.
The contaminants in the wells are known as PFOS and PFOA. They've been commonly used in manufacturing Teflon, carpets, clothing and stain-resistant fabrics for furniture, and as part of a firefighting foam at Air Force bases.
They've been linked in human studies to some forms of developmental and reproductive problems, and to testicular and kidney cancer. While health agencies have not said these compounds cause cancer in people, an agency of the World Health Organization has said that PFOA is "possibly carcinogenic to humans."
Davis-Monthan officials didn't respond to questions from the Star last week about the compounds.
But an Air Force fact sheet said the military branch started using a foam containing the two compounds nationally in 1970 to fight petroleum fires. The Air Force is now replacing these compounds with more environmentally friendly substances. The foam substance, known as Aqueous Film Forming Foam, is the most efficient method of extinguishing petroleum fires, the November 2017 fact sheet said.
Tucson Water officials say they're encouraged because they're collaborating closely with the Air Force to try to pin down the contamination's source so it can be cleaned from the groundwater.
They're catching the pollution on the "front end," before it spreads to numerous other city wells, said Sandy Elder, a Tucson Water deputy director.
Samples of four other city wells near the two contaminated wells haven't detected the compounds at all, utility officials noted.
"This is a story about us trying to maintain a reliable resilient supply and being proactive on water quality," Elder said. "I think it's a good story. We're on the leading edge of some sort of PFOS-PFOA contamination plume."
Two samples taken last October and in March 2018 of the most contaminated well near the base contained more than 3,300 and more than 2,900 parts per trillion of the two compounds, respectively. The U.S. Environmental Protection Agency sets a health advisory of 70 parts per trillion for the compounds. The second well had 133 and 97 parts per trillion of the compounds in samples taken at about the same times.
Though the concentrations of PFOA and PFOS dropped during this period, they are still higher than when the wells were discovered in 2016 and 2017.
The EPA advisory level seeks to offer what the agency says is a margin of protection against adverse health effects from the compounds to sensitive populations such as fetuses during pregnancy and breastfed infants.
City officials also shut down six city wells on the northwest side near the Santa Cruz River in 2016 that were found contaminated with PFOS and PFOA. Four of the wells had levels above the EPA advisory level, while the other two had contamination levels at or below that.
Tucson Water samples taken in February 2018 also found the compounds in eight south-side wells at levels above and below the EPA advisory level. Those wells aren't used for drinking either, Tucson Water says. Their water is taken to a south-side treatment plant, whose February 2018, post-treatment sample showed the compounds at 41 parts per trillion. That plant's treated water is delivered to a large area from about 29th Street on the city's south side to the north and northwest sides, up to River and Sunset roads, respectively.
City Councilman Steve Kozachik said he doesn't see much positive about the contamination situation.
"My concern is that the Air Force has not stepped up when it owns the problem," said Kozachik, who first told the Star about the contamination last week. "We're sitting at the table, trying to negotiate a solution where they are now culpable for.
"It's clear they know they're responsible because they've started replacing this compound all over the country. They ought to be very public that they did it," said Kozachik, whose Ward 6 lies outside the area where the contamination was discovered.
He particularly wants to avoid a rerun of what happened with a south-side treatment plant built to clean the toxic solvent 1,4 dioxane from drinking water there, Kozachik said. The city built the $20 million plant in 2013 but didn't get reimbursed by the Air Force for $17 million of that cost until 2016.
Tucson Water's Elder, however, said it's too early to say that the Air Force base is the culprit for the contamination, and there could be other sources. Tucson Water officials contacted Davis-Monthan about a year ago after it began seeing high contamination levels. Since then, Air Force officials have been collecting soil and groundwater samples to determine if there's contamination present on or under the base, he said.
"I'm not going to make hunches about where things come from," Elder said. "We have to have evidence, science to back up the facts."
Elder said he has no indication as to when the city will get data from the Air Force, adding, "Their data goes through a more rigorous review process. I know it's being collected. That's the way we collaborate and solve problems for the community." He said that's preferable to litigation and confrontation.
Kozachik countered, "When there's a question of a public health issue, I'm not for being collaborative with the security of our water system. We ought to be pounding the table. Let's break the bureaucratic mold. We need the data. We're running a utility that half a million people are relying on."
Councilwoman Shirley Scott, whose ward lies just east of the contaminated wells, said, "Of course we want that cleaned up as soon as possible. It's absolutely true that we would want the federal government, that is the Air Force, to move as quickly as possible" to release its data, she said.
Councilman Richard Fimbres, whose ward includes the two wells, said in a written statement, "Tucson Water and the city of Tucson continues to be proactive in protecting the citizens. The city and Tucson Water took these wells out of service and are continuing to monitor."
National controversy
The presence of these compounds in Tucson groundwater is coming to light just as the chemicals have become sources of national controversy.
In March, the Military Times, a national, independent newspaper covering the U.S. military, reported that a Defense Department study concluded that water around at least 126 military installations nationally contained potentially harmfully concentrations of PFOA, PFOS and related compounds.
In mid-May, the national Politico website reported that the EPA under Administrator Scott Pruitt and the White House have sought to block publication of a federal health study that warns these compounds can endanger human health at far lower levels than the EPA 70 part-per-trillion advisory level.
The still-unreleased study from the U.S. Department of Health and Human Services was going to find that exposure to these chemicals at less than one-sixth of that level could be dangerous to sensitive populations like infants and breastfeeding mothers, Politico reported, quoting emails from various federal officials.
Also in May, EPA's Pruitt held a national summit on these compounds in Washington, D.C. that drew controversy because the EPA excluded many reporters from part of the summit's first day and all the press corps the second day.
Pruitt said the agency will now determine whether a formal drinking water limit for these compounds is needed. The current EPA health advisory doesn't even recommend that people stop drinking water containing the compounds at concentrations of 70 parts per trillion.
The EPA is also starting the legal steps needed to designate these chemicals as hazardous substances, and it expects to develop groundwater cleanup recommendations for them by the end of 2018, Pruitt said.
The 70-part-per-trillion advisory level is relatively new, having gone into effect in May 2016. Before, the advisory level was 400 parts-per-trillion for PFOA and 200 for PFOS.
Tracking the plume
The lowering of the EPA advisory level in 2016 prompted Tucson Water to ramp up its sampling for the compounds in groundwater, Elder said.
The city already had tested for them in some areas, particularly along the Santa Cruz, because it was thought they could be in wastewater from Pima County's two sewage treatment plants there, Elder said.
The compounds also come from industrial operations of the kind that don't exist here, and finally from firefighting foams used in aviation, particularly when a plane crashes, he said.
"This compound is ubiquitous nationwide, coming everywhere: in your food containers, on your gortex clothing, on your fire retardant clothing, in your wastewater streams," Elder said.
Of the two contaminated wells near Davis-Monthan, one is used for short periods during the hottest time of the year, maybe for a month or two, Elder said. The other is a spare well, pumped for 20 or 40 minutes at a time every couple of months, he said.
The utility is now going to take samples from several older wells north of the two contaminated wells — wells that haven't been used in a long time. Some were failing at the time they were shut down and others have had their casings replaced.
City water officials hope to have a clear picture of how far the contamination has spread by this coming winter, Elder said, adding that he's not going to try right now to predict a timetable for cleaning up the pollution.