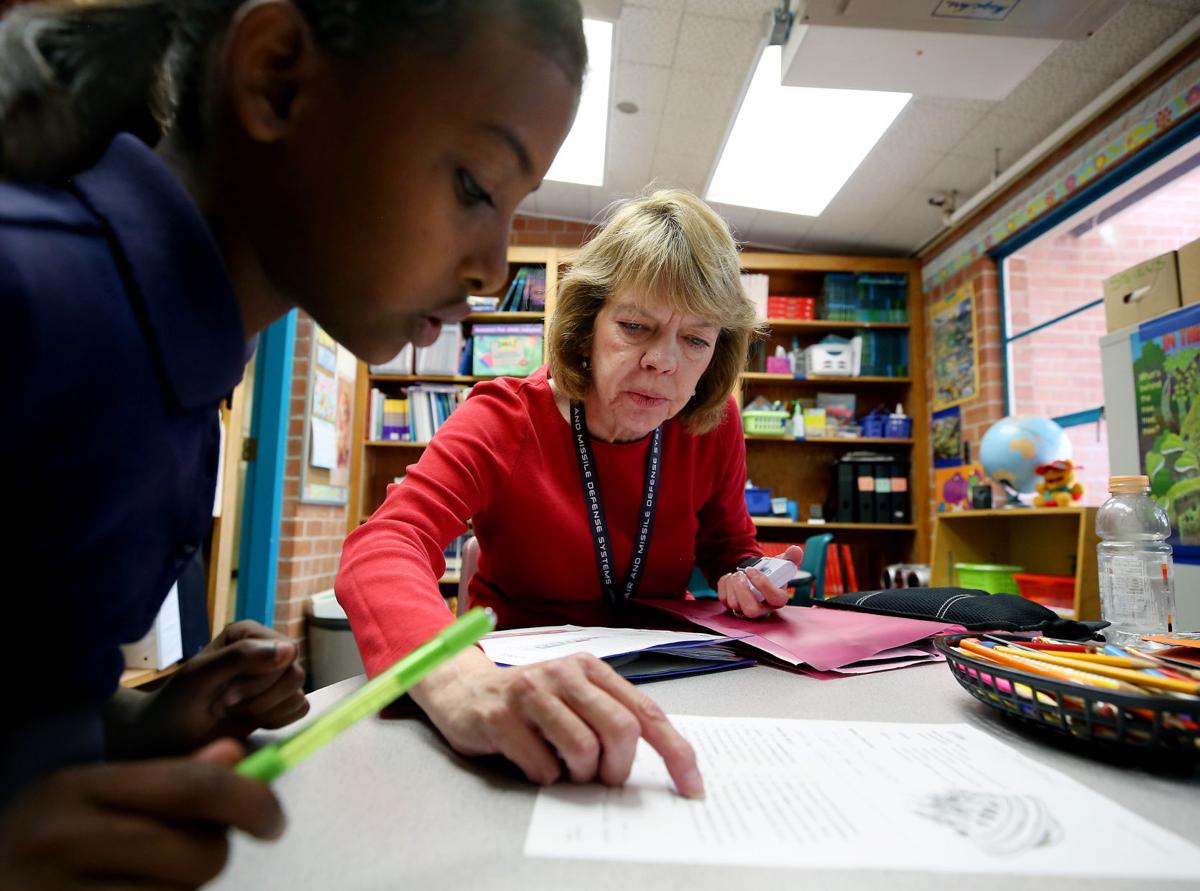 On a recent morning, Tirhas Hagos sat in the "book room" at John B. Wright Elementary School reading a nonfiction story out loud about UFOs.
The fourth-grade student was meeting with literacy tutor Susan Mason, a mentor and reading coach to mostly refugee students at the midtown neighborhood school, 4311 E. Linden St.
Two years ago, 10-year-old Tirhas, whose smile lights up the room, said she and her family left Ethiopia in east Africa and resettled in Tucson. She said she has two brothers — one, 5, will attend school soon, and the other is 11 months old.
Tirhas reads well and received high marks in literacy, fluency and comprehension, bringing a smile to her face. She retold the story she read about unidentified flying objects to Mason, and said even though some people believe UFOs are real, experts say they are not.
Tirhas was praised by Mason, a retired executive assistant from Raytheon Missile Systems who found her niche tutoring children through the federally funded Senior Corps Foster Grandparents program. The program's focus has volunteers age 55 and older working 15 to 40 hours a week with teachers to strengthen the reading skills of students who need extra help.
When Tirhas first arrived at school, she did not speak English and was immersed in learning the language, recalled Mason.
"These children are amazing. Many speak three languages," she said.
Her next pupil was fourth-grader Amin Magar, also 10, who came with his family from Nepal, on the southern slopes of the Himalayan Mountains in South Asia. The family resettled in central Tucson about two years ago, said Amin, proudly mentioning his 4-year-old sister who attends preschool.
Amin read a story about firewalkers on the island of Bora Bora. The men walked on a 40-foot-long pit of hot coals with their bare feet.
Their feet were not burned, and the men train for a long time. There also are firewalkers in India, Japan and North Africa.
In retelling the story, Amin recalled 120 words out of 135 in the story. "He has exceptional recall," Mason said.
Tirhas and Amin both said working one on one with Mason helps them improve their reading and writing skills as they progress to higher levels of literacy. The two said they enjoy doing word-search puzzles and playing Old Maid, Go Fish and Uno card games with Mason, who also gives them stickers to decorate their folders.
"I love my work," said the foster grandparent, who tutors students three days a week.
"I feel fantastic when they get it. They have trouble with comprehension, but when they understand what they are reading, it is the best feeling in the world."
Mason's tutoring is making a huge difference in the students' lives because, "They go everyday and read to an adult without anyone judging them," said Wright Principal Deanna Campos.
"The students are learning English, and when they read with Susan, they develop the fluency they need to be successful readers."
The school's enrollment is 520 pupils from pre-school to fifth grade, and about 260 students, or half, are refugees who represent 22 cultures and languages, Campos said. Last school year, Wright scored a B-plus in AzMERIT, the state's exam that measures students' academic achievement and performance, said Campos, emphasizing students are working for an A this school year. In addition to Mason's literacy work, other organizations also help out tutoring children at the school.
Mason began volunteering in the Senior Corps Foster Grandparents program eight years ago, tutoring pupils first in the Flowing Wells Unified School District and now in the Tucson Unified School District.
Her first students are now in high school — and sometimes she runs into the teens at Park Place mall, where they catch up on their lives.
She is one of 30 volunteers who are Senior Corps Foster Grandparents in the Tucson area. In addition to Flowing Wells and TUSD, foster grandparents also mentor students in the Sunnyside and Marana school districts, said Melissa Hernandez, program coordinator for the Tucson area.
The program focuses on literacy, said Hernandez, because in Arizona 67 percent of children do not attend preschool, 72 percent of fourth-graders are not proficient in reading and 27 percent live in poverty.
Since 1997, the grandparents program has been sponsored by Northern Arizona University under the Civic Service Institute, said Carole Mandino, institute director.
The statewide program's budget is $752,359 and it has a paid staff of eight. More than 100 volunteers receive a small stipend and mileage reimbursement, and the program covers the costs of fingerprinting and background checks.
It is funded by the Corporation for National and Community Service, a federal agency that fosters civic engagement through service and volunteering.
Contact reporter Carmen Duarte at cduarte@tucson.com or 573-4104. On Twitter: @cduartestar