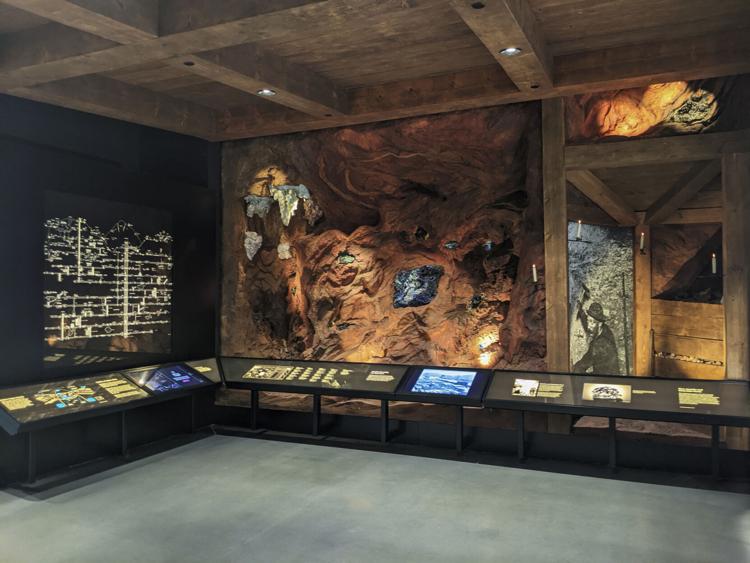 Tucsonans can get an advanced preview of a new gem and mineral exhibit before the University of Arizona opens it during the fall semester.
The Alfie Norville Gem and Mineral Museum, named after the co-founder of the Gem and Jewelry Exchange, is set to provide visitors with a two-hour experience exploring minerals and mineral evolution theory, the UA said.
The "sneak" previews will provide up to 20 visitors at a time with a guided, narrated tour through three galleries in the 12,000-square-foot facility.
The facility displays pieces such as: a 400-pound malachite specimen from the Democratic Republic of the Congo; a 410-pound silver nugget found outside Globe; a 210-pound Azurite specimen from the late 1880s; the Wells Fargo Arizona Gold Collection; and a display of gem and mineral art pieces created by local artist Nicolai Medvedev, the UA said in a news release.
There are more than 2,200 gems and minerals in the facility, the UA says.
Visitors can go to tucne.ws/1hxs to purchase $25 tickets for the preview.
The facility allows for social distancing. Visitors are highly encouraged to wear face coverings, UA said.
In the fall, general admission will cost $15 for adults, $10 for those at least 65 years old as well as military with identification, and $5 for children up to 12 years old as well as Pima County Community College or University of Arizona students with identification.
The museum is also accepting volunteers for its Docent Program to help deliver tours and assist guests. Those interested can find more information at tucne.ws/1hxt.
A gift from the Norville family allowed renovation to begin in 2018 at its current location in the Pima County Courthouse, 115 N. Church Ave.
Parking is available in the adjacent El Presidio Parking Garage. Parking validation is available at the Southern Arizona Heritage and Cultural Center, which is across from the museum, UA said.
The heritage and cultural center is open Monday through Friday from 10 a.m. to 2 p.m.
Contact Star reporter Shaq Davis at 573-4218 or sdavis@tucson.com. On Twitter: @ShaqDavis1