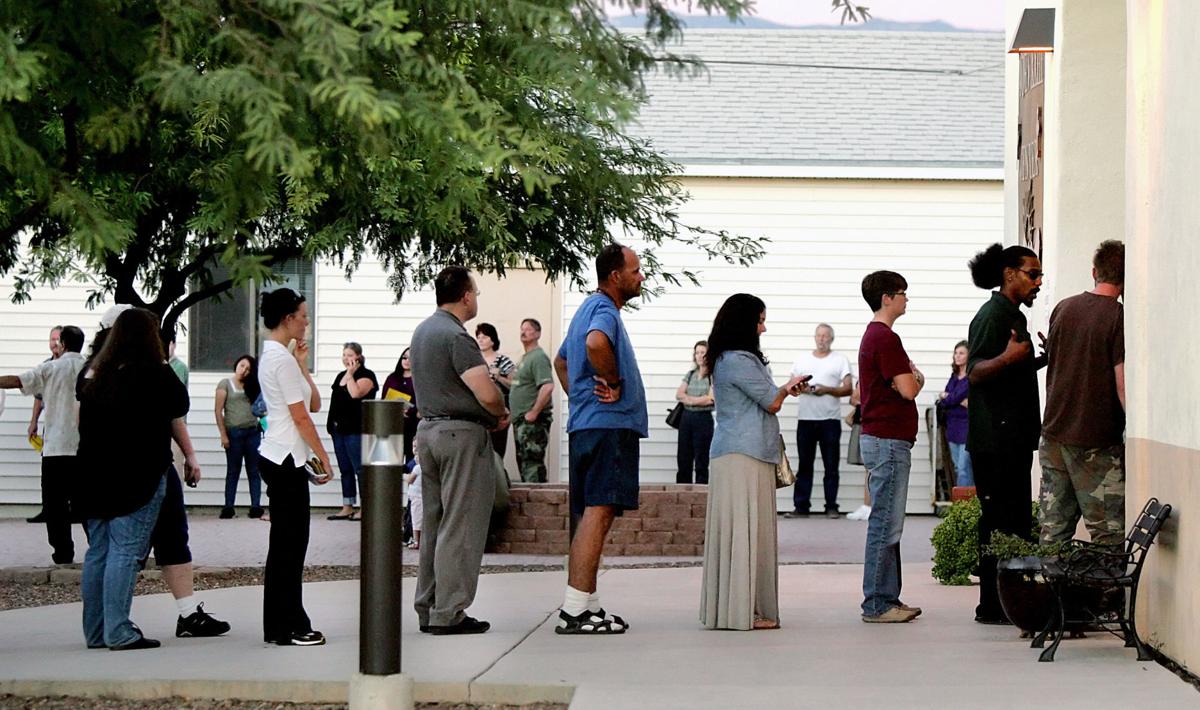 Solutions that cost nothing
Re: the Dec. 3 letter "Note that Yellen backs a carbon tax."
First, let me thank the editors for publishing this excellent letter. Janet Yellen could indeed be a help. I just want to add that the fee and dividend plan will provide a stimulus to an economy that badly needs it, and that it will cost the government budget nothing.
A 'movement,' but to where?
Donald Trump supporters are a tribe with a chief who, even in defeat, demands their loyalty. And their allegiance is unquestioned, provided he feeds them the elixir needed to numb their fears and insecurities. Only then, in deep anesthesia, can they excuse their apparent lack of upbringing, conscience, discipline, compassion and intelligence.
They fall drunk in the wine of self-preoccupation and self-justification. In spite of their deeply hidden self-loathing. No facts or science or history can shake true believers from their stupor of McCarthyism, Facism, or the cult worship of a Jim Jones or Donald Trump.
"The truth makes no difference, the only important thing is to be part of The Movement." This primitive human tendency is chronicled by Eric Hoffer in "The True Believer" (1951) and was required reading in my education. It shook me to be cautious about any movement.
Suggestion to fix our elections
The debate has started again as to whether the U.S. Constitution should be amended in order to change the presidential election process. Some promote eliminating the Electoral College in favor of a direct popular vote for president, while others believe the Electoral College should remain unchanged. Just as compromise solved the initial problems of the framers so it is that compromise can solve this problem.
The solution is to change the electoral votes to electoral points and reward each candidate a percentage of points based on the percentage of popular votes received in each state.
This would eliminate the "winner take all" system thus allowing for all the votes to count. A voter is more apt to believe their vote counted when a percentage of popular votes are taken into account rather than the "all or nothing" system currently in existence. Further, this new system would integrate the desire for a popular vote for president with the need for the individual states to determine who actually gets elected.
Re: the Dec. 5 article "Pace of Arizona economic recovery depends on more aid, virus control."
Sad to read that Arizona and the rest of the country are experiencing a spike in the pandemic and unemployment, along with business difficulties or outright failures. Congress must definitely pass COVID relief now to ease this tragedy. Fortunately, there is current bipartisan legislation that would address this pandemic locally, across the country and even globally.
By contacting our members of Congress, requesting relief, we can nudge this process along. Tell them your story about problems caused by the pandemic or just send them this great article and ask them to take action. It can be our voices that make the difference in these difficult times!
Judiciary shows courage in face of coup attempt
As an attorney and retired federal bankruptcy judge I have been heartened, but unsurprised, that lawyers and judges have upheld their ethical duties when confronted with Donald Trump's efforts to hijack the Presidential election. Lawyers cannot allege fraud unless there is evidence to support that claim. When many of Trump's lawyers determined there wasn't any, they withdrew as his counsel.
All the judges confronted with Trump's efforts to overturn the election, regardless of their own politics and of who appointed them, dismissed the extraordinary claims for lack of evidence. State election officials, governors and legislative leaders, many of them Republicans, have refused Trump's efforts to set aside the popular vote. Arizona's legislative leaders and governor, all Trump supporters, when asked to send Trump electors to Congress, refused to violate their oaths of office.
Their courage is in stark contrast to many national Republican legislators who have remained silent while Trump has blatantly attempted to retain power. History will not forget their cowardice, neither should we.
Proud of county's bail program
Re: the Dec. 7 article "Program to provide bail money for some eligible defendants."
It was with great pleasure that I read about the bail program Pima County is implementing. This provides many benefits to our community at large as well as to the individuals who are directly affected. It is common-sense programs like this that make me proud to live in Pima County.
Thank you, Dean Brault, Pima County Public Defense Services, the criminal-justice reform advisory commission and the Pima County Board of Supervisors — you did great service to Pima County.
Erase Electoral College and fix Senate rules
Americans, it is time to unite. No matter which party you are a member of, we the people must make some changes to our government. Congress no longer does what is good for the people. They are only interested in doing what is good for their party.
First, we must change the rule that allows one person to block a bill approved by the House from coming to the floor of the Senate for discussion or a vote. A bill for help to the people of our country during this crisis, sitting on the majority leader's desk since May, lends credence to this. Second, it's time for elimination of the Electoral College.
We need one person, one vote to determine the winner of our elections.
America's demise accelerated by Trump
There can be no doubt about who is trying to steal the 2020 election. President Trump and his cult, with their constant barrage of lies and fake reality, are desperately trying to to undermine our democracy and its institutions. How is it that an election is only legitimate if Trump wins?
What we have is a pandemic of morons, infected by Donald Trump. As this fear, ignorance and corruption become increasingly normalized and embraced by so many, our country is truly doomed.
Local officials stifling humanity
To all elected officials, who hold far more power over our lives than the Constitution allows:
How do you expect people to produce values that contribute to human flourishing when your apparent response to any crisis is to prevent, as far as possible, all production, innovation and trade? The only answer I can find is that you don't expect us to flourish. You clearly expect us to meekly submit, or else (however slowly) die.
The only thing that angers me more than this is how many people support your power lust like a flock of frightened sheep. This letter is to warn you that not all of us are sheep. You could yet decide to get out of our way and let us live our own lives, solve our own problems. The choice is still yours, but your time is running out.
Re: the Dec. 7 article "Program to provide bail money for some eligible defendants."
Pima County has agreed to pay the cash bond for defendants with bonds of $30,000 or less so that these people can be released from jail to await their trials. This will decrease jail costs while allowing people to work and support their families. I advocate that cash bond be eliminated.
This idea is supported by many justice reform groups. If a defendant is not a danger to society, s/he should be released with a mandatory court date. If a defendant is deemed to be a danger to society, they are held without bond.
What currently happens is that poor people cannot pay their bond and are held in jail regardless of their crime, while those with access to funds pay and are released regardless of how dangerous they are. While I commend the county supervisors for wanting to limit jail spending and help the poor by paying bonds, I encourage them and the courts to eliminate cash bond altogether.
Water shortage on the way
Re: the Dec. 5 letter "Future water shortage is coming."
The letter writer correctly foresees a serious water problem in Arizona's water future and yet developers and legislators seem to ignore the obvious. As Mr. McKenna states, the developers' submissions of water availability are "fictitious." It is time to really get serious about Arizona's water future.
We all have certain rights in this country, but some are limited. In most states, you cannot drive a car unless you are 16 years or older, and have passed a driver's test. This limitation is in the interest of public safety.
Not just anyone can put out a shingle and begin practicing as a doctor or nurse. They must pass a rigorous exam, to be licensed as a bonafide health provider. This qualification is in the interest of public safety.
It has been proven that COVID is transmitted by droplet spread, and the wearing of a mask will help prevent this spread. This, too, is in the interest of public safety. So don't be concerned about losing your "right" not to wear a mask — we're talking about protecting the public safety against the loss of hundreds of thousands of lives.
Listen to Dr. Anthony Fauci, and please follow his scientifically proven advice — wear the mask!
As a Redistricting Advisory Committee (RAC) appointee, I can say firsthand that presenting redistricting options was an arduous task. The 2020 RAC proceedings were an open and transparent process with every meeting being open to the public, including a hearing for input. Of the options presented, I stand with Option A in an effort to create more equity and representation for everyone in Tucson.
Option A does not disrupt existing neighborhood associations and received support from community members during public comments which weighed heavily on our decision. Active dialogue is what makes the democratic decision-making processes so strong.
Political boundaries do not define Tucson's neighborhoods — the history and culture do. On the other hand, political boundaries do affect everyone's representation in government. I support Option A because it seeks to diversify the wards as a whole.
Option A also makes Ward 3 the city's third-most diverse ward, further increasing the voting power of communities of color in that ward and city as a whole.
Michael O'Connell, Ward 1 appointee for the city's Redistricting Advisory Committee
Your life is yours, not society's
Re: the Dec. 3 article "Even before Trump, politicians had loose relationship with truth."
David Anderson praises philosophers like John Rawls and John Dewey. Rawls, a neo-Marxist, held that your life belongs to society. Dewey, a founder of pragmatism, held that your life belongs to the state.
Each held that no objective morality exists and that we can never fully know what's true. Admitting this, Anderson nevertheless claims that these are some of our "best thinkers." Thanks to professors like Anderson, collectivist philosophers like Rawls and Dewey monopolize many humanities departments of our universities.
Our Founding Fathers held that your life belongs to you, not to society or to the state, a principle they got from the philosopher John Locke. This became the unwritten ethical foundation of the U.S. Constitution. We must not allow that foundation to crumble.
Your life belongs to you, and that's the solid truth.
Don't split up the west side
I've lived in Ward 1 my entire life. My grandmother grew up on Niagara Street in Barrio Hollywood. My grandfather Ruben Romero was the first Chicano in Tucson history to represent Ward 1 on the Tucson City Council. I am a former council aide for Ward 1.
I stand vehemently against ward redistricting that would move Precinct 37 out of Ward 1. The 2020 census data results are not in and have not yet been looked at or analyzed in regards to this move. This separates neighborhoods that have deep, historical ties to each other.
The redistricting commission met for a mere month before submitting its recommendations, hardly enough time to properly vet options or take community input. The Ward 3 councilor has been out for months and won't vote on this recommendation. Typically, the council defers to the affected councilor on decisions in their ward.
Option B creates an even better, maximum population deviation of 4.72% versus Option A's 5.02%. Vote no on Option A! Viva la raza!