OAKLAND, Calif. — By the time the New York Knicks entered the final quarter of brutal road swing that included six games, five losses and three time zones, it was already time to fire up the charter flight home.
The Golden State Warriors held a 94-68 lead at the end of the third quarter Tuesday at Oracle Arena, and Kevin Durant didn't even play in the fourth. Steph Curry and Klay Thompson played half of the final quarter, then were told to call it quits.
Allonzo Trier didn't. The former Arizona standout soaked up all 12 minutes of the fourth quarter with the same all-out manner he was known for over three oft-interrupted seasons with the Wildcats.
He did miss a few shots, and had to stand by helplessly while Thompson kicked a hockey assist to Draymond Green, who fed Andre Iguodala for a dunk early in the quarter. But Trier also stole a pass from Thompson and took it in for a layup, and added a 13-foot jumper of his own.
"It was good to see the ball go through the net a couple of times for him," Knicks coach David Fizdale said. "He's really been struggling with his rhythm and conditioning, so hopefully going back home that can help him out and get him back playing where he feels good out there."
It wasn't that Trier had anything more to prove as an undrafted rookie who signed a two-way contract with the Knicks last fall. He took care of that by forcing his way on to the Knicks' roster in training camp and then playing so well in November that when he had reached the maximum 45 days in the NBA allowed under two-way contracts, the Knicks had to rip up the two-way deal.
Trier signed a two-year deal on Dec. 13 worth nearly $7 million, effectively turning himself into a lottery pick, since his $3.4 million salary this season now roughly equals that of the amount slotted for pick No. 11.
"I felt like I was that good and I went out there and played like it," Trier said.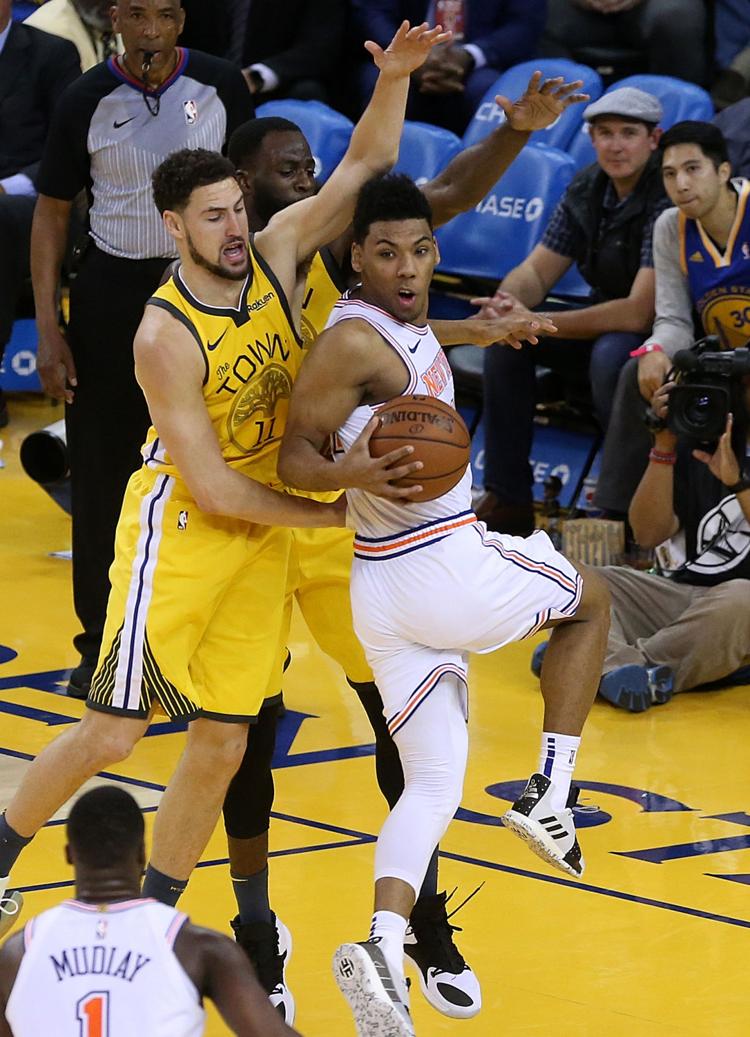 This month, however, Trier's quest to prove himself stems from a hamstring injury that kept him out eight games last month and has limited his effectiveness since then.
Tuesday's game at Golden State was his most effective yet, with 11 points on 5-for-13 shooting, three rebounds, two assists and a steal with two turnovers in 29 total minutes.
"I've got to find my way and the more minutes I play, the more I'll get back to a rhythm," Trier said. "I didn't come back at the easiest transition time, especially a Christmas day game with Milwaukee and playing them twice (on Dec. 25 and 27). And I caught a stretch where we were playing some really good teams and they were playing really good basketball."
Trier actually suffered the hamstring injury just before signing the new contract and Trier said the Knicks were "very cautious" in initially letting him do anything.
"That kind of threw me off," he said. "I wanted to come back a little bit earlier but I just got my deal and the priority was being cautious for the future so I did what they told me to do. When they said it was OK for me to return, I returned."
As it turned out, the injury might have been the only thing that changed Trier since signing the new contract. Trier's paychecks are roughly 12 times bigger now, but Fizdale said Trier is no different.
"It's all been the same," Fizdale said. "I think the injury kind of threw him for a loop. Because even when you're back from a hamstring, you're still kind of tentative on it, and I think just getting his legs, getting his conditioning back all that has kind of slowed him down as he's come back, but I think he'll get back to where he was."
After signing the deal, Trier said he and his mother Marcie didn't do "anything that changed my life at all. … my mom was just proud of me for getting this deal, and seeing my dream come true, seeing something that I worked extremely hard for."
On the court, many NBA players have offered him congratulations for getting the deal, Trier said, noting that "they always kind of expected it all along."
But it wasn't just the past six months that define Trier's story. As Arizona fans know, he also missed a month of his freshman year with a broken wrist, was suspended for half of his sophomore season because of a PED and was forced to sit out another two games last season when the same PED, Ostarine, reappeared.
Trier flew to Salt Lake City during a trip to Oregon to take a drug test and successfully appealed when that test came back clean, but it was yet another delay in Trier's journey.
"There were a lot of things, but if you look at my numbers, I'll probably go down as one of the best scorers ever to play at Arizona," Trier said. "My teammates knew that. Sean Miller knows that. The coaching staff knows that.
"Obviously, I didn't accomplish the goals that I wanted to there, but I gave everything I had to that program through thick and thin."
Trier has a point. He played in only 78 games over his three-year career at UA, and still wound up the Wildcats' 27th leading scorer of all time. If he had maintained his 16.8 scoring average over the same 108-game career that Nick Johnson had between 2011-12 and 2013-14, Trier would have finished with 1,811 points — which would have made him the program's No. 8 all-time scorer.
And, if Trier had maintained his 16.8-point average over a four-year career of 129 games, the amount Salim Stoudamire played between 2001-02 and 2004-05, he would have become Arizona's second all-time scorer behind only Sean Elliott.
But all that is academic now. Trier is in the NBA, and his contract says the Knicks expect him to stick around for a while.
"I just know I did everything I was supposed to do up to that point" when the Knicks signed him last month, Trier said. "It couldn't have worked out better. I never wavered. Kept true to myself and the game."