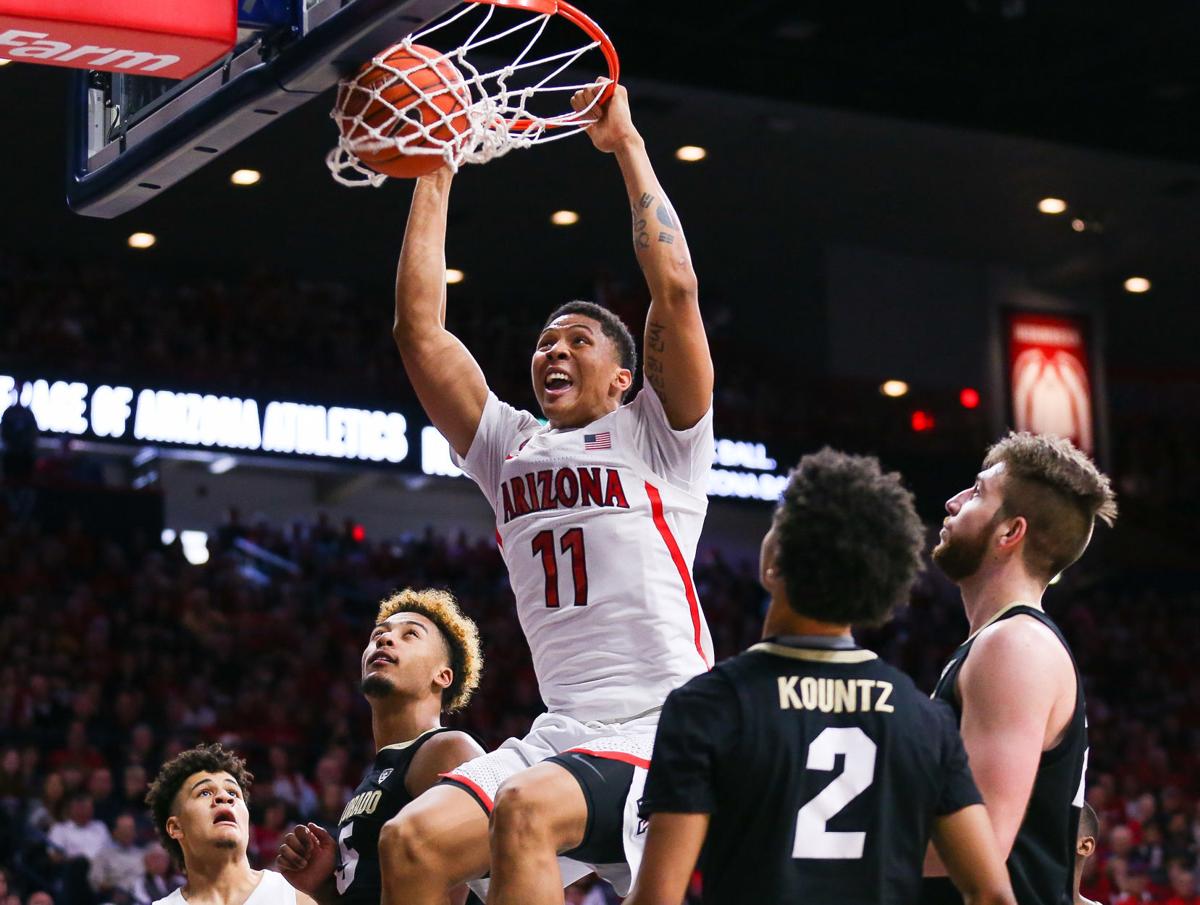 Already expressing worries about his team's inexperience, Arizona coach Sean Miller may also be without his most veteran returnee in Wednesday's season opener after senior forward Ira Lee suffered a concussion.
When asked Friday if his team had any COVID-related issues, Miller said that the Wildcats "have had the normal injuries" and then disclosed that Lee suffered his concussion "a few weeks ago."
Miller did not offer more specifics but said Lee has not yet returned to practice, which casts significant doubt on whether Lee would be ready in time to face NAU in the Wildcats' opener.
Lee missed seven games and sat out for a month when he suffered a concussion toward the end of his freshman season in 2017-18. This time, Miller compared his injury to that of then-UA forward Stone Gettings, who missed a month early last season after suffering a concussion in the Wooden Legacy over Thanksgiving week.
"He has a history there, so obviously we're going to allow Ira to get through all of his symptoms," Miller said. "With concussions, it's a little like COVID in that everybody reacts differently to it. You have to really rely on the individual and go to great care and lengths to make sure they're protected. That's where Ira is right now.
"Will he be able to play against Northern Arizona? I don't really have an answer to that right now."
The potential loss of Lee throws another wrench into Arizona's potential starting lineup and rotation in a season that will see them play four games over eight days starting Wednesday.
While downplaying expectations again — Miller said during last week's Pac-12 media day that being picked fifth was higher than he expected — the UA coach said there are about three different starting lineups the Wildcats could deploy against the Lumberjacks.
"It's such a crapshoot," Miller said. "There's probably seven guys in the mix to be the starting group. And, you know, sometimes the Day 1 starter isn't who will start when we play after Christmas. There's just a lot to be worked out.
"I just worry the most about our inexperience, I worry about our lack of overall depth, especially in light of COVID because everybody has to be ready to go. You could face a game against a very good opponent with (only) seven scholarship players and in our case, a lot of guys that are in their first year."
Miller calls early mock drafts 'ludicrous'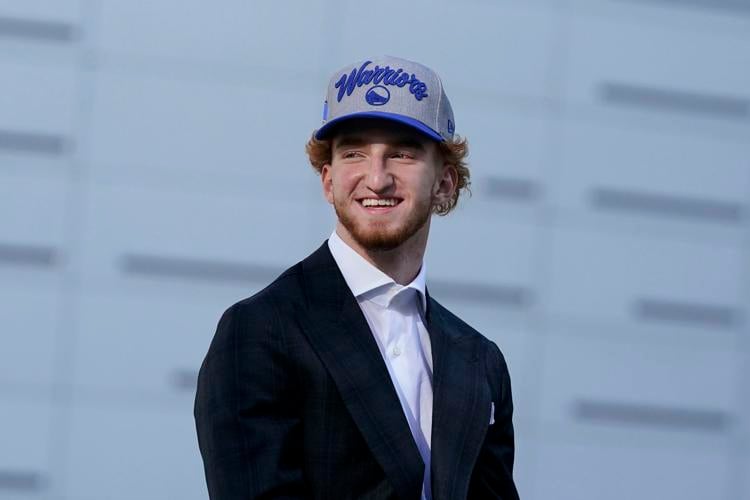 Nico Mannion may have slid from a projected lottery pick before he entered Arizona into the No. 48 pick in Wednesday's NBA Draft, but Miller said he didn't see it that way.
"You can't lose money that you don't have. You can't lose an opportunity that you're never given," Miller said. "And the mock drafts — where somebody says where somebody who's 18 years old is going to be picked before one day of class, before one game is played, in their first and only year in college? That's ludicrous. It just is. So I don't embrace that Nico fell."
In rankings that appeared to be based on his play in 2018 for the Italian national team, in the 2019 Nike Hoop Summit and on the club ball circuit, Mannion entered college as a consensus lottery pick. As of September 2019, ESPN had Mannion going No. 8 in the 2020 draft, while CBS and Yahoo projected Mannion at No. 7.
But Mannion struggled to shoot well against the better teams on Arizona's schedule last season, hitting just 30.9% of his 3-pointers in Pac-12 games, and continued to drop in the mocks even after leaving Arizona last spring. Mannion said in a predraft interview on Monday that "I understand why I'm slotted there," even though he didn't agree with it.
Miller said Mannion was also hurt by there being so many other point guards in the draft pool. Pac-12 guards Payton Pritchard of Oregon (26th) and Tyrell Terry of Stanford (31st) were both taken before him.
Still, the team that picked Mannion may ultimately matter more, the way Miller put it. At Golden State, Mannion will be playing under coach Steve Kerr, a fellow former Wildcat, and star guard Steph Curry.
"Sometimes what's more important than where your pick is is who picks you," Miller said. It helps that Mannion is "staying here in the West and playing for a great coach, Steve Kerr, who I know for a fact loves the way Nico plays, respects him as a talent. They valued that pick."
Green, Nnaji in good hands
Similarly, Miller said first-round picks Josh Green and Zeke Nnaji also will benefit from their new organizations. Both players expressed excitement about joining their new teams, with Nnaji to pair with center Nikola Jokic in Denver and Green to join international stars Luka Doncic and Kristaps Porzingis in Dallas.
Miller also complimented their new coaches, Mike Malone of Denver and Rick Carlisle of Dallas.
"Think about the three organizations that chose them," Miller said. "You have the Dallas Mavericks, a Western Conference playoff team, the Nuggets that are that are advancing in the playoffs … and then the Golden State Warriors, an iconic franchise and coach in Steve Kerr, who we know really well.
"With Mike Malone, Rick Carlisle and Steve Kerr, the three young players that were drafted from our program are so fortunate to have them as their coach and to really be a part of that type of culture in the NBA. I think it's going to get all of them started off on the right foot."
No guarantees in recruiting
In four-star signees K.J. Simpson, Shane Nowell and Shane Dezonie, Arizona may have the type of players more likely to stick around for multiple years and develop into the core of the Wildcats' future.
Maybe. But as Miler indicated, there's no telling what is ahead. Nnaji, for example, wasn't widely viewed as a one-and-done player when he enrolled at the UA year ago.
"It's almost impossible to pigeonhole these young guys into a certain length of time that they're going to be in a program," Miller said. "But what we can clearly control is the conversations and the way we recruit them, really making sure that we're aligned in them reaching their own goals and choosing Arizona to win championships, to develop, to really play college basketball first.
"If you love the game, and you're trying to become an NBA player, there's nothing wrong with that. In some ways, that's what it's about, these guys being able to reach their goals and dreams, through our basketball program and university.
"It's not about a four-year sentence, so to speak, where you come to Arizona and you're not allowed to leave. But we want young people to come here, to get an education, to enjoy Tucson, to want to win, to want to develop and to leave here when they're ready. The last thing you want is young people leaving your program and it not working out for them."
Maybe one more
The three signees put Arizona one over the 13-player scholarship limit on paper for 2021-22, and while there are normally multiple early spring departures to create extra room, Miller said he expected to add no more than one additional signee in the spring.
"Because of the way our roster is constructed, we're not going to experience the same type of turnover that we've had in recent years," Miller said. "I don't look at this spring as being as active as it's been the last couple of springs. If we add anybody, I'm sure it would come late in the spring — and I'm sure it wouldn't be more than just one player and that player would be a frontcourt player."