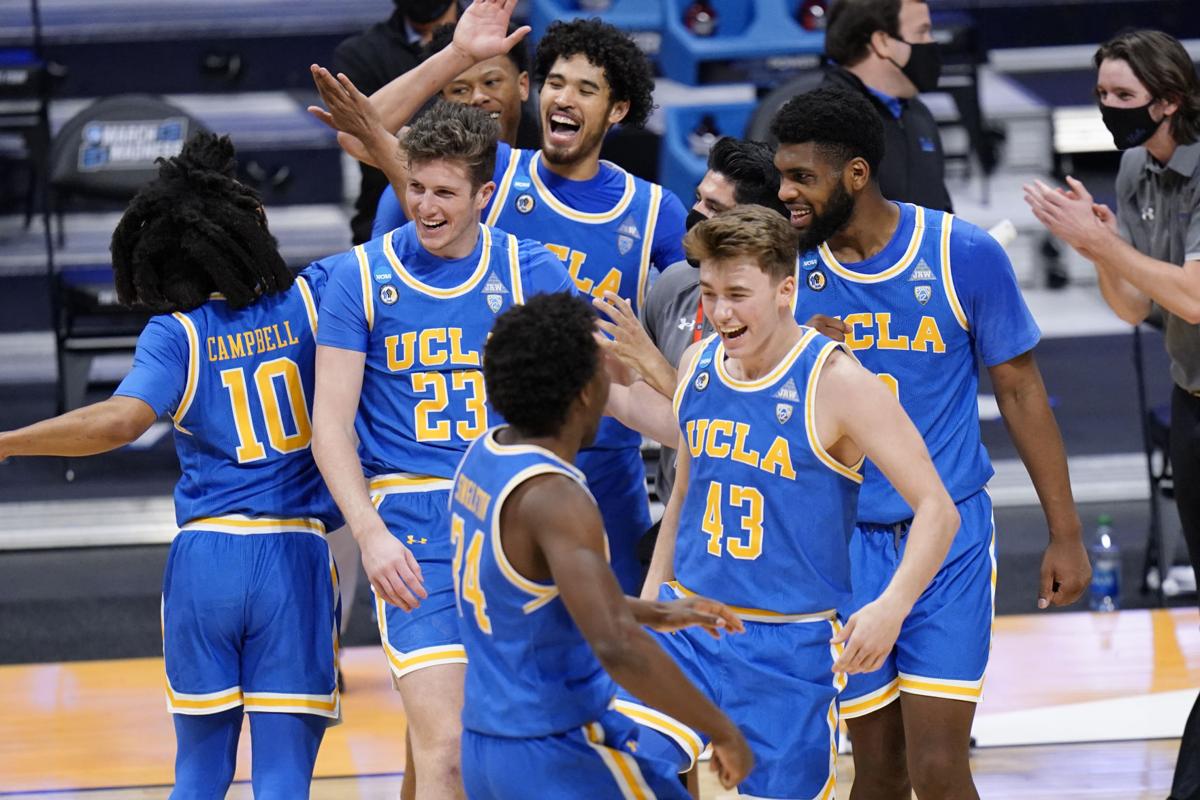 When Arizona upset then-No. 17 USC in Los Angeles last month, you could nearly hear UCLA coach Mick Cronin groan over on the other side of town.
At the time, the Trojans were the Pac-12's only representative in the Associated Press Top 25 poll, a function of the conference being "completely disrespected" in Cronin's view.
"God forbid USC loses — then we're gonna be out of the top 25," Cronin said five days before UA's 81-72 win, "whereas teams in other leagues, it's like they just lose and it doesn't matter. Everybody still thinks they're really good."
Maybe things will change now, with the Pac-12 having put all five of its NCAA Tournament teams in the second round while the highly regarded Big Ten had three of its nine tournament teams lose their first games (including one, Michigan State, to Cronin's Bruins). The Big Ten also lost a No. 1 seed, Illinois, on Sunday.
But perception of the Pac-12 hasn't changed much over the past month.
USC stayed in the AP Top 25 poll immediately after Arizona's Feb. 20 win, but in the final Top 25 on March 15, only Colorado (22nd) and USC (tied at 23rd) appeared while the league's regular-season champ and hottest second-half team, Oregon, went unranked.
Poll voters were hardly the only ones thinking that way, too.
Just seconds after fifth-seeded Colorado's matchup against Georgetown was announced on March 14, multiple analysts quickly predicted a Hoya win even though they were 9-12 before the Big East Tournament — and despite the fact that Colorado is unusually deep, experienced and offensively gifted this season.
Then, upon the Buffs' arrival in Indiana, one of the gifts presented them was an autobiography of legendary former Georgetown coach John Thompson. During the week, there was constant buzz about the success that Thompson's former star, Patrick Ewing, reached as a coach by leading the Hoyas to the Big East Tournament title.
Meanwhile, Yahoo said 47% of its bracket contest entrants picked Georgetown to beat Colorado, figuring this would be the latest No. 12 seed to bounce a No. 5.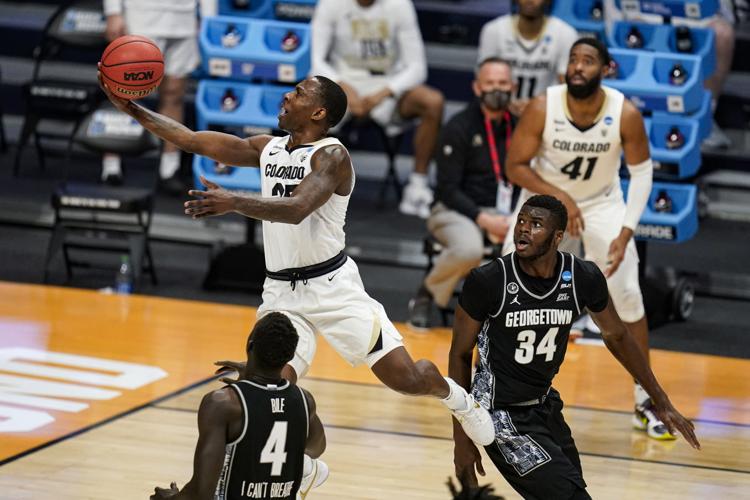 "It was crazy coming into this game," Colorado freshman Jabari Walker said. "We were like the underdog, even being a five seed. Everybody had us losing this game."
The Buffs wound up winning 96-73. The game was not competitive even early in the second half ... when announcers were still talking a lot about Ewing.
Meanwhile, USC coach Andy Enfield found himself on the defensive even after the sixth-seeded Trojans beat No. 11 Drake 72-56 on Saturday by more than double the betting line spread of seven points.
A postgame question noted the Trojans' inexperience in the NCAA Tournament and another asked Enfield how important it was that his team perform on a national stage to increase its presence in Southern California.
"Well," Enfield said. "We have 45 wins the last two years, which is third in the country behind Baylor and Kansas, and we play Kansas in the next round. So we're 45-16 the last two years, and our guys, unfortunately, didn't have the chance to compete last year in the tournament. We probably would have been a pretty good seed."
When asked if this could be his best team at USC, Enfield also gave a little history lesson.
"We were really good a few years ago with (Jordan) McLaughlin and (De'Anthony) Melton and Chimezie (Metu) and (Bennie) Boatwright and (Elijah) Stewart and Jonah Mathews and (Nick) Rakocevic," Enfield said. "We were pretty good. We won two games in the tournament that year (2016-17), won 26 games overall. The next year, we came in second in the league and had 24 wins.
"I would say those two teams and this team are top three. And then last year's team with Onyeka (Okongwu) and some seniors, we were 22-9 … If you put a Final Four tournament of those four teams, it would be fun to watch. I would sit back and not coach and just watch those guys go at it because we've had a lot of good players here the last few years.
Things were different with the Pac-12's Oregon teams. The Ducks were spared postgame questions because they were spared a game in the first place – with VCU's newfound COVID issues automatically advancing Oregon into the second round via a no contest – while Oregon State was, of course, an actual underdog.
But even the Beavers may not have really seen themselves that way, at least after that Jan. 14 evening in Corvallis when Arizona handed them a 98-64 loss. OSU went 9-7 the rest of the regular season, then won three games to capture the Pac-12 Tournament title.
"After we got beat by Arizona at home, we really rallied, and we talked about keeping things simple and executing, enjoying each other, and playing harder than our opponent," OSU coach Wayne Tinkle said.
"We said, 'Guys, let's just focus on those three things. If we can check those boxes, the game will be successful. It may not lead to wins right away, but it will eventually.
"And lo and behold, after you get a few wins, now all of a sudden, the trust comes. Their trust in each other is on both ends of the floor, and it's resulted into a heck of a run here. … Credit to everybody that's really been through to kind of blaze a trail to put us in a position we're in right now."
Entering the Beavers' late game with Oklahoma State on Sunday night, the Pac-12 was 5-0 plus the Oregon no-contest, the only multi-bid league undefeated in the NCAA Tournament at that point.
Only twice before has the Pac-12 ever put five teams into the round of 32 — 2002 and 2009 — and never before has it done so without Arizona, which self-sanctioned itself out of the postseason.
While there won't be any more AP Top 25 polls now that the postseason is underway, the Pac-12 ultimately may be leaving a mark where it matters most in college basketball: In March Madness.
Doing so might also get people to take Cronin's words seriously.
"You're finding out that the Pac-12 not being ranked all year was an absolute joke," Cronin said after UCLA beat BYU on Saturday. "And some people ought to be ashamed of themselves."