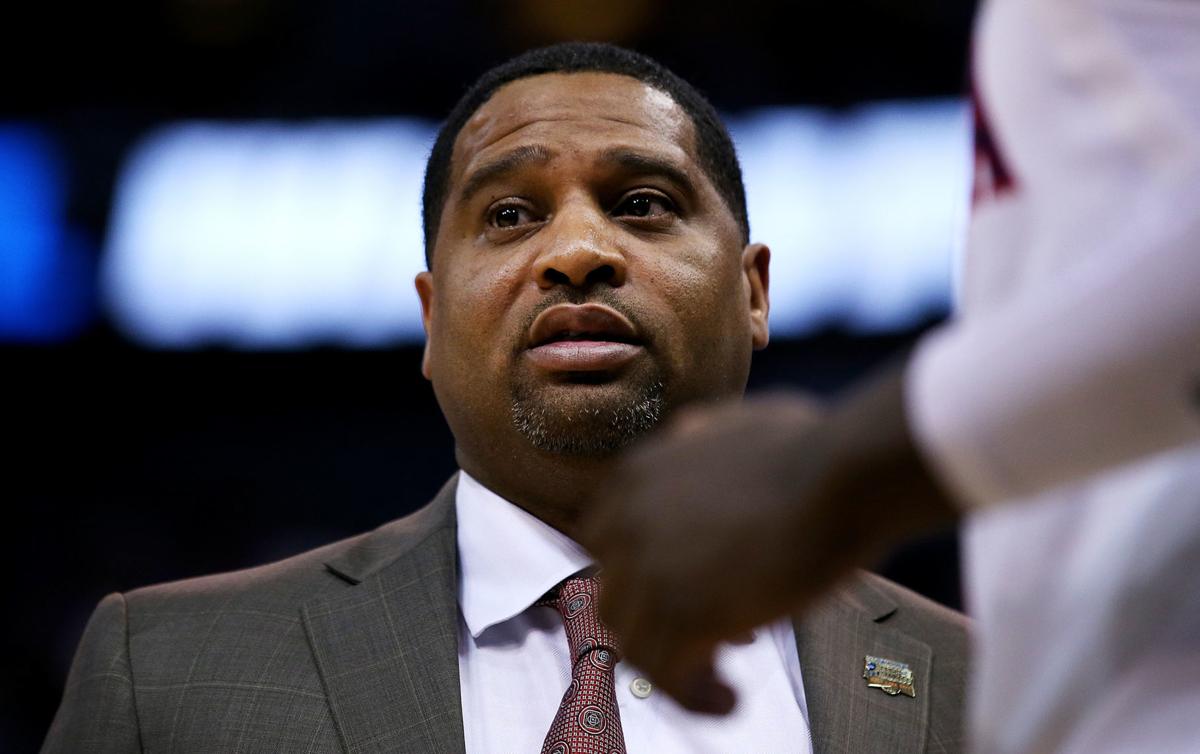 NEW YORK — Former Arizona assistant coach Book Richardson pleaded guilty Tuesday to one federal bribery charge, saying he knew he broke the law. 
Richardson, 46, wiped tears from his eyes after telling the judge he accepted $20,000 in exchange for a promise to steer student-athletes potentially headed to the NBA to would-be agent Christian Dawkins. Prosecutors said Richardson planned to use $15,000 of the money to entice one prized recruit to attend Arizona.
Richardson said he "knew this conduct was wrong."
''Did you know it was against the law?'' Judge Edgardo Ramos asked.
''Yes, your honor,'' Richardson answered.
As part of a plea agreement struck earlier this month, Richardson pleaded guilty to one count of federal funds bribery while four other charges were dismissed. The remaining charge typically carries a sentence of between 18 to 24 months in prison.
Richardson agreed not to appeal any prison sentence of two years or less, according to the plea agreement, and will pay back $20,000. He will not have to cooperate with federal authorities under the terms of the deal, said Craig Mordock, Richardson's New Orleans-based attorney.
Richardson will be sentenced on April 24.
Richardson was among 10 people arrested in September 2017 as a result of the federal investigation into college basketball. Richardson was initially charged with conspiracy to commit bribery, solicitation of bribes by an agent of a federally funded organization, conspiracy to commit honest services fraud, wire fraud conspiracy and travel act conspiracy. He was immediately suspended by the UA, which fired him in January 2018.
In a statement, U.S. Attorney Geoffrey S. Berman said Richardson abused his position as a mentor and coach.
"Richardson, entrusted to help players develop as athletes and young men, instead helped himself to the cash offered by unscrupulous agents and financial advisers," Berman said.
Prosecutors said Richardson accepted the bribes with the understanding that he would steer college athletes to use Dawkins' new sports management company.
In one taped conversation described by prosecutors, Richardson was captured telling an undercover FBI agent and others: "I used to let kids talk to three or four guys, but I was like, why would you do that? You know that's like taking a kid to a BMW dealer, a Benz dealer, and a Porsche dealer. They like them all. ... You have to pick for them."
Mordock said he and Richardson began talking about a plea agreement around Thanksgiving. While Richardson declined to comment, Mordock said Richardson "benefited the University of Arizona" and positively affected the lives of UA players in his eight-plus years with the program. Richardson came over with Sean Miller from the Xavier staff in April 2009, when the UA hired Miller as head coach.
Miller declined comment through a UA spokesman.
Richardson is the second former coach within a month to plead guilty in the case. Former USC assistant Tony Bland pleaded guilty earlier this month to accepting $4,100 in cash to steer Trojans players to certain financial advisers and business managers. Bland came to his plea agreement in December, with questions remaining about the $13,000 prosecutors originally accused him of receiving.
Former Oklahoma State assistant coach Lamont Evans is still scheduled for trial in April. Former Auburn assistant Chuck Person and former NBA referee Rashan Michel are expected to go on trial next month.
Miller was not implicated in any of the allegations that surfaced in the federal complaint and in an October trial that ended with Dawkins, Adidas employee James Gatto and former Adidas consultant Merl Code being found guilty of felony wire fraud and conspiracy to commit wire fraud.
However, Richardson and UA former associate head coach Joe Pasternack were both mentioned in the federal complaint and in witness testimony. The father of top prospect Brian Bowen testified in October that Dawkins told him Pasternack was offering $50,000 for his son to choose Arizona. Former travel ball director T.J. Gassnola testified that he gave $15,000 to a family friend of Deandre Ayton in an effort to steer him to Kansas — and away from a Nike-sponsored school like the UA.
And after the trial, ESPN reported that Dawkins wrote of a plan to pay former UA player Rawle Alkins and his family a total of $50,000 while he was playing for the Wildcats last season. Dawkins also wrote that he wanted to give Alkins' cousin, Rodney Labossiere, a share of his new sports management business, according to the ESPN report.
ESPN also reported that phone numbers belonging to Dawkins and Miller were connected for calls lasting at least five minutes a total of 13 times between May 3 and July 2, 2017.
The allegations could eventually result in NCAA sanctions for Arizona, even if Miller did not know of the reported wrongdoing. NCAA bylaw 11.1.1.1 states that head coaches are responsible for the actions of their direct or indirect reports unless they can "rebut the presumption of responsibility."
In an October 2017 statement, Miller said he recognized his responsibility to "promote and reinforce a culture of compliance."