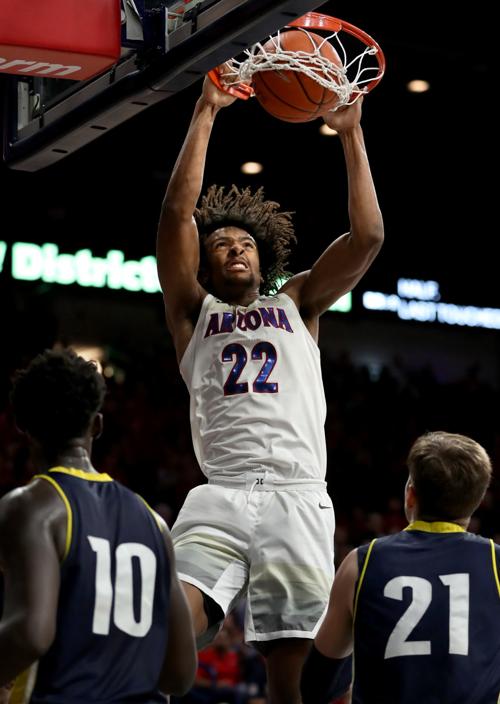 Before blowing up into the No. 2 pick of the 2011 NBA draft, Derrick Williams began his Arizona Wildcats career on the bench.
Stuck initially behind Kyryl Natyazhko and Jamelle Horne inside, Williams didn't start until his second game with the Wildcats and didn't hit the national radar until his third, when he made 21 trips to the free-throw line in a Maui Invitational game against Wisconsin.
Arizona coach Sean Miller made sure there was no such delay with Zeke Nnaji.
Even before Nnaji had 20 points in UA's season-opening 91-52 win over NAU on Wednesday, Miller had seen enough. Nnaji twice won the team's gold jersey as the Wildcats' best practice player last month, and, during a closed scrimmage on Oct. 19 against St. Mary's, Nnaji apparently had the Gaels' defenders quite frustrated.
"One of the things that really stood out is they fouled him 10 times," Miller said. "St. Mary's — they're experienced, they're well-coached, they're disciplined. So just watching him in that scrimmage really set the tone for how we were thinking about the importance of him on our team."
Miller's decision to start Nnaji against NAU paid off immediately on Wednesday. The freshman from Minnesota easily won the opening tip, then went on to efficiently score the most points ever for a UA freshman in his debut under Miller while also collecting four rebounds, a steal and a block.
"Zeke was outstanding," Miller said
A little context is necessary: NAU is a low-major program that went only 10-21 last season, the Lumberjacks didn't have anyone taller than 6-foot-9, and the game was at McKale Center.
So it wasn't as challenging an atmosphere as Kobi Simmons faced in his freshman debut during the 2016-17 season, when he powered Arizona to a comeback win over Michigan State with 18 points and six rebounds.
Besides, as Nnaji mentioned after Wednesday's game, the Lumberjacks' lack of size was firmly incorporated into UA's game plan, meaning everyone aimed to get Nnaji the ball as much as possible.
"I'm just trying to play within the offense," Nnaji said. "I've gotta credit my teammates because they were looking for me."
But Nnaji almost never wasted the opportunities they gave him, hitting 9 of 12 shots with both his right and left hands, elevating to tip in baskets the shorter Lumberjacks had no chance of defending while also hitting a midrange jumper.
He even created a bit of his own offense, stealing the ball from Lumberjack guard Isaiah Lewis — then racing his 6-11 frame quickly downcourt for a layup.
"You see how explosive and strong he is, and as much as we love him on offense, defensively, he really gives us length, quickness and size, and makes us a much deeper team," Miller said. "He's not a big strong guy that can't move. He's a big strong guy that can really move and the sky's the limit for Zeke.
"He's one of our team's hardest workers, and he's really gotten a lot better over the last year and a half. He has a very, very bright future. I'm certainly glad we have him."
Perhaps most notably, Miller also said Nnaji reminded him of Williams "in a lot of ways," not only in size and stature, but also in arriving with a high school reputation under the five-star radar.
While Williams arrived at UA ranked below fellow freshmen Natyazhko, Solomon Hill and Momo Jones, Nnaji didn't generate the same sort of high school hype that Nico Mannion and Josh Green did.
Though maybe he should have.
"I think Zeke was one of high school's best players a year ago," Miller said. "He wasn't a McDonald's All-American, I know that. There's different reasons for that and voting … it's hard to pick the right guys. But he's definitely one of the best freshmen in college basketball. We have a couple of them, but he's one of them for sure."
When video of Miller's comments hit social media during the early morning hours in Turkey, Williams was probably asleep. Williams is now playing overseas after having already made $31 million over a seven-year NBA career.
But from Istanbul on Thursday, Williams jumped on Twitter to retweet video the Star posted of Miller talking about Nnaji.
And, in the comment field above the retweeted video, Williams added a flexing-muscle emoji and the following words about Nnaji: