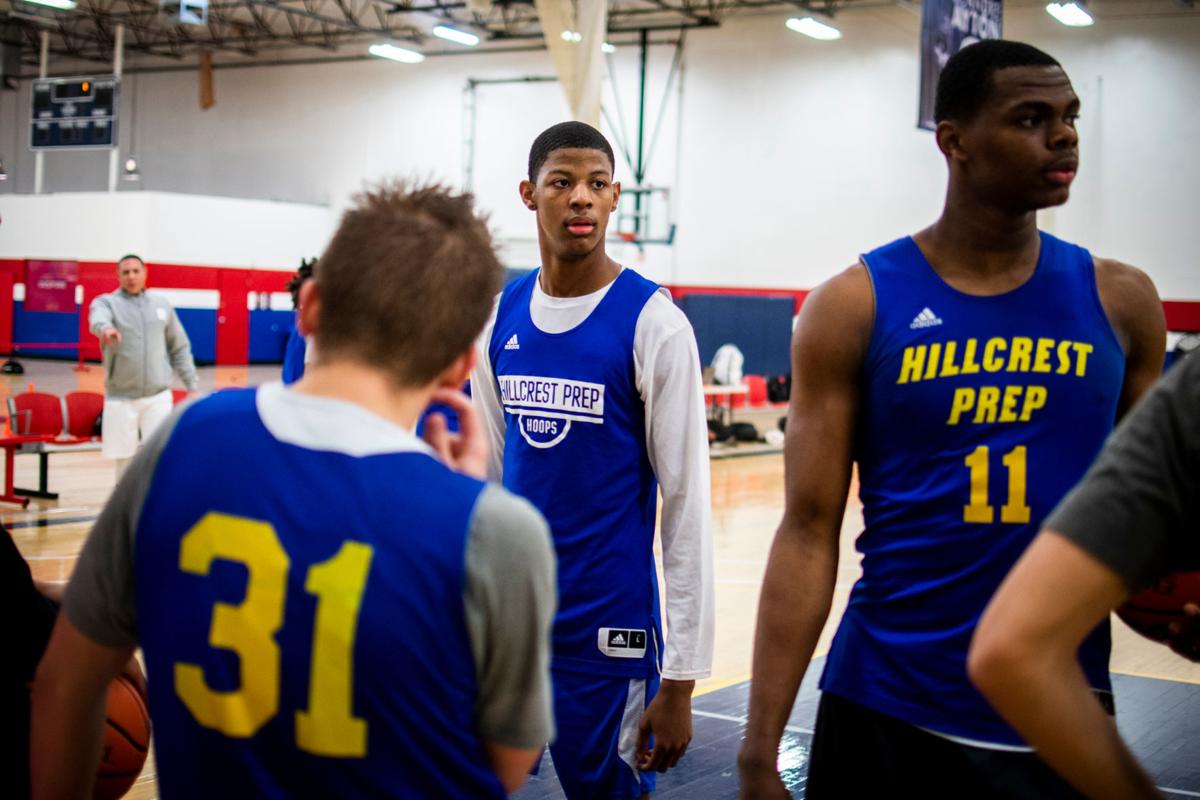 GILBERT — If all eight metal loading-dock doors fronting the Hillcrest Prep practice court are closed, and you can't hear Mike Bibby's voice booming inside, it might be easy to mistake the Bruins' home as just another giant box in another sprawling business park.
At 3:45 p.m. Wednesday, though, several doors were open and there was no mistaking what was going on.
"Who here wants to be a pro?" Bibby said, pivoting on a Hillcrest center court logo to face his players as they stood along the baseline, hands on knees before a sprinting drill. "You think they (other prospects) are at home taking it easy? They're hungry.
They ran. Of course they ran. Hillcrest is loaded with expected future pros, including Arizona signee Dalen Terry, the Bruins' long and multiskilled point guard — and all of them will be on display Thursday night, when Hillcrest faces Prolific Prep of Napa, California, in HoopHall West at Scottsdale Chaparral High School. The game tips off at 7 p.m. and will be aired on ESPN2.
Before practice, Terry indicated he couldn't wait to apply similar energy against five-star Prolific guards Jalen Green and Nimari Burnett, who were both once UA recruiting targets. Prolific also has four-star 2021 big man Frank Anselem, a current UA recruiting target.
"Prolific is our rival and this is a real big game for us (being from) Arizona, too," says Terry, a resident of Phoenix who played his freshman and sophomore seasons at Tempe Corona del Sol High School. "We don't get a lot of respect because we're playing a lot of games here and blowing teams out. This is the first big test."
Hillcrest is 8-0 heading into games with Prolific (11-0) and Hamilton Heights (8-0). The Bruins average three-figure scoring, dripping with the potential of Terry and North Carolina commit (and former UA target) Puff Johnson, along with younger elite big men such as Michael Foster and Sadraque Nganga, who have also drawn the UA's attention.
But that didn't initially mean they were a team. With so many four- and five-star talents, some assembly was required.
Roles had to be assigned, and accepted.
"They've got all the talent in the world but you've got to put basketball schemes into the situation," Bibby said before practice Wednesday. "Usually, they live off their talent. They've played off their talent.
"Just to come in and help these kids get to the next level, make them play basketball the way it should be played, means everything to me."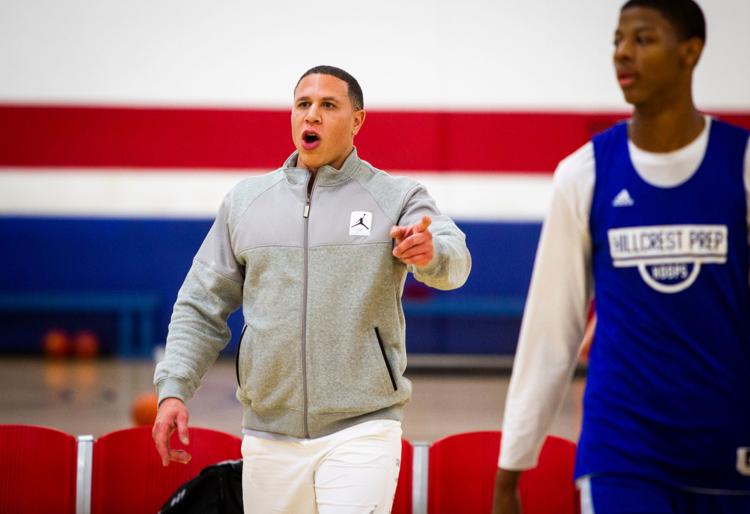 It's not surprising Bibby feels that way. He didn't need to be here doing this sort of thing. The freshman point guard for Arizona's 1997 national champions, Bibby amassed a total of $108 million during his 12-year NBA career, which began when he was the No. 2 overall pick of the Vancouver Grizzlies in 1998.
He could be playing golf every day. Traveling the world. Lecturing, hosting clinics or just chilling.
But as he proved while leading Phoenix Shadow Mountain High School to five state titles in six seasons, Bibby likes the challenge. Bibby opted to remain in the game even after allegations of sexual misconduct arose at Shadow Mountain after the school won the Class 4A state title last February. No charges were filed.
A spokesman for Paradise Valley Unified School District told The Arizona Republic in February that Bibby was no longer eligible to coach at the school while the investigation was ongoing. Bibby said he was planning to leave Shadow Mountain anyway because his nephew was done playing there.
It wasn't long before Hillcrest co-founder Nick Weaver offered him a new job with even more talent to work with.
"Nick gave me another chance to come here and just do something I love doing, and that's coaching," Bibby said.
So far, Bibby's decision has been to the benefit of Terry and, by extension, the Wildcats.
Just 6 feet 6 inches and about 170 pounds last summer while playing for the Adidas-sponsored Compton Magic, Terry says he's now about 6-7 and 190, and also growing as a player in part because of his new mentor.
"He works on my shot a lot," Terry said. "I feel like he was one of the better shooters in the NBA, so why not listen to him?"
"He tells me to watch his highlights all the time," Terry says, smiling, and he has — Bibby's NBA highlights and even the entire 1997 national championship game, when Bibby had 19 points, nine rebounds and four assists against Kentucky.
"It was definitely cool. I want to bring that to the University of Arizona," Terry said of that game. "When I was down there I saw a video of his jersey. He was laughing that he was so skinny then, and now he's all buff."
Terry said the two talk a lot about what it takes to play point guard, a role Terry might play along with off-guard positions at Arizona.
"He knows what I'm thinking in the game," Terry said. "So he's definitely somebody I look up to now that he's my coach."
Bibby said Terry's intensity and attitude stand out to him — "he's always saying, 'Yes, sir,'" Bibby says — while it's sometimes been a matter of subtracting, not adding, to his game.
"With D.T., there's a lot of extra stuff that he was doing out there that he didn't need to," Bibby said. "He was making the game too hard. (It's about) use less dribbles, use less moves to the basket. I mean, that's all it takes. Once they realize that, it's easy, they'll be fine."
Overall, Bibby said Terry is getting a lot better as the season has progressed, like all Hillcrest players, trying to develop natural talent into something they can use on the court.
And into something they can use with each other.
As their 8-0 record might indicate, that part of it is coming together, too.
"We just got it," Terry said. "That's why this game (against Prolific) is perfect timing, because we just got the chemistry. We know what everybody likes to do."