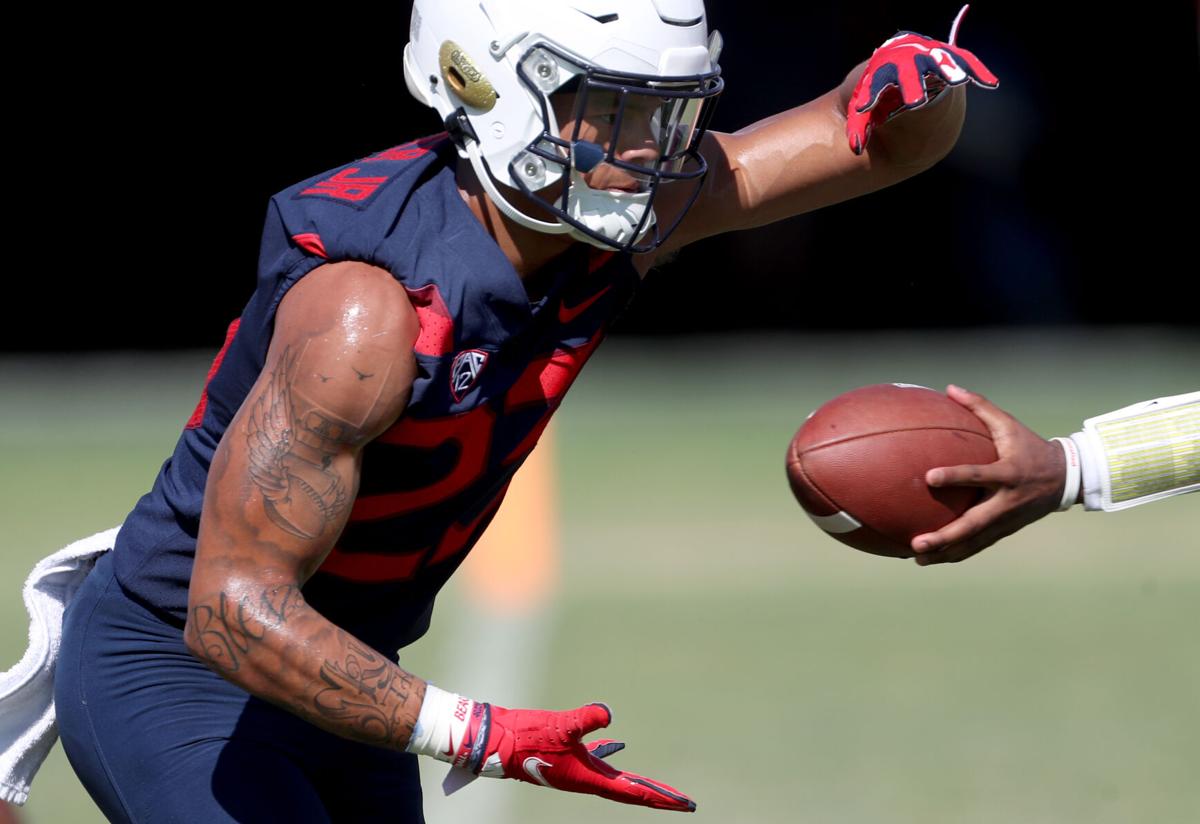 The Star's Michael Lev presents five storylines of interest as the Arizona Wildcats visit Colorado on Saturday afternoon in at Folsom Field in Boulder. Kickoff is slated for 12:30 p.m. Tucson time. The game will air on Pac-12 Arizona.
---
Stevie Rocker's plate is full as a UA freshman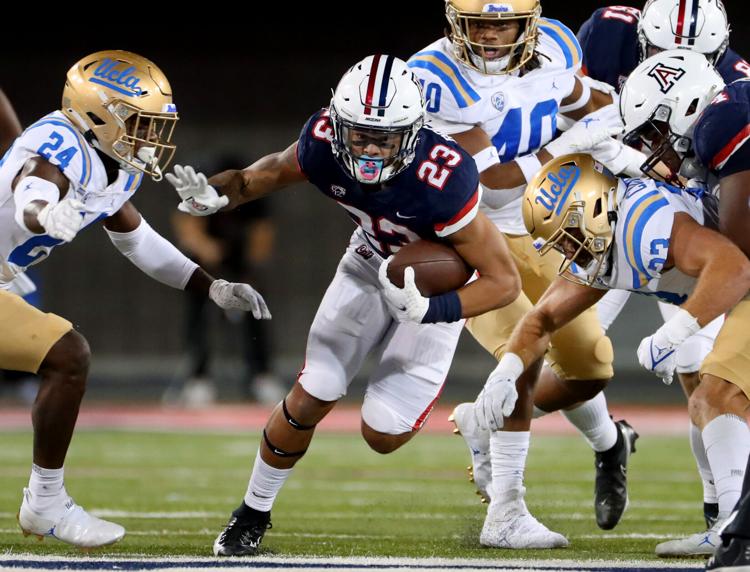 When members of Tucson-area youth football teams flooded the field at Arizona Stadium last Saturday, memories came flooding back to Stevie Rocker Jr.
Arizona's freshman running back used to be one of those kids. He participated in a halftime event as an 8-year-old with the Marana Broncos.
"I remember that vividly," Rocker said this week amid preparations for Arizona's game at Colorado. "I scored a touchdown in that game. I think they played NAU. It was before the Lowell-Stevens (Football) Facility was there. Before we had turf."
Rocker said the halftime showcase with the Broncos "felt like forever ago." When you're 18, a decade can seem that way.
Youth football was the last time Rocker played fullback — until this fall.
With two tailbacks ahead of Rocker on the depth chart, Jedd Fisch and his staff sought a way to get the talented Canyon del Oro High School product on the field. They've utilized him as a fullback in an offset I-formation.
Rocker played 10 snaps against UCLA last week, his most since playing 14 in his UA debut vs. San Diego State on Sept. 11. He recorded a career-best 39 scrimmage yards on four touches — two rushes and two receptions.
When the coaches presented the idea of playing fullback, Rocker viewed it for what it was: an opportunity to play.
"I just took it and ran with it," Rocker said. "I didn't shy away from it.
"I was like, 'OK, I'm ready for whatever I gotta do to ... help us get a better chance of winning. I'm gonna do whatever it takes.' "
Fullback won't be Rocker's long-term position. He came to Arizona to play tailback, and that eventually will be his full-time spot. He impressed the coaching staff in spring as a 17-year-old fresh out of high school, and he hasn't had any missteps since.
"He's just a young pup," offensive coordinator Brennan Carroll said. "But when he's out in space and got the ball his hands, he's done some dynamic things."
Arizona is redshirting most of its true freshmen this season. It's possible as few as three will surpass the four-game threshold: Rocker, receiver Anthony Simpson and safety Isaiah Taylor. (Offensive lineman JT Hand is another possibility.) There wasn't much debate regarding Rocker.
"We believe he can help us," Fisch said. "We believe that he's developing into a player that immediately can make an impact."
Fisch isn't asking Rocker to smash into middle linebackers as a lead blocker. But blocking was Rocker's responsibility on a pitch to Drake Anderson against UCLA that gained 15 yards.
"I was excited when they called that," Rocker said, "because I like being a part of impact plays, whether I'm getting the ball or not."
Rocker has enjoyed being a Wildcat — he described the experience as "dreams-to-reality type stuff" — even though Arizona is 0-5 and hasn't won since October 2019.
"A lot of people only look for that," Rocker said. "But it's deeper than just winning."
Not that he doesn't want to.
"I feel like I made the right decision," Rocker said of attending his hometown school. "It's only up from here."
---
Cats' last win took place in familiar setting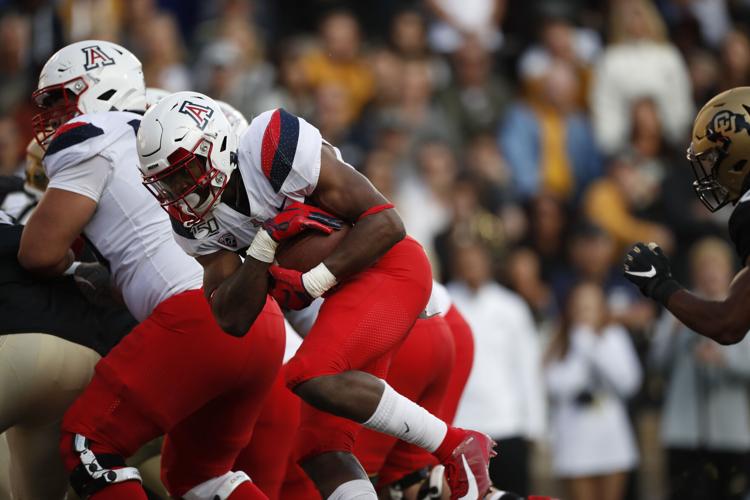 As you surely know by now, Arizona last won a football game on Oct. 5, 2019. The opponent was Colorado. The site was Boulder. The game kicked off in the afternoon sunshine.
What went down on that Saturday at Folsom Field? Let's take a look back ...
The Wildcats came to Boulder with a three-game winning streak. Arizona defeated UCLA 20-17 the previous week but did so without quarterback Khalil Tate, who had injured his hamstring in the previous game against Texas Tech.
Tate returned to face Colorado, a team against whom he had enjoyed tremendous success. Tate set an FBS record for quarterbacks with 327 rushing yards against the Buffaloes in 2017. In 2018, he matched his career high with five touchdown passes. Arizona won both games.
Round 3 was as tight as could be. It featured nine lead changes, and neither side led by more than six points at any juncture.
Arizona took the final lead, 35-30, on Nathan Tilford's second 5-yard touchdown run of the second half. The UA defense stopped Colorado on the next possession. Then Tate ran out the clock — just as he had in 2017.
Tate, a senior, finished with a career-best 404 passing yards. He also threw three TD passes.
"They expected him to run the ball," linebacker Tony Fields II said after the game. "He showed them that he's a pocket passer this year. He showed them he can do a little bit of everything."
The Wildcats' fourth consecutive victory raised their record to 4-1. At 2-0, they held sole possession of first place in the Pac-12 South.
"This team's different," then-coach Kevin Sumlin said. "The mentality's different. I think they've shown that. They're growing."
What neither Sumlin nor his players possibly could have known that day was that they wouldn't win another game under his watch.
Washington socked Arizona 51-27 the following week in Tucson, outscoring the Wildcats 38-10 in the second half. Tate struggled and eventually lost his job as the full-time starter.
Arizona lost its final seven games of 2019. The Wildcats went 0-5 in the pandemic-shortened '20 season. Sumlin was fired the day after a 70-7 defeat against Arizona State.
---
UA receiver has curried favor with coaches through hard work, production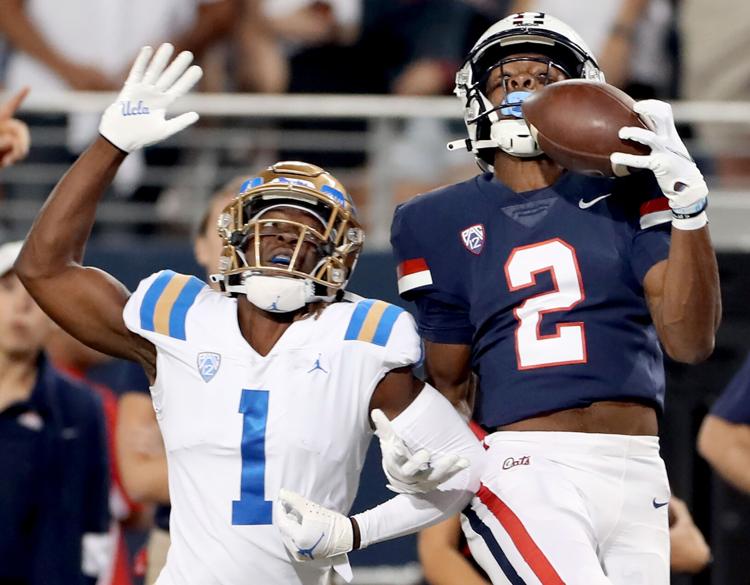 Boobie Curry played only 16 snaps in Arizona's first two games. He had one pass thrown his way, and he dropped it.
But Curry is a worker bee. He had committed to returning to the UA after a flirtation with the transfer portal, and he was determined to show that was the right decision.
Curry got more chances in Week 3 against NAU, and he delivered. Curry scored a pair of touchdowns — the first of his Wildcats career. His role has expanded since.
Arizona coach Jedd Fisch attributed Curry's ascent to him simply doing "everything right."
"At practice, he's just always jumping in," Fisch said. "He's always wanting to go. He's always competing."
Over the past three games, Curry has caught 13 passes for 147 yards. Those are career-high figures for the third-year sophomore from Houston.
"It starts with practice, getting better each and every day," Curry said. "Practice, film, knowing the plays — that just gives you confidence on the football field."
Curry has played like a guy who believes he belongs. Fisch cited two reasons for that: (1) Curry has a firmer grasp of the offense; and (2) he has experienced success in games.
"The receiver position, to me, is about confidence," Fisch said.
One area where Curry could stand to improve is making yardage after the catch. Only 29 of Curry's 147 yards have come in the form of YAC, according to Pro Football Focus. His mark of 2.2 yards after the catch per reception ranks last on the team.
Can Curry add that element to his repertoire? It would be a mistake to bet against him.
---
Turner's turnaround a matter of trust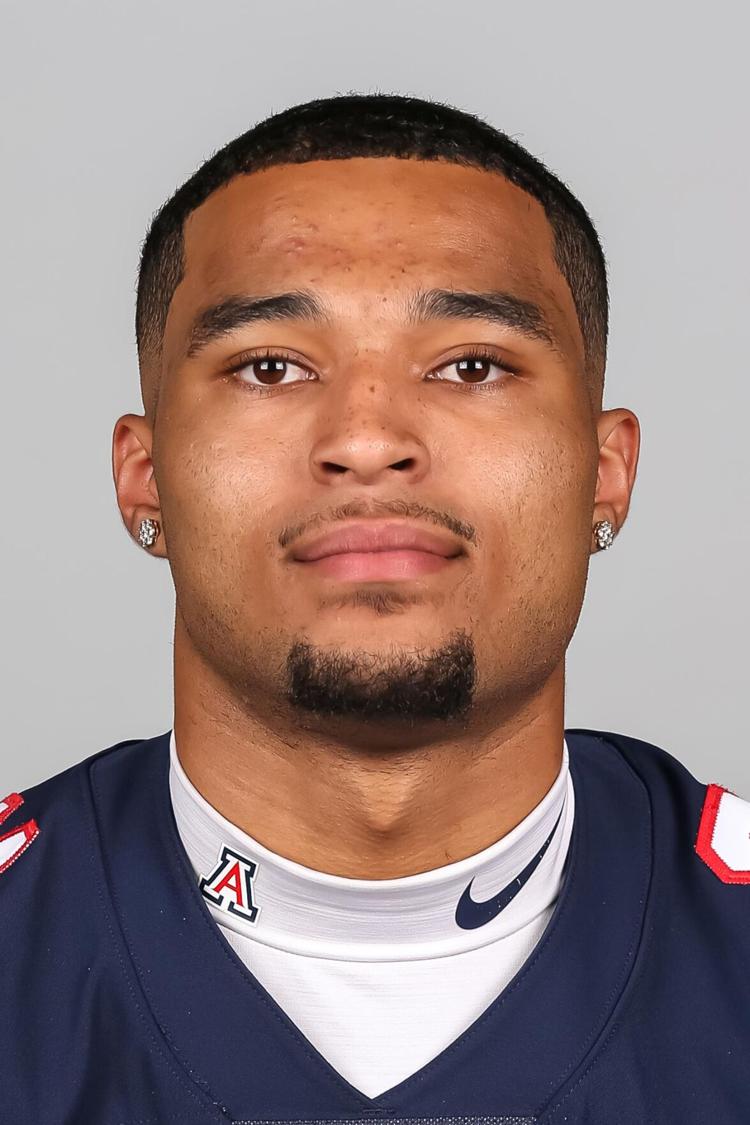 Don Brown wasn't sure about Jaxen Turner at first. In spring, the first-year Arizona defensive coordinator thought the veteran safety was "just a guy."
Turner has proved Brown wrong. The third-year safety has become one of the Wildcats' most trusted defenders, playing almost every defensive snap in three of the first five games. A targeting disqualification sidelined him for portions of the other two.
Brown's doubts had nothing to do with Turner's athletic ability. Turner initially resisted some of Brown's teachings. Turner has become "much more coachable," Brown said.
"He was looking at it like it was a personal affront," Brown said. "I tried to sell him on the fact that, 'Hey, I'm here to help you. That's what we're trying to do here. We all want to get better.' "
Turner said he sometimes has "trust issues" when he meets new people. Aside from safeties coach Chuck Cecil, who previously was an off-field analyst, Arizona has a new coaching staff.
Turner and Brown had a talk before the season. Turner told Brown he was "all in."
"New staff, you're not going to believe everything they say at first," Turner said. "It was just a process. Nothing personal, though. I'm on board 100%."
Turner's play has improved since a rough outing in Week 2 against San Diego State. Pro Football Focus charged him with four missed tackles. He has had only two since.
Turner allowed six receptions on six targets in the first two games, per PFF. Since then, he has surrendered just three in eight targets.
"It just comes down to pride," said Turner, who has 25 tackles, two stops for losses, two pass breakups and a forced fumble. "You don't want to look silly on film."
---
Cats usually roll in Boulder
For reasons that can't fully be explained, Arizona has found a particular formula for success against Colorado. It goes like this:
Boulder + October = victory.
The Wildcats and Buffaloes have met five times at Folsom Field since CU joined the conference. Arizona is 4-1 in those games. All four wins have come in October. The lone loss came in November.
Here's a quick glance at each of those games:
Colorado 48, Arizona 29
Notable: Nick Foles passes for 352 yards but throws three interceptions in the first meeting between the schools as members of the Pac-12.
Arizona 44, Colorado 20
Notable: The Wildcats rush for 405 yards, including a career-high 192 by quarterback B.J. Denker (who eclipsed 100 only one other time in his UA career).
Arizona 38, Colorado 31
Notable: The Wildcats score 21 points in the fourth quarter, putting the game away on a 1-yard TD run by backup QB Jerrard Randall.
Arizona 45, Colorado 42
Notable: QB Khalil Tate comes off the bench and rushes for a record 327 yards; he also completes 12 of 13 passes and accounts for five touchdowns.
Arizona 35, Colorado 30
Notable: Tate passes for a career-high 404 yards and three touchdowns in a back-and-forth game to improve to 3-0 against the Buffs.
Contact sports reporter Michael Lev at 573-4148 or mlev@tucson.com. On Twitter @michaeljlev