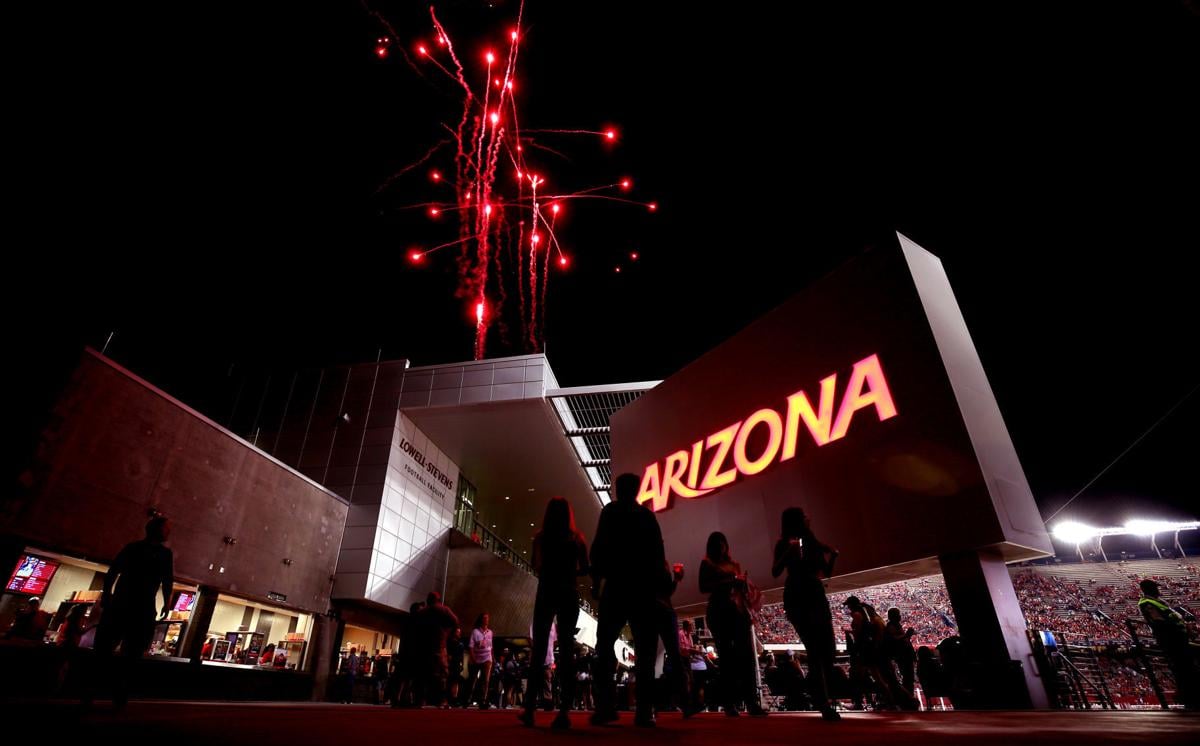 The number of UA athletes and athletic department employees investigated for sexual or domestic violence between Jan. 1 2012, and Dec. 31, 2017, appears to be nearly twice as many as previously reported, one of the university's attorneys said last month.
The UA initially said there were 16 investigations into sexual assault, sexual harassment and dating violence during the six-year span. That number is actually 27, according to a statement made in court.
The university is currently defending itself in two Title IX lawsuits related to its handling of former Wildcats football player Orlando Bradford, who is serving a five-year prison sentence after he admitted to choking two of his ex-girlfriends. Both women have since filed lawsuits against the UA, saying school officials knew Bradford was a danger to women and failed to take appropriate steps to protect other students.
As part of the discovery process for one of the lawsuits, lawyers for the plaintiff requested investigative records for all sexual assault, sexual harassment and dating violence incidents involving "student athletes, athletic department employees and athletic department coaches." A chart produced by UA lawyers in September detailed 16 incidents that fit the description. Eight total investigations — four alleged sexual assaults, three sexual harassment reports and one domestic violence report — involved members of the football program.
During a Jan. 15 discovery dispute hearing, assistant attorney general Stephanie Elliott — who is representing the UA in the case — mentioned that there were in fact 27 investigations identified in the charts produced by the UA. The charts include Tucson Police Department investigations, according to a court transcript from the hearing. A breakdown of the 27 investigations was not discussed during last month's hearing, but Elliott referenced multiple charts. In previous hearings, only one chart had been discussed.
Elliott also acknowledged that the San Francisco-based attorney who reviewed Arizona's Title IX policies and procedures did not issue a written report or document any of her findings. In March, the UA announced that Natasha Baker would be looking into the school's Title IX program.
On May 31, UA President Robert C. Robbins sent a letter to the "UA community," summarizing the steps the school would be taking to "enhance" its Title IX response. The 2½-page news release offered no details of Baker's $124,000 review, other than to say that the UA is in compliance with federal rules and regulations and that Baker had advised the university on "a number of areas" it could improve on its "path to excellence" related to sexual violence.
Baker spoke with "countless employees" during her investigation, Elliott said in court, but added that she doesn't believe the UA has a record of who was interviewed.
Attorneys for the plaintiff say the UA has not produced any communication records, and that they're having trouble scheduling depositions with several former football coaches and staffers — including former recruiting coordinator Matt Dudek and former running backs coach Calvin Magee. The UA has identified 10 different school officials who may have had knowledge of Bradford's behavior, and the plaintiff's attorneys say they've found five former employees who also may have known, according to the transcript.
Two current UA employees, including a prominent coach, denied knowledge of Bradford's violent behavior before his arrest despite the fact that a UA police report shows that at least one of them was present when a third victim told police about the running back's abuse.
Police reports show that at least six months before Bradford's September 2016 arrest, his ex-girlfriend called UAPD to say he'd been harassing her outside her dorm room. The police report shows that a senior athletic department official was present for the meeting and the victim — a fellow UA athlete — told police that she'd reported the abuse to her coach shortly after Christmas. The woman told police that her coach told her to stay away from Bradford, according to the police report.
Lawyers in the lawsuit have asked the UA for any records related to the meeting or any of the woman's communications with her coach, but the UA has yet to produce them. A friend of the student-athletes also reported the abuse to senior athletic director Erika Barnes, which lawyers learned about through police audio recordings. They said in court that the UA has not disclosed that information, either.
Those conversations, Elliott said, "don't necessarily comport with the university ... officials' recollection of any of these alleged meetings or even whether or not they happened," adding that "the university has provided all the information it has."
UA officials have repeatedly declined to comment on information discussed during the lawsuits.
Be the first to know
Get local news delivered to your inbox!