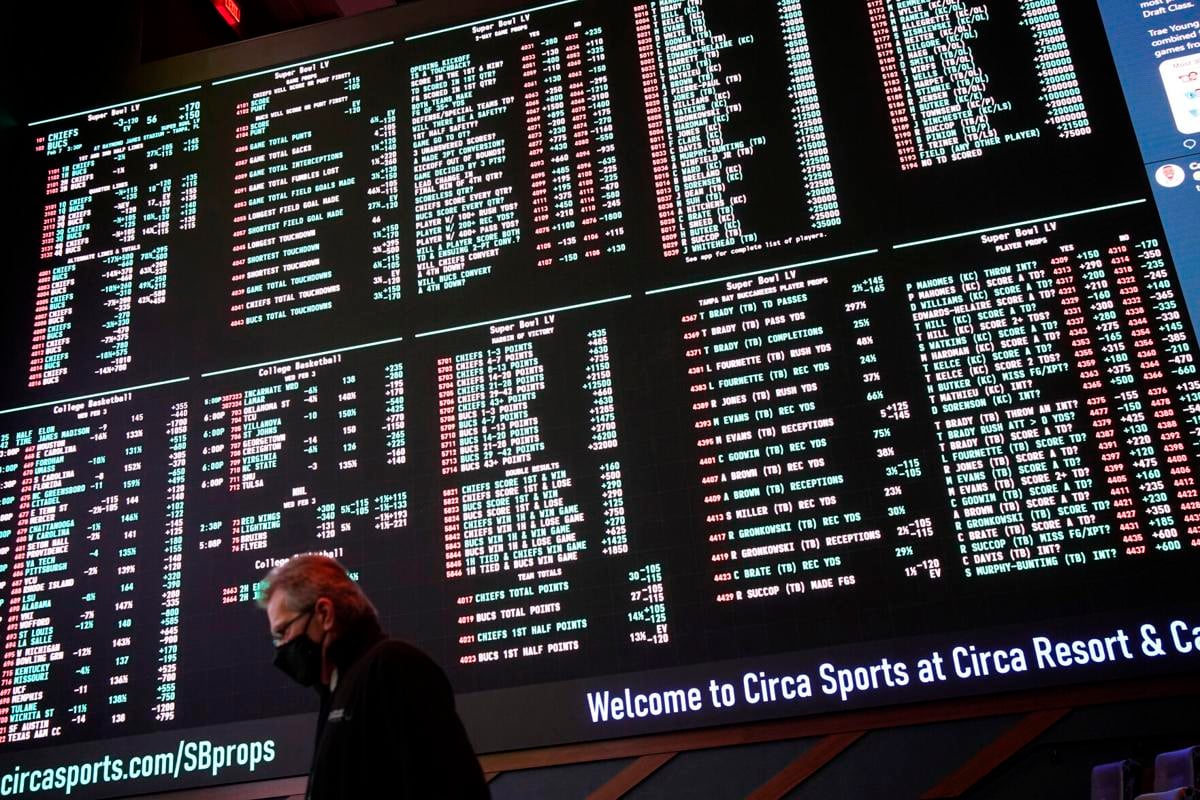 Starting Thursday, Arizonans can gamble on sports legally. You have questions; we have answers:
A: Do you have an iPhone? Well, take it out and …
A: Wait, you've never done this before?
A: *Sigh*. OK. Sports gamblers can bet on games a number of ways: By picking which team will win the game outright, which team will "cover" a point spread, how many points or runs will be scored, or how individual players will fare in games. Say you think the Cowboys will beat the Buccaneers in Thursday night's NFL opener. You can simply bet on them to win: No point spreads, no drama.
Well, picking winners seems easy.
A: Sure it does, pal. Picking a winner on the "money line," however, is more complicated than it sounds. Pick the favorite, and the financial return is so low that it barely qualifies as gambling. Pick the underdog to win, and you can potentially cash in. But be warned: They're underdogs for a reason.
What about point spreads?
A: Gamblers get even-money odds, more or less, by betting point spreads. Point spreads are set by oddsmakers at the beginning of each week (for football) or daily (for baseball) and can change depending on how much money comes in on either team. Point spreads run in the Star daily, with the team that's favored to win on the left. The Arizona Wildcats, for instance, are 1 1/2-point favorites against San Diego State on Saturday. Betting Arizona minus-1 1/2 means you think they'll win by two points or more. Betting SDSU means you think the Aztecs will cover. Now, is this over?
OVER! What's this over/under nonsense?
A: Oddsmakers set a number of total points that they think will be scored in a given game. Gamblers can bet the over, meaning they think that number will be eclipsed — or the under, meaning they think the number is too high.
Bill Ordine, an analyst with BetArizona.com, says the over/under is "a very easy bet to understand" for newcomers.
"Most bettors are going to like the over because fans like scoring," he said.
But I like betting on teams. In fact, I think Arizona, ASU and the Cardinals will all win this weekend. What should I do?
A: Parlays — that is, packaging two or more bets together at longer odds — can be tempting. A three-team parlay, betting with spreads, pays 6-to-1. But be careful, warns Ordine. "We know that gamblers like making a small bet and winning a large amount of money," he said. "They're enticing, but understand that if you get into parlay betting, the odds are stacked against you."
So what are "prop" bets, then?
A: Think of the wacky bets that you see during Super Bowl week. You know: "Will the national anthem last more than 2 minutes?" "Will Patrick Mahomes attempt more than 30 passes?" "Will Rob Gronkowski take his shirt off during the game?" Things like that. Prop bets come with a catch in Arizona, though; there are no individual props offered on college players. So, no, you can't bet on Gunner Cruz's touchdown total against San Diego State.
Can I bet while the game is going on?
A: Technology allows gamblers to bet anytime from their phones, even in the middle of games. Point spreads shift constantly. Ordine says gamblers often find an edge by betting in-game.
"If the team that you're considering (betting on) is behind or ahead, you can think along with the coach in terms of, 'Where is this game going?'" he said. "You have to apply some game theory to the wager. When a team gets behind, what it is that the coach is likely to be doing?"
So where can I do all this? Casinos?
A: The state of Arizona has issued off-reservation sports gambling licenses to 10 tribes and eight professional sports franchises, and made on-reservation sports gambling legal on tribal land. However, the only in-person sportsbooks likely to be open Thursday are the ones run by the Suns and Diamondbacks in Phoenix. Tribes must ratify an appendix to their gaming compact before opening on-site sportsbooks. Expect Casino del Sol's new sportsbook to open in a month or so, with Desert Diamond's sportsbooks in Tucson and Sahuarita coming sometime this fall. (For more, see Page A1).
Pro sports teams have licenses? So can I bet at games?
A: Chase Field, State Farm Stadium, Footprint Center (home of the Suns and Mercury), TPC Scottsdale and Phoenix Raceway all have licenses for sportsbooks. So do the Arizona Rattlers and Phoenix Rising. So you can bet at casinos (when their sportsbooks open), at the sporting events themselves, or from your phone.
A: Yes! MGM, William Hill, FanDuel, Bally's, DraftKings, Wynn and SuperBook Sports, among others, have been advertising their apps for weeks.
You can gamble using the apps starting Thursday as long as you're in the state of Arizona; the app uses geotracking on your phone to confirm your location. To get started: download the app of your choice, register and put money in your account.
Have you seen some of these offers? Free credits? "Risk-free" bets?
A: Customer acquisition, baby. Be a smart consumer. Ordine's advice about promotional deals and apps: "Take advantage of as many of them as you can without extending yourself."
A: Gambling isn't for everybody, and those who think they have a problem can contact 1-800-NEXT-STEP or text NEXT-STEP to 53342. For those who choose to gamble, set a limit and stick to it. Sports betting is legal and is here to stay, so pace yourself.

Contact sports editor Ryan Finley at 573-4312 or rfinley@tucson.com. On Twitter: @ryan_finley