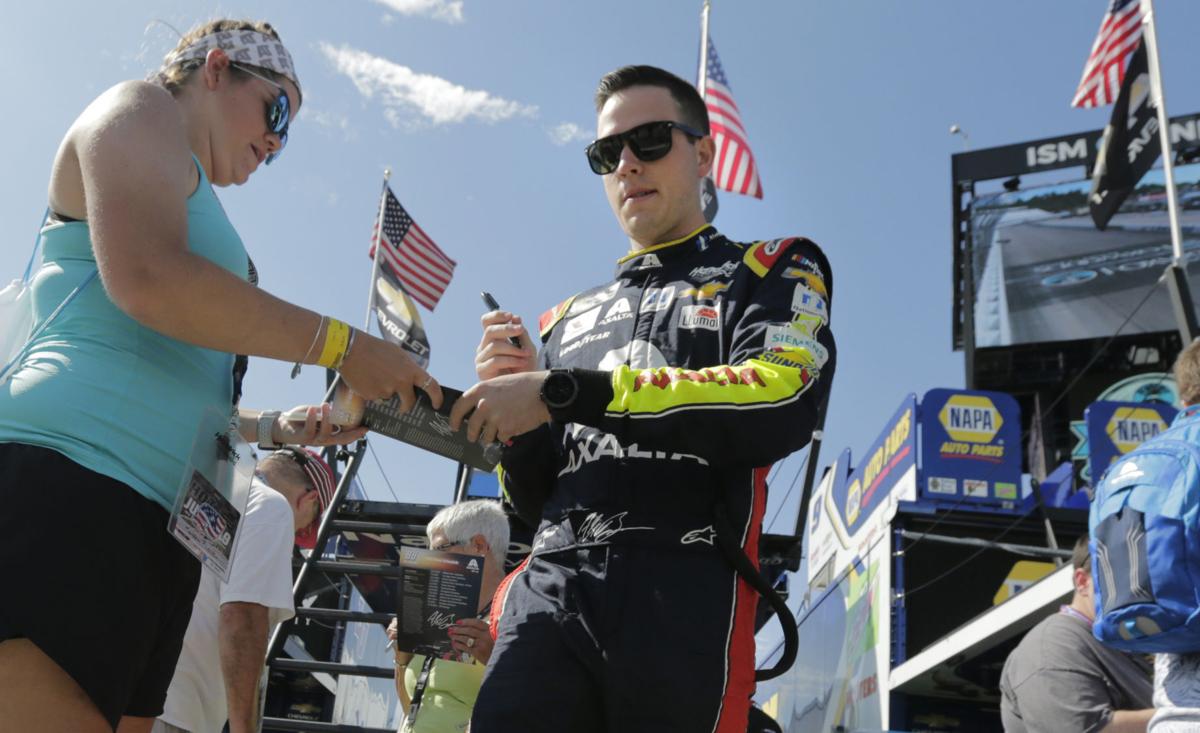 When Tucson's Alex Bowman arrived in Las Vegas a few days ago for the NASCAR playoff series, it was almost like a "what day is this, what city is this?" scenario.
The NASCAR regular-season schedule is as unforgiving as any in sports, a 26-race28-week odyssey across 31 weeks from February to September, on the move from Georgia to Kansas to Delaware to all parts in between. There is no place to call home.
"We only get three weeks off," Bowman said Friday. "It's grueling but I wouldn't want to be doing anything else. It'sIt a dream come true to be here."
Now comes the hard part for the Ironwood Ridge High School grad.
The NASCAR playoffs have a clever marketing pitch — "10 weeks, 10 races." Those playoff events will be held in 10 cities, beginning Sunday at the Las Vegas Motor Speedway with the South Point 400.
Bowman finished the regular season No. 9 overall in the Monster Energy Cup Series standings and easily made the 16-man playoffs. After the first three playoff races — in Las Vegas, Virginia and North Carolina — the field will be trimmed to 12. Further cuts will be made to eight and then four drivers for the final seven races.
It is the chance of a lifetime for the 26-year-old Bowman, who broke through in June and won his first NASCAR Cup Series race, the Camping World 400 at Chicagoland Speedway.
"The next 10 weeks will be intense," he says. "I've had my ups and downs since Chicago, but I'm here and I'm ready, hopeful everything will fall in place."
Bowman has been a competitive auto racer since he was 7, when his father, Sean, a Tucson auto shop operator, helped him get started on dirt tracks at every conceivable level of racing facility in the Southwest and California.
Now Bowman is challenging 2019's two-leading NASCAR drivers, Kyle Busch and Denny Hamlin, for the world championship. Given Bowman's long history as an auto racer, it wouldn't be accurate to say he's just getting started. But in a way, he is. Bowman is like a big-league ballplayer in his second or third year in the majors.
"A lot of people say 30 is the peak of a (driver's) career, but I'm not sure about that," he says. "I don't know if I'm in my prime, but I don't think I'll be doing this 20 years from now. A season can wear you out. But now that the playoffs are beginning, I feel fresh and ready to go."
---
Mentor knew success was in Cards for Chris Duncan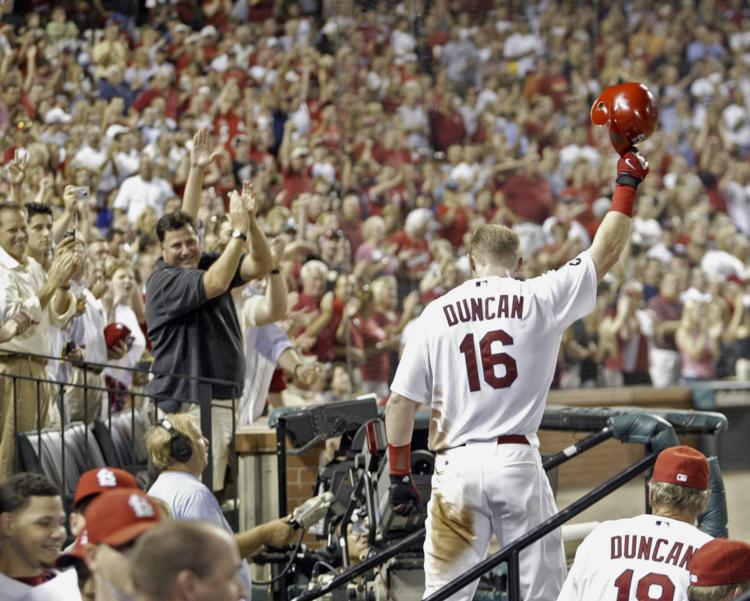 On the day of the 1999 major-league baseball draft, Tucsonan Clark Crist sat nervously in the St. Louis Cardinals' war room as the Cardinals prepared to use the No. 46 overall selection.
Crist, who was Arizona's starting shortstop on the school's 1980 NCAA championship team, had recommended the Cardinals select Canyon del Oro High School first baseman Chris Duncan.
Crist had earned his chops as a scout many times, recommending the Houston Astros select Arizona basketball star Kenny Lofton in 1988. Lofton turned out to be a six-time All-Star.
St. Louis GM Walt Jocketty nodded and phoned Cardinals pitching coach Dave Duncan, Chris' father. By 2006, Crist was sitting at Busch Stadium in St. Louis when Chris Duncan hit a World Series home run, helping the Cardinals beat Detroit.
"It was one of the special moments of my life," remembers Crist, now the Arizona Diamondbacks' national cross-checking scout. "Watching Dave and Chris embrace in the St. Louis dugout — I was sitting with the Duncan clan, his mom Jeanine and brother Shelley — I think we all were crying."
"I knew Chris since he was 11; my son Justin was his teammate for years and I think I must've hit thousands of ground balls to him," Crist says. "I saw that whole, special group of kids grow up: Chris and fellow major-leaguers from Ian Kinsler, Brian Anderson, Scott Hairston. … Nothing was going to deter Chris from getting to the big leagues. His work ethic was incredible."
Before injuries ended his baseball career, Chris Duncan hit 55 home runs for the Cardinals. He then became a sports-talk host for ESPN 101.1 in St. Louis.
"I loved Chris like a son; he never acted like the chosen one," says Crist. "It's just crushing that his last seven years were so difficult. In a way, it makes me angry, but when I'd talk to Chris he would do anything to change the subject and say he was fine. What a special man. I'm so glad I got to know him."
---
Pac-12 hoops schedule is not kind to early risers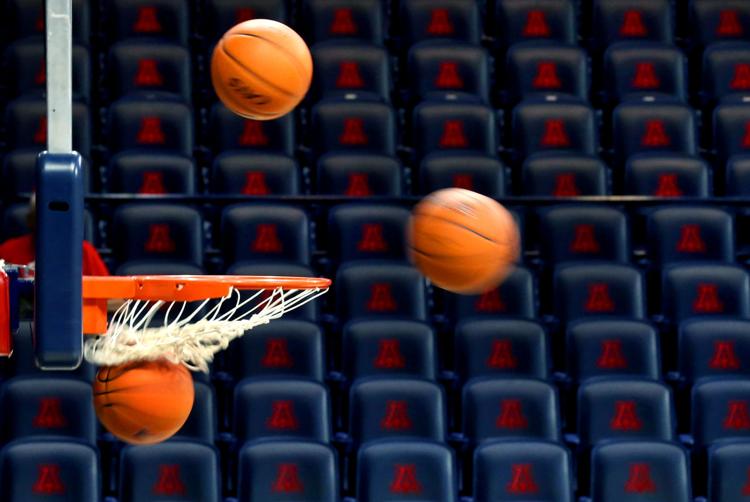 Dec. 14, Gonzaga, 8 p.m.
Feb. 8, UCLA, 8 p.m.
Feb. 22, Oregon, 8 p.m.
March 7, Washington, 8 p.m.
To compound the scheduling issues, the Arizona-ASU game at McKale Center on Saturday, Jan. 4 will start at 7:30 p.m. That's an improvement over 8 p.m., but the league and its media rights partners chose to put the game on the Pac-12 Networks — which means it will be available only to a limited audience.
That's when someone like Pac-12 commissioner Larry Scott needs to step in and edit the process. The UA-ASU rivalry has become one of the most anticipated in the Pac-12 since Bobby Hurley's arrival at ASU. In a league lacking in fan appeal, not giving the UA-ASU game a more high profile platform is yet another goof on the commish's part.
---
Former Foothills swimmer a finalist for NCAA Woman of the Year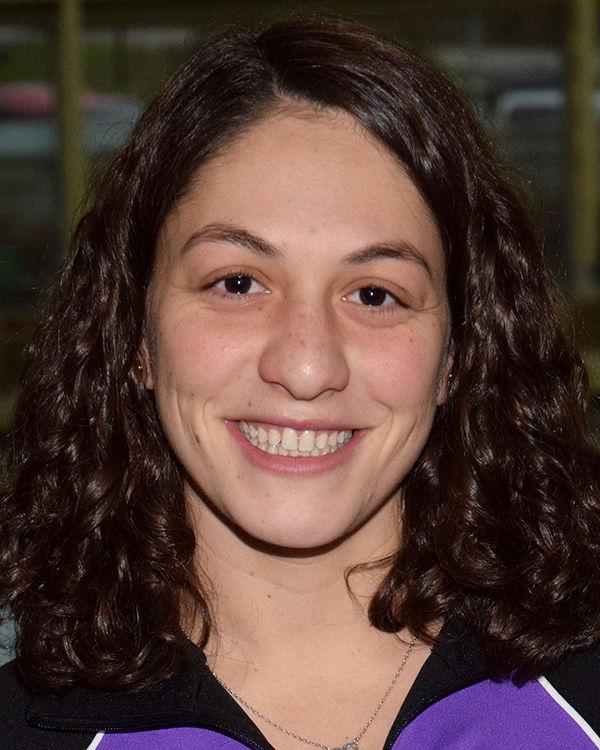 Former Catalina Foothills High School swimmer Hannah Orbach-Mandel is one of 30 finalists for perhaps the most coveted award in women's college sports. The 25-time All-America swimmer at Kenyon College last week learned she was chosen from a field of 585 nominees for the NCAA Woman of the Year Award. Tucsonans know what that means. Former Arizona swimmers Lacey Nymeyer John, Whitney Myers Burnett and Justine Schluntz all won the Woman of the Year Award, as did Arizona's 1990s high jumping All-American Tanya Hughes. Orbach-Mandel, who has been working as an intern at the NCAA headquarters in Indianapolis, a Phi Beta Kappa, will soon learn if she is one of the nine finalists who will be in Indianapolis for the award ceremony on Oct. 20. Of the 30 finalists, only one is from the Pac-12, a volleyball player from Stanford. Orbach-Mandel's father, Marc Orbach, who earned degrees from Stanford and Michigan, is a UA professor in the School of Plant Sciences.
---
Former Desert Christian pitcher, minor-league mates honored before D-backs-Mets game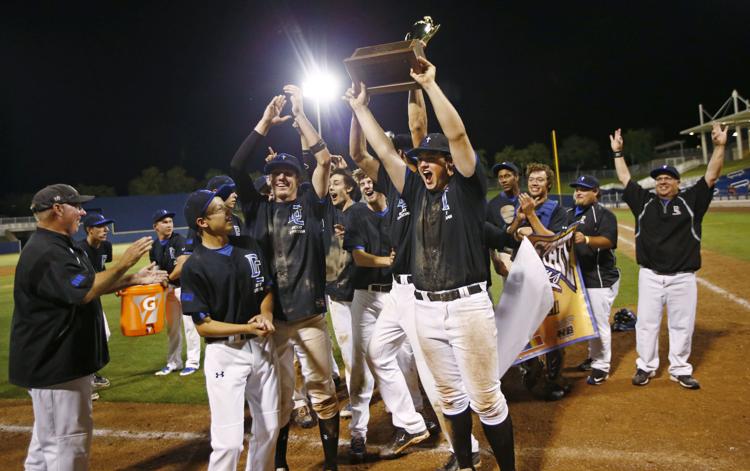 Lefty pitcher Andrew Edwards, who helped Desert Christian High School win three straight state baseball championships before he pitched at New Mexico State, had the week of his life in the New York-Penn league baseball playoffs. In his final three appearances for the Single-A Brooklyn Cyclones, Edwards had a win and a save while striking out 17 in 7⅓ innings. He saved the New York-Penn championship game by striking out the last two batters in the ninth inning. Two days later, Edwards and his teammates were at Citi Field in New York, honored before the New York Mets-Arizona Diamondbacks game. 
---
Pueblo's 'Curly' Santa Cruz raised winners, on and off the field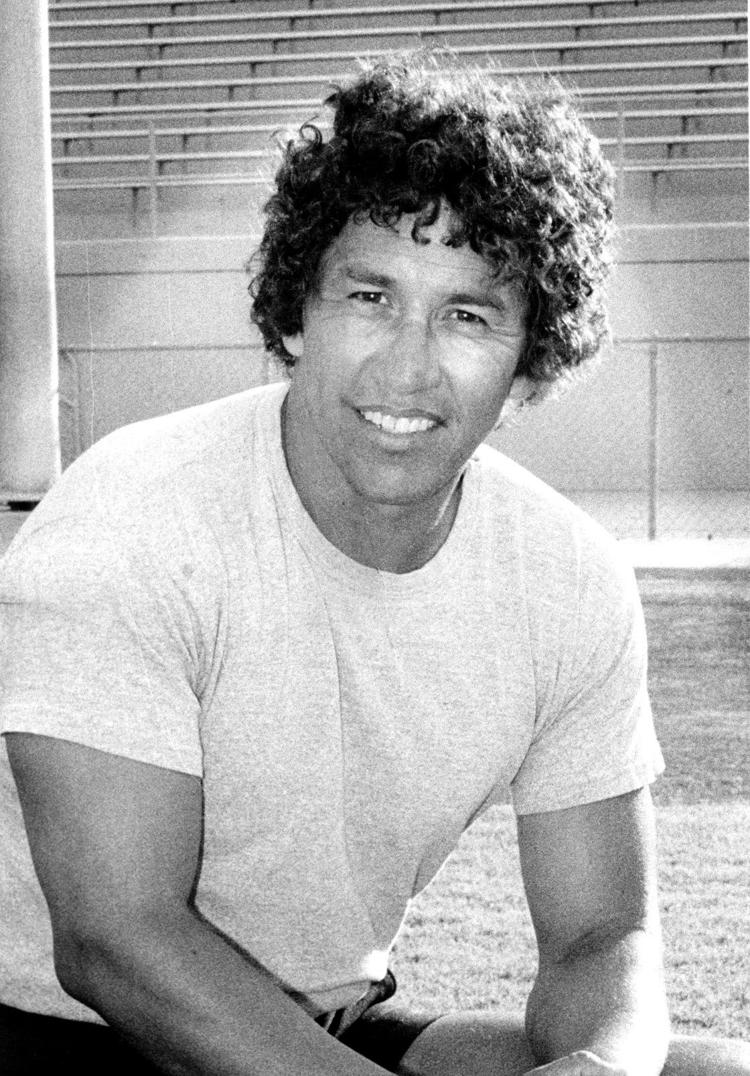 Pueblo High School named its football field after longtime football/track coach and teacher Saturnino "Curly" Santa Cruz on Friday night. The LaVetter Gymnasium was at near-capacity for a pre-game series of speeches that included those from former Pueblo football standout David Eldridge, former Pueblo linebacker and wrestler Daniel Samorano and Wilbur Washington, who was an all-city receiver on Santa Cruz's famed 10-1-1 team of 1988. Washington typifies the kind of young man Santa Cruz helped get an education. Washington went on to play football at Eastern Arizona College and at Temple, where he earned his degree. He is now involved as a sales executive for cancer-related treatments.
---
Former Aztecs receiver setting records at Idaho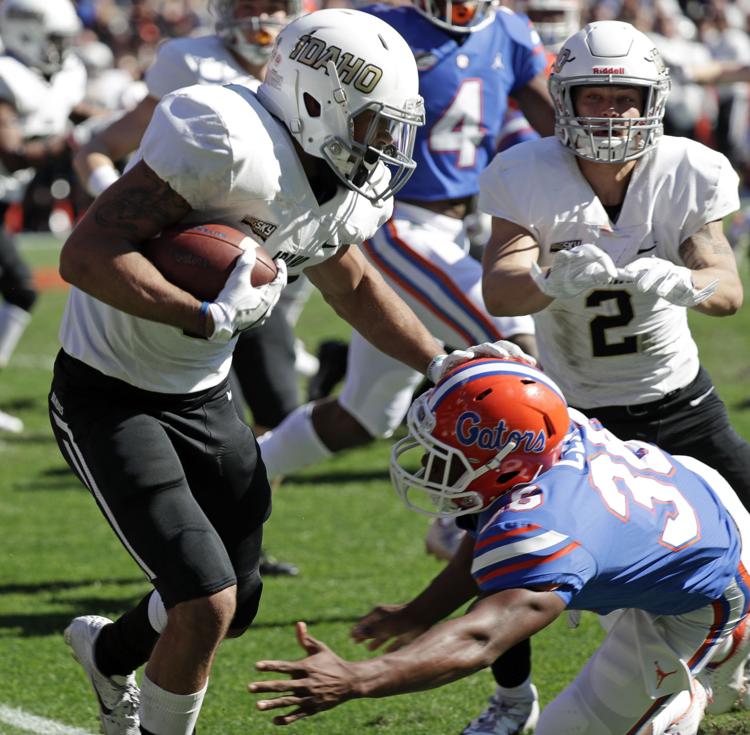 When Pima College eliminated its football program a few months ago, it shut down the option for Southern Arizona high school players to create a resume that would lead to a four-year scholarship. One of the leading examples of how valuable playing football at PCC could be is former Mountain View receiver Jeff Cotton. After two years at Pima, Cotton received a scholarship to Idaho. A week ago, Cotton caught a school-record 16 passes for the Vandals. A week earlier he caught six passes in a game against Penn State. After arriving from PCC two years ago, Cotton has now caught 71 passes for 10 touchdowns. Pima's football program currently has players at Colorado, Memphis, Kansas and Vanderbilt.
---
My two cents: Pima College officials believe $210K gift will be a game-changer for Aztecs' athletic department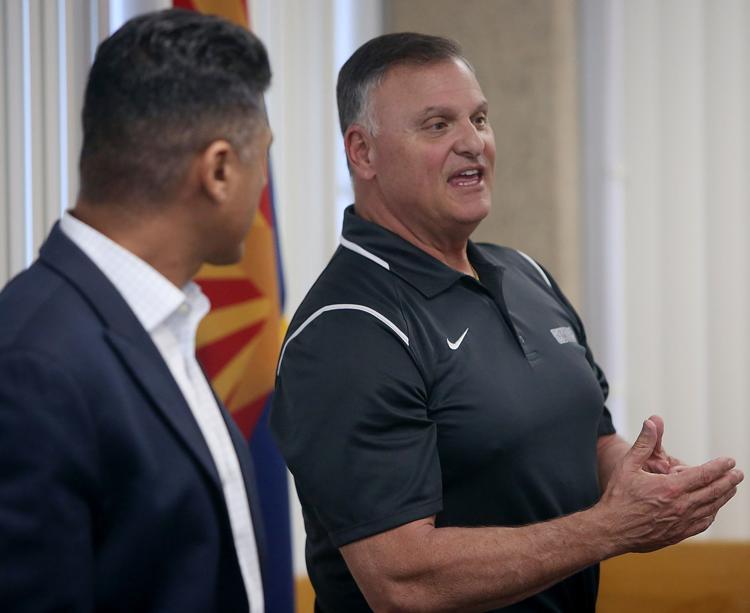 The budget crisis at Pima College has put the future of the men's and women's golf, tennis and track teams in jeopardy.
The deal was brokered first by men's soccer coach Dave Cosgrove and carried on by PCC athletic director Jim Monaco and others in the athletic department.
"I don't believe any of the other (12) ACCAC schools has ever had a sponsorship of this magnitude," said Monaco, the school's former football coach.
"It's a credit to all of our coaches and administrators, who have come together for the benefit of the department. We've got a lot of irons in the fire; I believe that associating with a big-time local company like Chapman Automotive will lead to further relationships in our business community."
PCC is in the process of building a soccer stadium on its West Campus. It will name the area near the track, baseball, softball and soccer stadiums the Chapman Automotive Sports Complex.
Plans also include a Walk of Fame that will honor the school's many All-Americans.
Chapman Automotive has been one of the UA's lead sponsors in recent years, with signage especially notable at Arizona Stadium.
But this year Chapman chose to step back from its UA football relationship and take a lead role in Pima's attempt to get through some difficult financial times.
For almost 50 years, Pima College's athletic program has struggled to attract high-profile local sponsorships. Advertising banners from small-business firms hang in the basketball gymnasium, but many of those deals (all under $1,000) have expired.
"What we'll do now is try to build a financial nest egg and hope other businesses in Tucson see the value in investing in Pima College," said Monaco. "If a firm like Chapman Automotive sees the value of investing in our sports programs, it should just be our first step."
Contact sports columnist Greg Hansen at 520-573-4362 or ghansen@tucson.com. On Twitter: @ghansen711