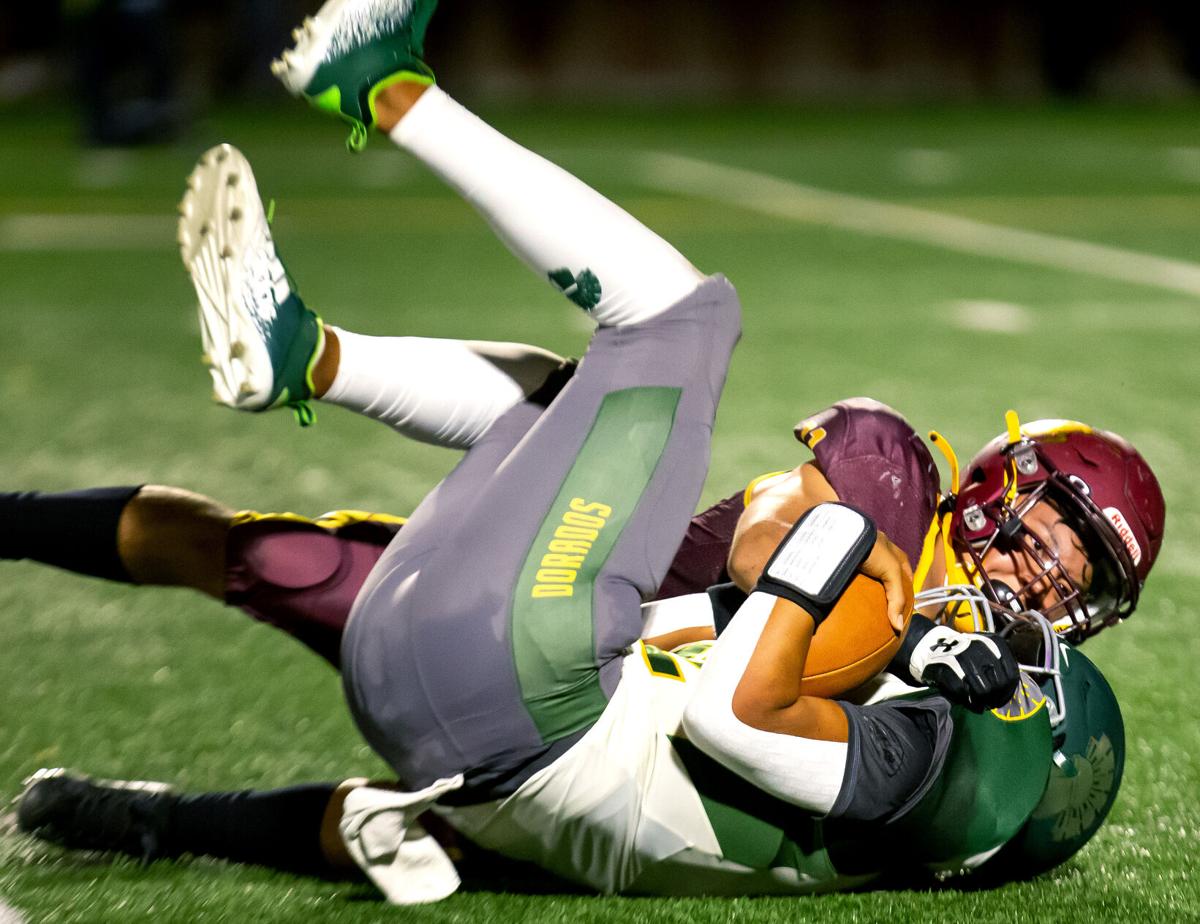 On a roster as talented as Salpointe Catholic's, it can be easy for some players to become just another face in the crowd.
"A lot of times there's guys here that have put in three, four years of hard work and maybe don't always get the recognition they deserve," Lancers coach Eric Rogers said this week. "
Two players that fit that mold after week one of the 2021 season are linebackers Davian Miranda Carrasco and Joey Sulmin. Both players enjoyed formidable junior seasons last fall, but were somewhat overshadowed by senior standouts such as Breyton Depoint, Julian Robles and Parker Pelletier on defense.
Carrasco and Sumlin were two of the team's best all-around player in last week's 56-0 win over Canyon del Oro.
Sumlin led the team with seven total tackles while Carrasco racked up a team-high four tackles behind the line of scrimmage, including a sack.
"We were just filling the gaps the whole night," Carrasco said.
What made the senior duo so effective in the shutout victory was their communication and knowledge of the game plan, Carrasco explained. As an outside linebacker, Carrasco's was tasked with containing CDO's run-heavy offense by forcing the ball inside. Sumlin, the team's middle (or "Mike") linebacker, plugged up open gaps in the middle of the field.
Salpointe limited the Dorados to 65 rushing yards on 30 attempts.
"I think our defense has a lot of potential to be one of the best in the state," Carrasco said.
Rogers said he had complete trust in both players to lock down their assignments, citing that he prepares the Lancers to be a very "disciplined" defense no matter the opponent.
"We stress that every day. Just do your job defensively and run to the football," Rogers said.
Salpointe Catholic's home opener also made for a special night in more ways than one for Carrasco and Sumlin. Both had impressive performances on the field, but the people in attendance to see them was the cherry on top.
Carrasco estimates he had somewhere around 50 family members in the stands. Friends and family from Tucson and other close relatives from San Diego watched the Lancers' senior linebacker put on a defensive clinic.
"It's amazing to see the amount of support out there," Carrasco said. "Just such a blessing."
Carrasco credits his mom for going on a social media campaign early last week, encouraging anyone that knew her son to come out to the stadium. Last season, Salpointe players were only permitted four family members per player to attend games; Carrasco's mom wanted to go all-out for the 2021 opener.
"All credit to her," Carrasco laughed. "That was super exciting."
Sumlin's cheering section was smaller but just as significant. His mom, Charlene and dad, Kevin, were both at the game. Kevin Sumlin, the former Arizona Wildcats football coach, was rarely able to watch his sons Jackson and Joey play on Friday nights. Jackson is now a walk-on tight end at Oklahoma, meaning Joey has the spotlight all on him when his parents show up to high school games.
"It was amazing. I love them both so much," Joey said. "I just like showing them that believing in me is working."
Leading up to the season opener, Carrasco and Sumlin both worked on getting bigger and faster knowing that much is expected of them in their final season. The latter even grew two inches over summer to eclipse the six-foot mark.
Yes, becoming a better athlete in the gym has helped both linebackers improve their physicality, though it's their ability to be in sync and understand their roles that makes that much harder to move the ball against them.
"We just communicate every play," Carrasco said. "Joey has the potential to be one of the best linebackers in Arizona. He goes 100% every play."
Sumlin, too, feels that his teammate next to him on each play can be the heart and soul of the defense.
"He's just a leader, everybody respects him," Sumlin said. "He's helped me learn a lot of plays."
As the season progresses, there will be plenty of other Lancers who step up. There may be nights where Sumlin and Carrasco aren't the two leading tacklers and sealing shutout performances.
That won't change how important they are to Salpointe's success.
"We talk about it a lot to our guys that you aren't always going to get recognized," Rogers said. "But your teammates recognize it and your coaches recognize it."
Contact sports producer Alec White at 573-4161 or awhite1@tucson.com.
On Twitter: @alecwhite_UA