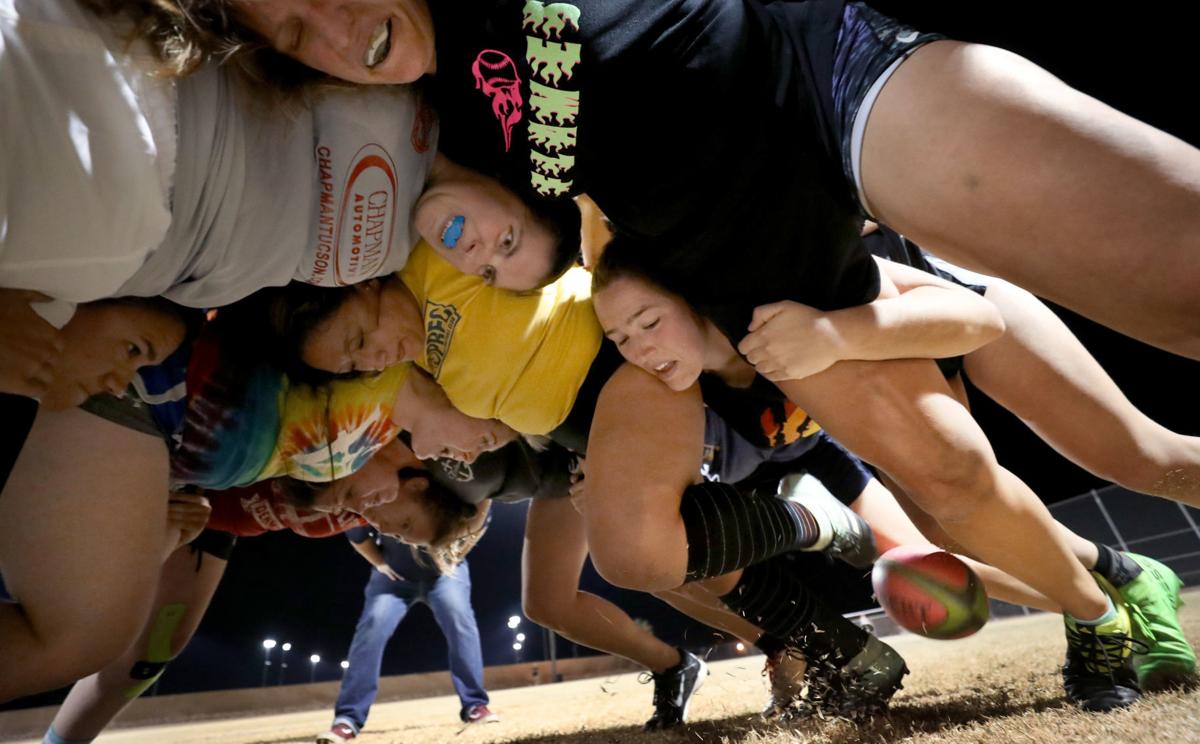 Women's rugby is celebrating 30 years in Tucson this weekend, with current players and alumni taking the opportunity to launch a new nonprofit established in the memory of one of their own.
Morning Star Guadalupe Garcia died Jan. 17 at her Sells home at the age of 36. A history teacher who also taught physical education, Garcia had not been feeling well for a few weeks and finally went to the emergency room, where she was given a shot of medication for pain.
Garcia suffered an allergic reaction to the medication after returning home; she died there before the paramedics arrived.
Garcia began playing for the University of Arizona's club rugby team in 1999 when she was 17 years old, meaning that her coaches had to get permission from her guardian to allow her to play, said former coach Nancy Purdin.
"She had just lost her mother the previous Thanksgiving," Purdin said. "Morning Star loved rugby from the beginning, but she was fragile. She kept injuring her shoulder and unfortunately, once you start having shoulder issues they tend not to go away."
Garcia only played with the Wildcats for a few years, but continued to support the program and the team that had become her second family, Purdin said.
Garcia was the first person in her family to go to college, attending the University of Arizona. Purdin and Garcia kept in touch over the years, having formed a strong bond during their time together.
After getting her degree and moving to Sells to teach, Garcia began incorporating rugby into her PE classes.
"She was beloved by all her students," Purdin said.
Dozens of Garcia's teammates made the trip to the Tohono O'odham Nation for her funeral, Purdin said.
The service included an all-night wake, during which former Wildcats talked about Garcia with her family as the boys and men took turns bringing burning embers from the bonfire close to the women's seats to keep them warm. The next morning, Garcia's former teammates cooked breakfast for 100 people before a procession took Garcia's body from Sells to her childhood home of San Pedro.
Shortly after the funeral, Purdin decided to start a nonprofit to support women's rugby. She named it the Morning Star Rugby Foundation to honor her friend.
"The purpose is to provide financial support for women rugby players to further their rugby and life skills," Purdin said. "This can be as simple as helping to pay club dues for those who can't afford it, to paying for them to attend players clinics, and also referee and coaching clinics."
Eventually, Purdin said, she'd like to be able to provide scholarship money to the UA and to help promising rugby players travel abroad to play.
Purdin got her start playing rugby in Little Rock, Arkansas, and the sport has been a huge part of her life ever since. When she moved to Tucson in 1986, there were no women's teams, but she stayed involved in the sport by helping out at a local rugby tournament. The Michelob Classic was started by rugby standout and UA grad Dave Sitton.
In 1989, Purdin was approached at the tournament by Vicki Renfro, who had heard about Purdin's experience with the sport and wanted to start a local women's team. Purdin said no at first, having just started a new travel agency, but Renfro persisted. Their team was the first women's rugby team in the state; with no teams in Nevada or New Mexico, the team had to travel to California for games.
At first, Purdin and Renfro recruited their like-minded friends to play. Then they started recruiting heavily at the UA and Pima College.

"We were playing women who were much older than our team and much bigger than our team and honestly, sometimes I felt like I was leading lambs to the slaughter," said Purdin, who's 4 feet 11 inches tall. "Our girls tried really hard, but they were just outmatched."
In 1997, the team transitioned to a club team at the UA, with Purdin as coach. The women who weren't UA students began traveling to Phoenix to play for a club team there.
In the early 2000s, having finally recruited enough nonstudent players to form a club team, the Old Pueblo Lightning was formed. The team is part of the Old Pueblo Rugby Club, which was already well-established in town.
Purdin, who quit coaching in 2010, said she worked with at least 400 players over the years, serving as head coach for both the UA team and the Lightning before she left.
"Rugby has been a huge part of my life and my business," Purdin said. Purdin owns a local travel agency, MVP Travel and Tours, which she started in 1988 with some UA men's rugby players, including Sitton, who was a business partner for the company's first few years. While her business caters to travelers of all kind, she regularly takes people on international rugby trips. She recently took a group of 17 to Japan for the Rugby World Cup.
While rugby is a male-dominated sport, the women's college game is growing fast. The UA recently created a position to oversee both the men's and women's club teams.
"Club sports at UArizona has been very supportive of women's rugby over the years," said head coach Rusty Wortman. "The partnership that we have with the men's side is very unique not just for rugby, but for any school that has a club sports program."
Women's rugby continues to thrive outside the UA with the Lightning, who are part of the Southern California Rugby Union. Coach Matt Quay, who is in his third year with the team, said that while the team is now in Division II, their involved in talks to possibly move up to Division I. The Lightning plays teams from Pasadena, California; Ventura, California; Las Vegas and other locales, which Quay said adds to the commitment level of the players. So does the in-town schedule: The Lightning practices twice a week and has games every Saturday during the season, often traveling to play.
Quay, an NAU grad, began playing rugby after being discharged from the Navy. He played for 10 years, and has the scars to show it.
"It definitely takes a toll," Quay said of the physical nature of the sport. "Once I got to the point where I couldn't play anymore, I loved the game so much, I couldn't totally walk away from it."
Quay said the Lightning, which is made up of about 30 players, is "family."
"It's not just a sport," he said.
Purdin and her decadeslong relationship with Garcia and her other players is a living testament to Quay's words.
"I think that it's really good for young women because it is the ultimate team sport. You can't do anything on the field without your teammates," Purdin said. "It's a tough sport, but when the game is over, both teams get together, they shake hands, they go get a beer together and everything that happened on the field is forgotten. The girls literally make friends that last forever."
Contact reporter Caitlin Schmidt at cschmidt@tucson.com or 573-4191.
On Twitter: @caitlincschmidt.