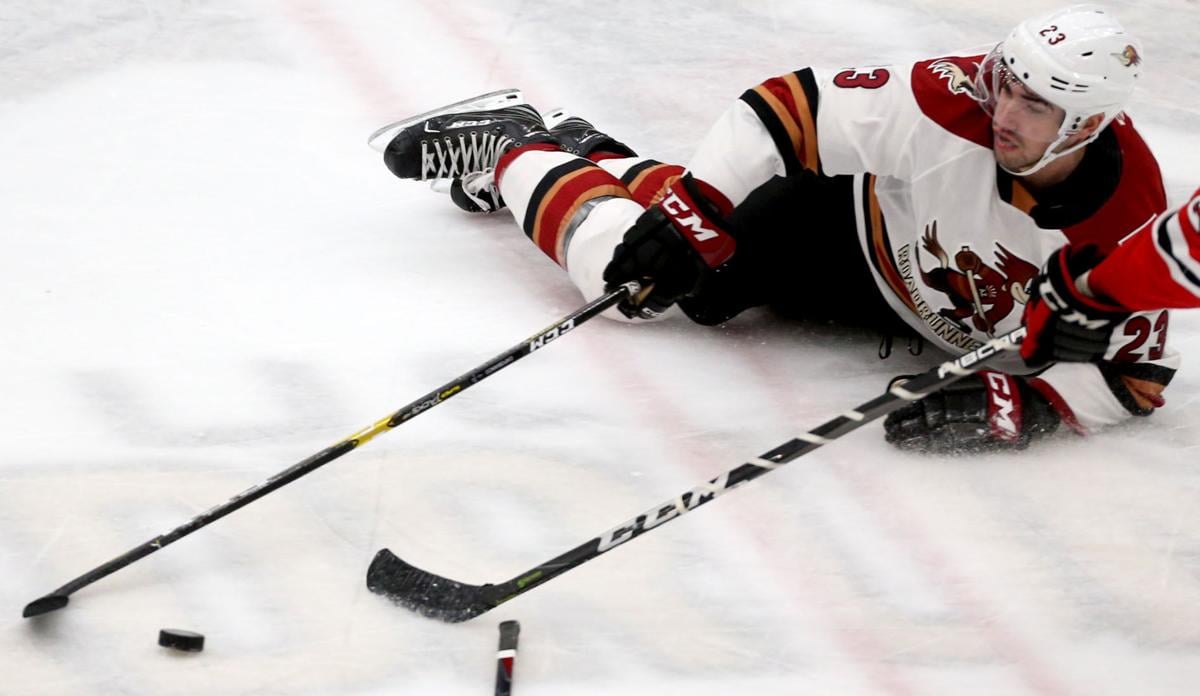 The Tucson Roadrunners open a three-game road trip at the Colorado Eagles Wednesday night still unbeaten, still atop the American Hockey League's Pacific Division, and finally set to get back on the ice.
And they'll take the ice at 7:05 p.m. with an even deeper roster than they've had during their franchise-best 4-0-0-0 start.
The NHL's Arizona Coyotes reassigned defenseman Kyle Capobianco, the most prolific scoring blueliner in Tucson history, and forward prospect Barrett Hayton to the AHL this week.
A year after he led all AHL defensemen in points per game, Capobianco began the 2021 season as part of the Coyotes' taxi squad. He's seen action in two NHL games this season.
For Hayton, considered one of the Coyotes' top prospects in recent years, it's long been a question of whether the 20-year-old would spend any sort of significant time in Tucson at any point in his career. An agreement between the NHL and Canadian Hockey League says all players under 20 must either remain at the NHL level or be sent back to their major junior club on the CHL circuit. Long-term AHL action isn't permitted for those players. Hayton spent five games with Tucson last year on a conditioning assignment, scoring a goal and registering four assists. Until this season, that's been the extent of his time with the Roadrunners.
While noting it's a predicament most wouldn't mind having, Tucson coach Steve Potvin said he'll have to get creative with Tucson's lineups this week to make room for the newcomers.
"Typically in these scenarios, when you get guys sent down, you get guys called up. So there is a little bit of a logjam. Unfortunately, someone will need to sit out, and that's always tough to see — especially with the start we've had," Potvin said, adding, to counter, that "Any time you can add a first-rounder and perennial all-star to your team you can't be too disappointed."
Smereck auctions jersey for a good cause
No matter where on the map Jalen Smereck's hockey career takes him, the Roadrunners defenseman's heart will always be connected to his hometown of Detroit.
Detroit is where Smereck, the only Black player within the Arizona Coyotes' organization, first laced up a pair of skates at age 2. Detroit is also where the proceeds will go from a silent auction organized by Smereck and the Tucson front office. Up for bid: a game-worn Smereck Roadrunners jersey.
Proceeds will benefit Detroit Ice Dreams, a nonprofit aimed at providing underrepresented communities in the Detroit area greater access to the sport of ice hockey — and the life skills that are often associated with youth participation in organized team sports.
"Jalen is huge for us. He comes back home and not only does he help out with the Ice Dreams, he helps with our junior program," said Detroit Ice Dreams president and founder Jason McCrimmon, a former pro hockey player himself. "For our Detroit Ice Dreams kids, to get those kids to be able to say 'I see him doing it, now I can do it.' They've got that motivation to be like Jalen."
As of Tuesday night, the bidding on one of Smereck's authentic No. 55 jerseys from the 2019-20 season was up to $575. Bids can be made at TucsonRoadrunners.com/Dreams.
Tucson, San Jose go from roomies to near strangers
Entering February, it seemed like the Roadrunners and San Jose Barracuda were about to live out a scene from the movie "Stepbrothers."
The AHL Pacific Division rivals were slated to play eight games against each other, all at Tucson Arenas: two preseason matchups, three regular-season outings with the Barracuda as the designated home team and three games with Tucson as the designated home team.
It didn't play out that way, though. Five of the eight games were shelved because of COVID-19 protocols. A situation with the Barracuda affected the onset of the season; and last week, three regular season games were put on ice, too, after a member of the Roadrunners' core hockey group had a "potential exposure with close contacts."
Now, the Barracuda are back in the Bay Area. They'll play their home opener Thursday night against Bakersfield. The Roadrunners' next home game is scheduled for March 3 — 23 days after their last one.
Officially, the three games most recently pushed aside are still on the AHL schedule and listed as postponed — meaning they might still be rescheduled.
If not, after all that, Tucson and San Jose won't play each other again this season.