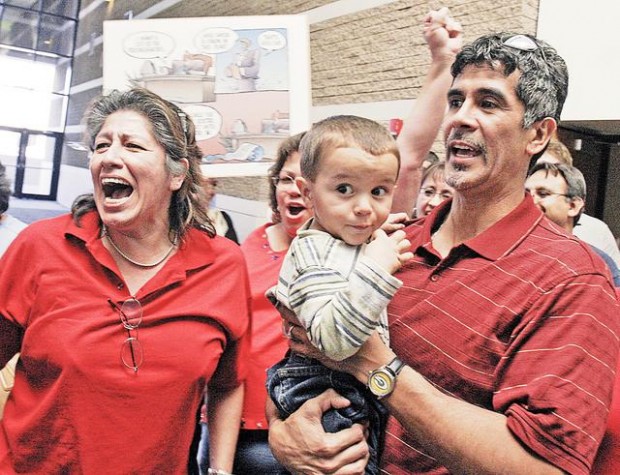 The union representing 1,900 hourly workers at Southern Arizona's largest private employer went on strike against Raytheon Missile Systems at 12:01 a.m. today.
By a vote of 1,018 to 111 on Sunday, the International Association of Machinists Local 933 approved the strike.
"That's probably one of the strongest mandates this local lodge has had in its 50-year history, and the message is clear," said Bobby Martinez, Local 933's directing business representative, after the vote at the Tucson Convention Center. "Our members were tired of feeling like a second-class citizen working for a world-class missile manufacturer."
Members had earlier voted 1,140 to 106 to reject the three-year contract offered by Tucson-based Raytheon Missile Systems, which employs more than 11,000 people. Among the workers represented by the union are janitors, plumbers, mechanics and welders.
A Raytheon spokeswoman said the company has a plan for moving salaried workers into positions vacated by the striking workers and that all of its facilities will remain open.
"Obviously, we're extremely disappointed that the membership of Local 933 rejected the fair and equitable contract we offered," Raytheon spokeswoman Sara Hammond said.
The company's offer included a 9 percent general wage increase over the three-year contract as well as a $500 lump-sum payment.
But that wage increase would be canceled by the rise in employee contributions to the company's medical benefits, said Claire Gates, who has worked at Raytheon for 21 years.
"What the company is saying is, 'Yes, you'll make less money, but you'll still have a job,' and that just isn't good enough anymore," said Gates, 46. "By comparable wages, I'm making less than I was when I started 21 years ago, and it's just getting tougher and tougher."
For 33-year-old Priscilla Puentes, who met her husband at Raytheon seven years ago, the decision to strike was an easy one given the outcome of the last round of negotiations in 2003.
"We were close to striking then because it was a bad contract, but we ended up not doing that, and I think that's why the contract they offered us this time was even worse," she said.
The fact that she and her husband, Vince, will be unemployed due to the strike didn't affect Puentes' resolve, she said.
"We had to stand up this time, and we're ready to get through it," she said.
Kim Gusack is also ready to make do on strike benefits from the union, which she said will be about $150 per week.
"Every time they offer a contract, they take something away, but this time they went way too far," said the 48-year-old Gusack, who has worked at the company for 30 years.
Gusack is one of about 500 workers represented by the union who would not be receiving the 9 percent pay increase the company offered. As a "red-circled" employee, Gusack has hit the ceiling for her rate of pay. That means instead of a 3 percent annual increase in her hourly pay, she'd receive a lump-sum payment but essentially have her wage frozen, as it has been for the last three years under the previous contract, which expired Sunday.
"The company made big profits, and what they're showing with this contract is they don't want to give any of that profit to us," she said. "And now they're expecting us to pay our medical at the same exact rate that the salaried people do who make twice as much or more as we do."
The average salaried Raytheon employee earns about $78,000 a year, more than double the average union worker's annual pay of about $36,000, said union spokeswoman Carmen "Cha Cha" Fotheringham. The hourly rate for workers represented by the union is $10 to $24, she said. Salaried workers range from managers to engineers.
Raytheon recently announced a 41 percent increase in earnings per share and yet is effectively offering hourly workers a three-year pay cut, union representative Martinez said.
"They're making a lot of money off us, and all we want is a little respect," said warehouse worker Joe Villa, 29. "What they're saying with this contract is they don't have any respect for us at all."
Hammond, the Raytheon spokeswoman, said a federal mediator will be assigned to begin negotiations during the strike.
The only change that applies to salaried Raytheon employees due to the strike is that workers at the University of Arizona's Science and Technology Park will be required to use the Kolb Road entrance, Hammond said.
Union members rejected Raytheon's contract offer in 2003 but reached an agreement with the company during a weeklong "cooling-off" period that averted a strike. Both sides agreed to dispense with the cooling-off period this time, said Daisy M. Jenkins, vice president of human resources and security at Raytheon.
The last Machinists Union strike of the defense contractor occurred in 1978, a three-month work stoppage of what was then Hughes Missile Systems Co., which Raytheon acquired in 1997.
● Raytheon workers can get strike information on the Web at raytheon.com/labor or by calling 294-3360. The Web site also contains a contract proposal summary and a proposed wage structure.
● Information from the International Association of Machinists Local 933 is available online at www.iam933.org and by calling the union's negotiations hot line at 807-1911.
The business news you need
With a weekly newsletter looking back at local history.