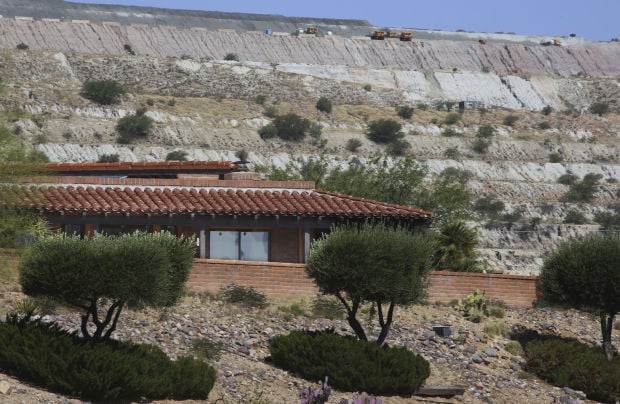 A Tucson-based startup aims to turn mine tailings into usable products with technology invented by University of Arizona researchers, and it's going after a big prize to advance its efforts.
Auxilium Technology Group was among 10 companies and academic research groups recently picked to move on to the laboratory stage of the BHP Tailings Challenge, a $10 million challenge to push development of new technologies to reuse mine tailings — leftover material from mining operations.
Auxilium, which recently licensed several mining-related technologies from the UA, was among the participants chosen from a field of 154 applications received from 19 countries, according to Australia-based BHP, one of the world's biggest mining companies.
Auxilium was founded by entrepreneur and chemist Abraham Jalbout and three UA faculty members: associate professor Moe Momayez, interim head of the Department of Mining and Geological Engineering; Jaeheon Lee, an associate professor of mining and geological engineering; and Dominic Gervasio, associate professor of chemical and environmental engineering.
The company recently licensed three patent-pending mining inventions by the UA co-founders — a new, highly efficient leaching process that replaces highly toxic cyanide used to extract gold from ore; a system of floating panels to cover tailings ponds and save water; and a spray-on thermal insulating material made with mine tailings.
Jalbout, who previously co-founded two other companies based on UA inventions, said his company's aim during the challenge is to create a "circuit" to reuse every bit of mine tailings.
"It's a holistic approach — it's how we combine different technologies to provide a zero-waste solution," said Jalbout.
"Mining is a very water- and energy-intensive industry," Momayez said in announcing the UA licensing deal. "We're excited to provide solutions that extract valuables from mining effluents and reduce mine waste — the most visible footprint of the mining industry."
Auxilium's mine-tailing circuit will look something like this:
Initially, the company plans to extract valuable industrial chemical reagents such as sulfuric acid and ferric sulfate from tailings, he said.
Next, the company will extract remaining metals of value, such as copper, molybdenum and gold, using its high-efficiency extraction process invented by Lee, Jalbout said.
"Most tailing have enough value to justify extraction — you'd be surprised how many valuable elements are in there," he said.
Next, the company will extract water from the tailings, Jalbout said, noting that wet, "fresh" tailings — the kind BHP is most interested in — are typically 40% to 80% water.
In the final stage, Auxilium will use a process invented by Momayez to turn the stripped tailings into an insulating "geofoam" that can be sprayed on or applied in sheets to block heat from rock walls from working areas in underground mines.
Besides saving money on mine cooling, the material could be used in the construction industry, Jalbout said.
Auxilium, which became a member of the UA Center for Innovation last year after winning a membership sponsored by Phoenix-based mining giant Freeport McMoRan, plans to build a pilot tailings processing plant, likely at the UA-owned San Xavier Underground Mining Laboratory west of Sahuarita.
As part of the BHP Tailings Challenge, which is co-sponsored by Fundación Chile, a Chilean innovation group, each of the 10 participants in the laboratory stage is getting a $50,000 grant and six months to validate their solutions at the laboratory level after receiving the tailings samples to validate the technical and economic feasibility of their proposals.
Their results will be shown in a demo day in August, demonstrating the technical and economic feasibility of their proposals.
Up to three of the 10 teams will go through to a pilot test in a controlled environment to prove their processes operate in an "integrated manner, are feasible at an industrial level, and their value proposition is commercially viable."
The winner or winners will be announced during a demo day scheduled for March 2023, BHP said.
Auxilium was among three U.S. companies picked among the 10 chosen for the laboratory stage of the challenge. Of the others, three are based in Chile, three are Australian-based and one is based in Germany.