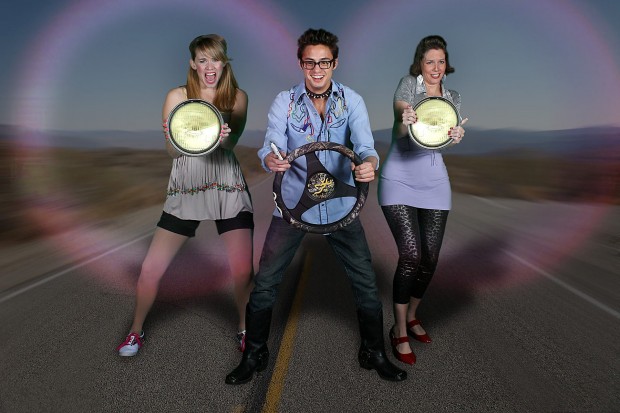 Hold on to your Bud Light, folks - Arizona Onstage Productions' latest will have beer squirtin' out your nose.
The company opened its production of "The Great American Trailer Park Musical" last weekend, and amid the scratch 'n' sniff cards in the programs and peanut shells tossed on the floor, there sat a sold-out crowd that could not stop squealing.
We don't mean like pigs. We mean squealing with laughter at this musical that jumps with pop references, four-letter words, big hair and even bigger hearts.
We believe there is a storyline in there somewhere - something about a hysterical pregnancy; high school sweethearts - she's an agoraphobic, he's a two-timer - who are no longer so sweet on each other; a stripper trying to flee a former boyfriend who gets high sniffing Magic Markers; adultery; an Oprah wannabe; and a frisky dame whose husband is on death row.
Their lives intersect often, thanks to the Armadillo Acres address they share - that's a trailer park in Starke, Fla.
This play is a hoot. A big, big hoot. And, we predict, a big hit, too.
Debbie Runge and Kevin Johnson directed this delicious piece with an eye toward the ridiculous, but with a respect for the characters. This isn't a play that makes fun of people and lifestyles; it makes light of some of the more off-kilter things in life. While it's very, very funny, it's never mean-spirited. And the music, which swings from jazz to blues to bebop, will have you toe-tapping.
Of course, having a strong cast helps. And this was a strong cast.
To a person, they embraced the characters, giving them plenty of heart, an abundance of swagger, and lots and lots of humor.
Amy Erbe, Ellie Jepperson and Jacinda Rose Swinehart are a sort of Greek chorus providing background, commenting on situations, and just keeping an eye on all the goings on at Armadillo Acres. Each has a chance to break out with a song, and each showed us plenty of talent.
Jay Cotner and Charity LaPonsie play those now-married sweethearts with a combination of tenderness and frustration, which makes it all the more funny.
Chezale Rodriguez's Pippi the stripper was a power with her bluesy voice, smooth moves and don't-mess-with-me attitude; and Nicholas Gallardo as her no-good ex-boyfriend turned bad taste into high art with his rockin' song "Just a Little Roadkill."
It's strong ensemble work, with the actors willing to shine and share. The pace was almost frantic - at one point you want it all to slow down just so you can stop laughing and catch your breath.
Arizona Onstage isn't shy - if founder Johnson sees something he likes (and there's no telling what he'll like), he'll try to stage it in the Old Pueblo.
With that attitude, he has brought us the ridiculous ("Jewtopia," "Ruthless - The Musical") and the sublime ("Sundays in the Park with George" and "Assassins"). And they have been packed with polish and talent.
But "Trailer Park" may trump them all when it comes to pure, ludicrous fun and a stage stocked with big singers and solid actors.
Raise that Bud Light y'all; "Trailer Park" deserves a toast.
"The Great American Trailer Park Musical"
• By: David Nehls and Betsy Kelso.
• Presented by: Arizona Onstage Productions.
• Director: Debbie Runge with Kevin Johnson.
• When: 7:30 p.m. Fridays and Saturdays, and 3 p.m. Sundays, through Jan. 24.
• Where: Temple of Music and Art Cabaret Theatre, 330 S. Scott Ave.