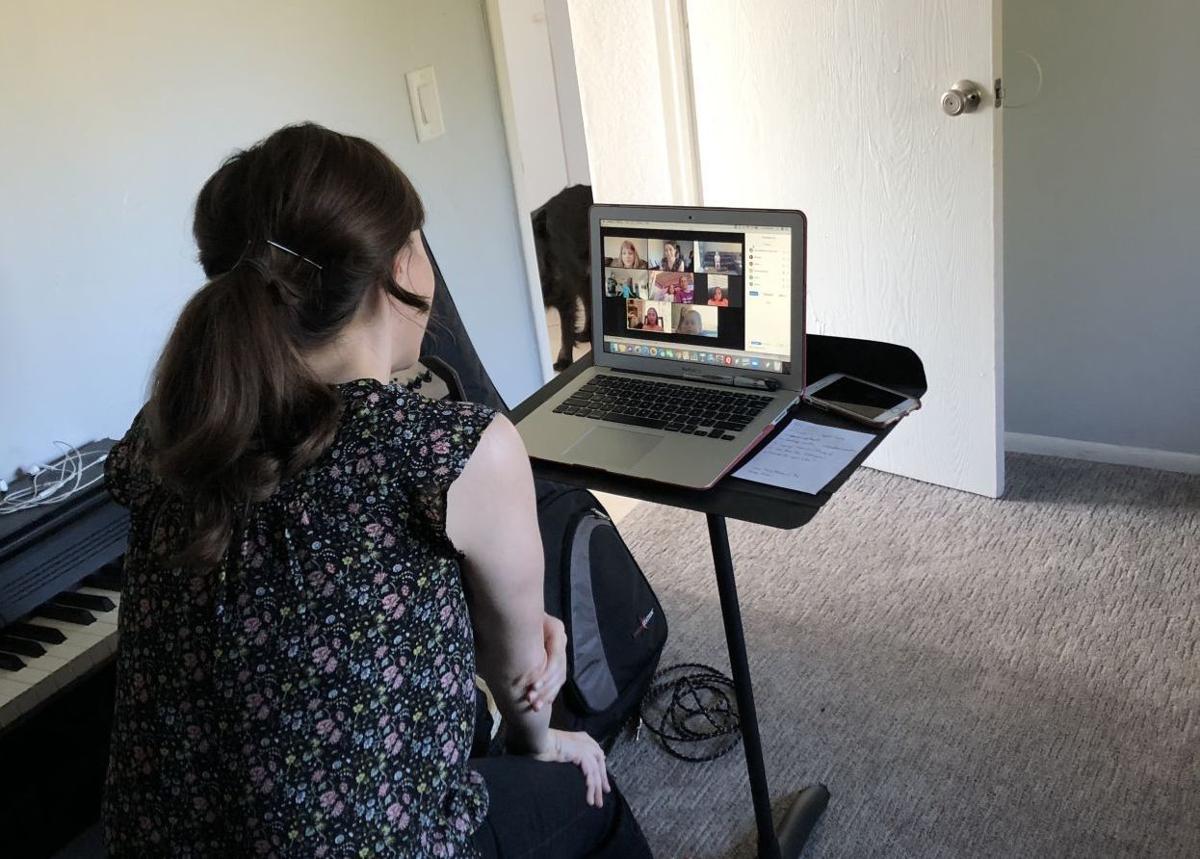 St. Michael's School sixth-grader Valerie Norman finds herself singing Beatles songs these days.
It helps her forget that she's missing her Tucson Girls Chorus friends and their weekly rehearsals.
But the chorus hasn't hit pause on its 2019-20 season.
The Girls Chorus's seven choirs aimed at girls kindergarten through 12th grades moved to virtual rehearsals late last month when the world turned upside down, courtesy the coronavirus health crisis.
The majority of the chorus's 240 girls are participating in online classes conducted on Zoom and Google.
"We wanted to have a balance between some sense of normalcy where they can keep singing some of the songs that they know and also an opportunity to create something new," said Girls Chorus Director Marcela Molina.
They are not alone.
Throughout Tucson, folks who teach music are taking their lessons to a virtual realm, holding classes and one-on-one instrument lessons with students of all ages now that schools and public spaces have been closed.
"Initially I was concerned that the transition would be difficult for people," said Ryan Green, one half of the popular Tucson Americana duo Ryanhood. "But you regain some connection and it's kind of the routine they used to have."
Green has between 20 and 30 guitar students and about 90% of them have continued with their regular lessons online.
Most of Green's students are kids; the youngest are in fourth and fifth grades.
He also has students in their 60s to 80s, people whose only ambition is to learn to play for family and friends or themselves.
"They just want a creative outlet," Green says of his older students, many of whom are now working from home or not working at all after the city and state issued stay-at-home orders last month to help slow the spread of the coronavirus.
Before the shutdown, Green would meet with his students in person and jot notes as they went along. He now uses a camera focused on a pad of paper that is transmitted onto Zoom in real time. It's not quite the same, but it will do, he said.
"It's happening in real time in a way that pretty much feels like a lesson," said Green, who has toured non-stop with duo-mate Cameron Hood for seven years.
Green and Hood had already decided to lay low the first half of 2020 and focus on side projects including Green's guitar studio.
They planned to kick off their touring year this summer and perform only a handful of regional shows including the Tucson Folk Festival, which was originally scheduled for last weekend.
The event was canceled in mid-March, joining a long list of canceled concerts and festivals including the Tucson International Mariachi Conference set for later this month.
Green said he and his students are getting used to the online format.
"Now that I've gotten comfortable and confident at it, it may be something I continue to do," he said.
Virtual rehearsals, though, don't really work perfectly for large groups like the Girls Chorus. There's technological glitches that are unavoidable including awkward time lapses from varying internet speeds.
During a virtual Zoom rehearsal last week with the middle-school Mariposa Singers, associate conductor Jess Edelbrock led the choir from her makeshift studio in a bedroom of her home, playing a keyboard next to her computer.
At one point, Edelbrock asked the girls to join voices together to sing one of the songs they have been working on for months. Emi Markovich, an 11-year-old sixth-grader from the Accelerated Learning Laboratory charter school, took a deep breath and began singing along with the dozen or so girls participating in the Zoom rehearsal.
No matter how hard they tried, it was not the same as rehearsing in person at the Girls Chorus's River Road campus.
But it was better than silence.
"I think this gives us a chance to connect with the people we're missing," said Emi's choir mate Kaya Floyd.
"It's neat that we can get together on this," added Basis sixth-grader Maddie Wakefield.
Cali Morrison, who has spent six of her 11 years singing with the Tucson Girls Chorus, said staying at home has led to one happy discovery.
"I found that the bathroom has really good acoustics," she said.
Contact reporter Cathalena E. Burch at cburch@tucson.com or 573-4642. On Twitter @Starburch
Concerned about COVID-19?
Sign up now to get the most recent coronavirus headlines and other important local and national news sent to your email inbox daily.