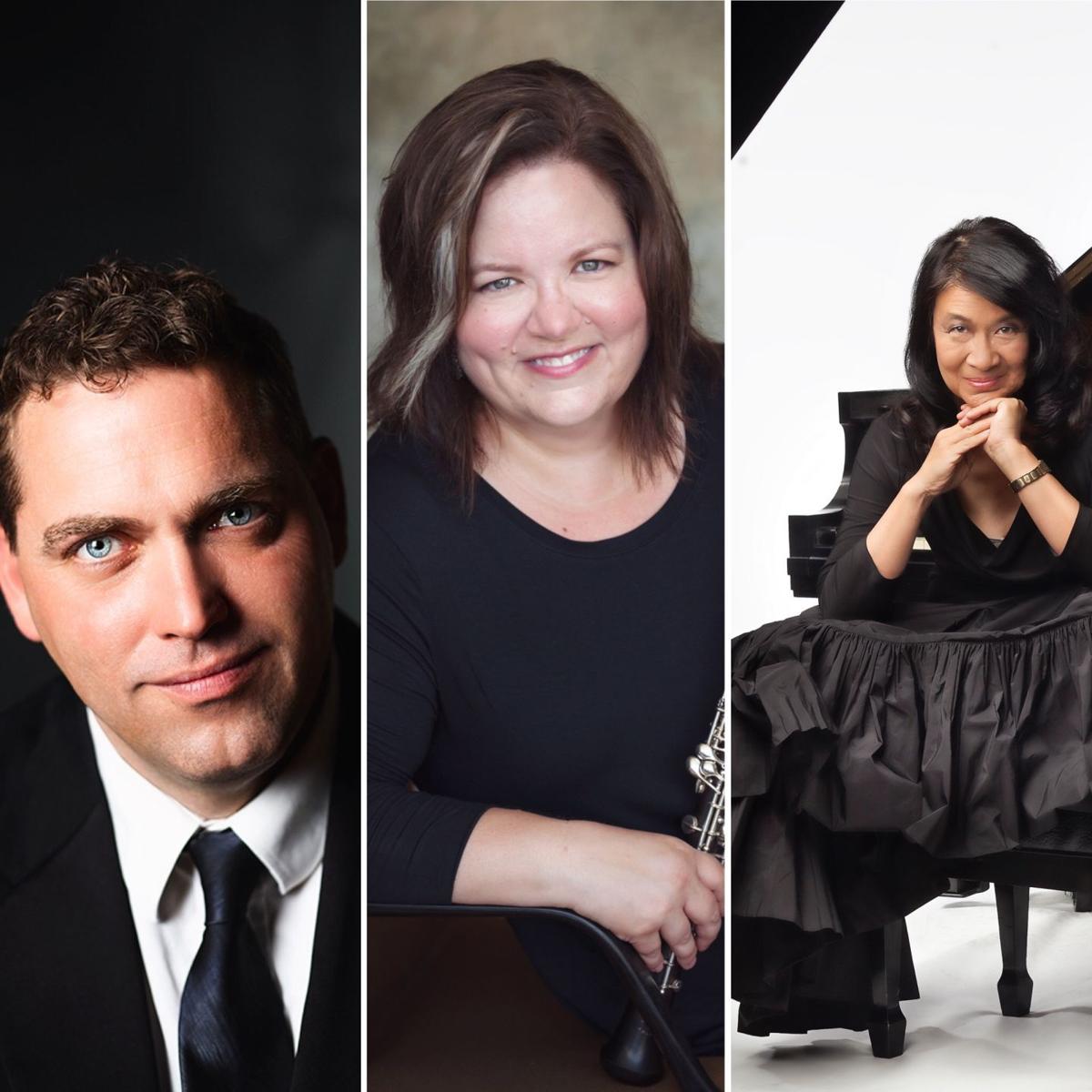 It's homecoming next weekend for two former Tucson Symphony Orchestra musicians who will share a stage for the first time in nearly a decade.
Steven Moeckel and Lindabeth Binkley join former colleague Paula Fan on Sunday, Aug. 6, for the St. Andrew's Bach Society concert at Grace St. Paul's Episcopal Church — the same venue and same concert series that saw the pair in their last performance together in summer 2008.
Violinist Moeckel and oboist Binkley were part of the Bach Society chamber orchestra that performed Bach's stunning B Minor Mass, one of the series' most ambitious projects under the leadership of Binkley. She ran the concert series for five years before officially stepping down in 2012.
This time, the pair will perform a concert of works by Bach and Camille Saint-Saëns, including his Oboe Sonata in D major.
"It's been forever since I played with Steven," Binkley said from her home in Michigan, where she teaches oboe at her alma mater, Central Michigan University. "It will be fun. I'm excited about it."
Ben Nisbet, who took over as Bach Society artistic director in 2012, had been looking for an excuse to bring Binkley and Moeckel back to the series. Binkley hasn't returned since she left, and Moeckel, once a regular, has been absent the past couple years as his summers have filled up with national and international soloist gigs and recitals.
"It occurs to me that when I first started out here in Tucson with the symphony and with the Bach Society, Steven and Lindabeth were two of the most important people in town for music," said Nisbet, who for years played violin with the pair in the TSO.
"In addition to being incredibly accomplished and at the absolute height of their artist game, they were incredibly wonderful, knowledgeable people.
"Having had the opportunity to become close to them both artistically and professionally was great. And now being able to bring them back to my concert series and reintroduce them to the community is an enormous sense of pride for me."
Moeckel spent six years as TSO concertmaster before leaving in summer 2008 — roughly a month after the last time he performed with Binkley — to take the same role with Phoenix Symphony.
Binkley left Tucson in fall 2009 initially to take a one-year teaching assignment at Central Michigan. At the end of that year, the job became permanent and Binkley, a native of Michigan, resigned her role as TSO principal oboist.
But it took her two years to fully divorce herself from the Bach Society, where over five seasons she grew the series by tapping her extensive network of marquee Tucson artists from the TSO and the University of Arizona. In her second season at the helm, Binkley programmed Bach's B Minor Mass, which was fairly ambitious for a summer concert series. But it was just the message that Binkley wanted to send: that Tucson's very fine community of musicians wasn't just meant to be heard in the traditional classical music season of fall and winter.
By the beginning of Binkley's third season, St. Andrew's Bach Society had outgrown its 125-seat home base; more often than not, it had to turn people away because they had sold every seat and every square of standing room, nearly exceeding the fire codes.
It moved in 2009 to Grace St. Paul's, which is more than three times as big, and it regularly sells out, driven in large part by Nisbet's determination to continue Binkley's mission of growing the series by presenting a challenging, dynamic repertoire performed by the best musicians available.
In his five years at the helm, Nisbet, who was Binkley's right hand in her final two seasons, has expanded the group's repertoire to include two opera concerts. In 2014, the series mounted Vivaldi's "Four Seasons — A Ballet" featuring Tucson dance troupe Artifact Dance Project.
This year, he tapped a nationally known pianist, William Wolfram, to open the series after slipping in the invitation during a conversation backstage at Wolfram's TSO concert last November.
Nisbet said he is building on the momentum Binkley created "that made (the series) this popular summer thing and laid the groundwork for it to become what it is today." He also credited Moeckel, who anchored the Bach Society's "Brothers and Sisters" in 2007 that featured Moeckel and his violist sister, Laura, pairing on a bill that includes sibs Ellen (violin) and Robert (cello) Chamberlain.
"I feel like we're bringing together the two most important people" to the series, Nisbet said.
"For me this will be a lot of fun," Binkley said. "Through the Bach Society, I got to know so many wonderful people and had such a good time doing that series because of that. The fact that I get to come back and hopefully see all of those people will be great. It's been a long time. It will be like coming home."
Contact reporter Cathalena E. Burch at cburch@tucson.com or 573-4642. On Twitter @Starburch
Stay up-to-date on what's happening
Receive the latest in local entertainment news in your inbox weekly!