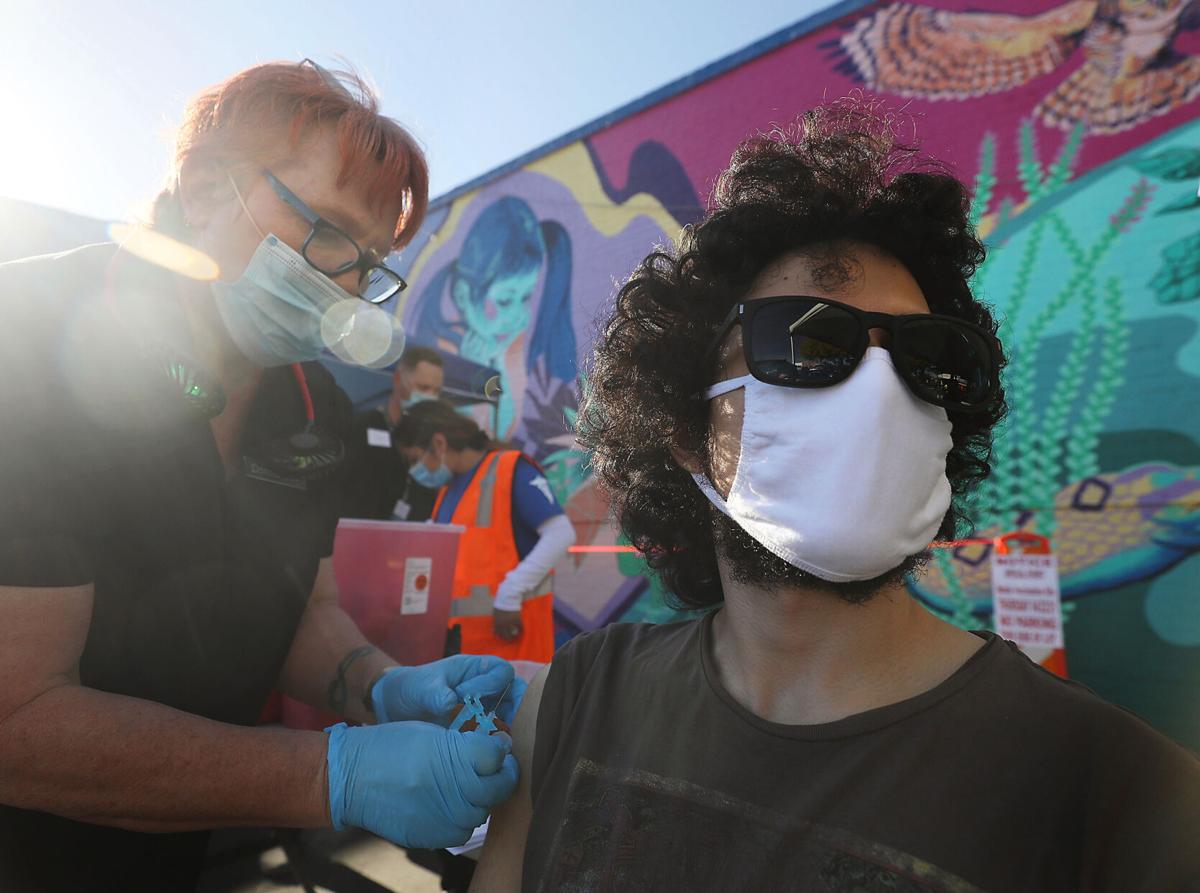 As the pace of vaccinations slows and a more contagious variant of the virus that causes COVID-19 establishes dominance in Arizona, herd immunity is getting harder to reach.
Statewide weekly vaccine doses administered April 11-17 fell by about 13%, according to the Arizona Department of Health Services' online chart of COVID-19 vaccine administration, as of Friday. The chart includes both first and second doses.
Countywide weekly doses administered fell by 17% over the same period, according to Pima County vaccine data.
The number of immune people needed to reach herd immunity has been hard for health experts to pin down, but it includes some combination of those who have been vaccinated and those who have been infected by the virus.
As of Friday, about 39% of the state and about 45% of the county have received at least one dose of COVID-19 vaccine, according to ADHS data.
A "very significant proportion of our population" has also been naturally infected, said Dr. Francisco Garcia, Pima County's chief medical officer.
Estimating the true number of natural infections, however, would be very difficult to do with any sort of precision, he said.
He also avoids equating natural immunity with vaccine-induced immunity, he said. "That protection that you get from this normal infection may not be as strong as the protection that you get from vaccination."
Elusive threshold
Whether or not health experts think herd immunity is still achievable depends on how they define it. They don't have one shared definition.
"No one knows exactly what the magic number is," said Michael Worobey, head of the University of Arizona's Department of Ecology and Evolutionary Biology.
"If we define herd immunity as a level of natural and vaccine-induced immunity that will make it impossible for the virus to spread in the U.S. I don't think we're going to get there."
This is a more strict definition of herd immunity, akin to the outcome of the vaccination program that eliminated polio from the U.S.
A more relaxed definition of herd immunity is more achievable, one where enough natural infections and vaccinations prevent massive surges in COVID-19 cases, said Dr. Joe Gerald, an associate professor with the University of Arizona's College of Public Health.
By this measure, herd immunity is possible, he said. "I think there are enough people who are either naturally immune or vaccine immune that we're just not gonna see the same size and scale of outbreaks."
Either way, new more contagious variants have moved herd immunity's goalpost, increasing the number of immune people we need to achieve it.
"Let's say it was 75% before more transmissible variants and variants that have some degree of immune escape emerged," Worobey said. "I would imagine it's closer to 90% now."
Researchers at Arizona State University recently modified their forecasting model to account for a new, more contagious variant, known as B.1.1.7, that originated in the United Kingdom and has established dominance in Arizona, according to a blog post written by Tim Lant, who is one of the ASU researchers, and Will Humble, who is the executive director of the Arizona Public Health Association and former state health director.
Now the ASU researchers estimate the herd immunity threshold is around 80-85%. They had originally estimated 75%.
"We think herd immunity means that disease transmission starts going down on its own (without interventions in place) because there's enough immunity in the herd to block just enough secondary (and tertiary, etc.) transmission that it burns out the continued spread," Lant and Humble wrote.
They explain that we'll know we've reached herd immunity once life goes back to normal, we remove our masks, case counts continue to fall and the average number of people that someone with COVID-19 infects falls below one.
This average number is known as the Rt value, or effective reproduction number. Infections slow when the Rt is below 1. The website Epiforecasts.io estimated the current Rt in Arizona was 1, as of Friday.
"Ideally, policy makers would keep non-pharmaceutical interventions like mask wearing and limited indoor capacity in crowded bars, nightclubs, and restaurants until the R values are less than 1," Humble and Lant wrote. "Our governor and health director have already eliminated every single required mitigation measure except for vaccinating people."
Virus 'entrenched'
While some people are voluntarily following recommendations, like wearing a mask and social distancing, COVID-19 cases are rising across Arizona, although they are not surging exponentially.
As Gerald put it, they are rising "linearly."
The more chances the virus has to spread in Arizona and around the world, the more chances the virus has to mutate into even more concerning variants.
Worobey is optimistic that the vaccines, particularly the mRNA vaccines, such as Moderna and Pfizer, will protect against new variants over the next several years.
For most people, these vaccines protect against the current variants for a long time, he said, adding that he is not less optimistic about the Johnson & Johnson vaccine, it's just a minor player compared to the other two.
"We will have to continue to monitor how long protection lasts, but it is very possible that boosters will be needed less frequently than for flu," he said.
"I think it's pretty clear at this point that this is going to become entrenched in the human population, something like influenza is. And we're going to be managing it. And the more people we can get vaccinated, the less of a toll that's going to take."
2 big obstacles
Vaccine hesitancy and the logistics of vaccine delivery are the two big hurdles right now to getting more people vaccinated, Gerald said, adding that the vaccination strategy needs to change to reach people wherever they might be.
Pima County health workers are working to answer questions and debunk myths to reassure those who are hesitant about COVID-19 vaccines, said Jess Seline, the county's health equity program manager.
"Now we're in more of the territory of folks who are potentially willing to get it, but just kind of need more time and information," she said.
The county has already vaccinated those who were initially very eager to get vaccinated, said Garcia.
"It's just gotten a hell of a lot harder to do vaccines because all the low hanging fruit has been picked off," he said. "We are having to work four times as hard for every vaccine that we get into someone's arm."
The county is trying to make it as easy as possible for anyone to get vaccinated who has thought about getting vaccinated, he said.
"We're hoping to make vaccine opportunities so ubiquitous throughout our community, whether it's on Fourth Avenue, whether it's in some of these PODs, whether it's at a big site," he said. "We're trying to make it so ubiquitous that essentially you fall into a vaccination needle without much effort."