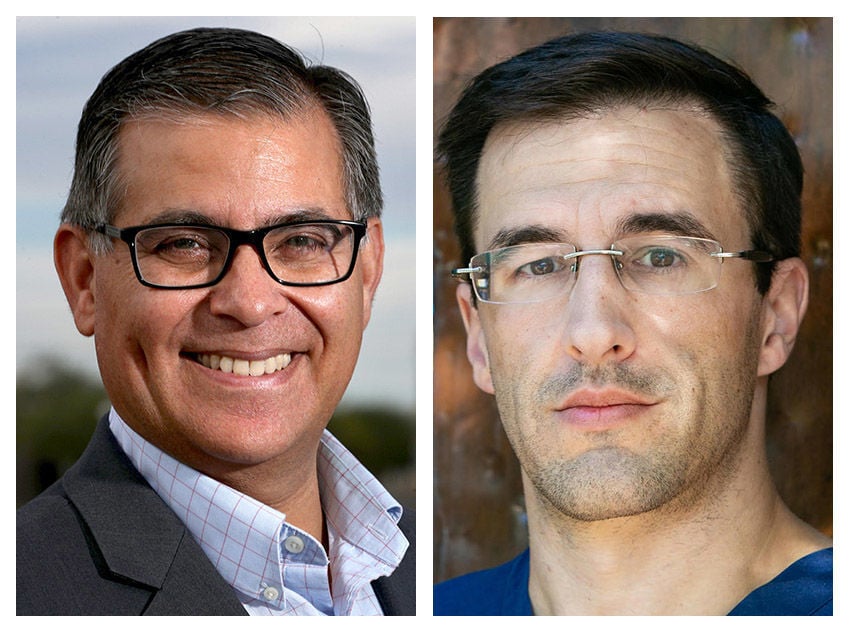 Democrat Matt Heinz's victory Tuesday over incumbent Ramón Valadez guarantees that come November District 2 of the Board of Supervisors will have new representation for the first time in 17 years.
Heinz will face Republican Anthony Sizer in the general election to see who becomes Pima County's newest supervisor.
Valadez has represented the district, which incorporates most of South Tucson and Sahuarita, since 2003. He took over as board chairman after the death of Supervisor Richard Elías earlier this year.
Heinz garnered 53% of nearly 13,000 primary votes, compared to 32% for Valadez and 13% for Richard Hernandez.
"The voters have spoken. They wanted new leadership and they're getting it," Valadez said Wednesday. "I wish Dr. Heinz the best of luck. We need him and the other members of this board to be successful. I'm going to do everything I can with the remainder of my term and hand off to the next generation of leadership."
Valadez said he plans to pursue some entrepreneurial opportunities once his term ends.
Quien una vez fue un chico tímido y callado en Pueblo High School, Valadez descubrió su vocación por la política y el servicio público. De ahora 51 años y con una larga trayectoria como supervisor del Condado Pima, ha sido líder en la política local y estatal por más de 30 años.
Heinz is an emergency room doctor and former state lawmaker who has led a vocal campaign throughout the COVID-19 pandemic. He also served two terms in the Legislature and worked in the Obama administration for two years helping implement the Affordable Care Act.
In an interview Wednesday, Heinz thanked Valadez for his years of service to Southern Arizona and recognized the voters for their turnout in the election.
"Thousands of voters participated in the Aug. 4 primary who had never voted in any primary elections before," he said. "And the issues that concerned those primary voters are the same issues we'll be talking about through November. We're going to continue to talk about supporting healthy families, rebuilding a healthy economy, and maintaining a healthy environment here in Pima County. These shouldn't be partisan issues. These are priorities we all share."
Sizer, an engineer and former chairman of Arizona's 2nd Legislative District, did not immediately respond to requests for comment.
Here's a look at primary results for other Pima County supervisor races and what to expect in November.
District 1
In the crowded Republican primary to replace the retiring Ally Miller, Steve Spain advanced to the general election in District 1. He'll face Rex Scott, a former long-time public school educator, who easily won his Democrat primary race.
Spain, 38, an IT and hotel operations management professional, garnered 33% of the roughly 23,000 votes, as of Wednesday morning. He was ahead of Oro Valley councilwoman Rhonda Pina (24%), former state representative Vic Williams (24%) and former Pima County GOP chair Bill Beard (19%). Pina conceded the race earlier Wednesday.
In an interview with the Star on Wednesday, Spain said he was not yet ready to declare victory because of the potential thousands of votes still outstanding. But he said that he was grateful for the early support, saying it was proof that his hardline conservative stance on limited government resonated with voters.
"A significant part of my message, which has been to reduce the size of Pima County government, so that the rest of us can begin to do the work to recover from this coronavirus disaster of building out a better standard of living — I would like to think that that message resonated," he said.
The self-proclaimed "grassroots conservative," who for years contributed to the conservative news outlet Arizona Daily Independent, admitted that an endorsement from Miller helped propel him to first political win.
"I do believe that that was significant … I do believe that that propelled my name into view and brought my campaign into full view," he said, adding that he'll figure out his approach in the primary if the results hold.
He'll face off against Scott, who for nearly two decades served as both as a principal and teacher in various Tucson-area schools. He defeated Brian Radford, a retired corrections officer, with 67% of the roughly 23,000 votes.
Scott, 57, said his message to voters will be focused on his leadership experience, which he thinks is even more paramount as the county — and country — weather the storm that is the coronavirus crisis.
Más de 30 inmigrantes ilegales fueron detenidos por agentes en el campamento del desierto dirigido por un grupo de ayuda.
He acknowledged the fact that the district, which encompasses the northern part of the county, including Oro Valley, Marana, Casas Adobes and the Catalina Foothills, is historically Republican. But he pointed to evidence that it might become more competitive, specifically due to a less than 3,000-voter advantage for Republicans, in terms of registration, according to the most-recent numbers.
He added that he was previously a registered Republican, and that he pledges "to listen to all points of view and all voices."
District 3
In District 3, incumbent Supervisor Sharon Bronson secured a spot as the Democratic nominee in November.
Out of 18,000 voters in the west-side district, Bronson garnered over 58% of the primary vote, outperforming political newcomer Juan Padrés. She will face Republican Gabby Saucedo Mercer.
Elías, de 61 años, un demócrata que se desempeñó como presidente de la Mesa de Supervisores, representó el quinto distrito del condado desde febrero de 2002.
"It has been an honor to serve on the Pima County Board of Supervisors and I look forward to continuing the work. We have a challenging road ahead, but I'm committed to working to protect our most vulnerable residents and ensure our economic recovery. Onward to the general election," Bronson said in a Facebook post.
Bronson is seeking reelection for a seventh term on the board. Since first elected in 1996, she has played a big role in the development of the Sonoran Desert Conservation Plan and became the first woman to be chosen as board chair.
Saucedo Mercer, who previously ran against Raúl Grijalva to represent Arizona's 3rd congressional district, did not respond to requests for comment.
District 4
In the historically Republican District 4, incumbent Steve Christy will take on Democrat Steve Diamond in November.
Election results show that Christy garnered nearly 65% of 23,000 primary votes in District 4, surmounting Republican opponent John Backer.
Christy, who was elected to his first term in 2016, is a lifelong Tucsonan and local business owner. If reelected in November, Christy said his focus will continue to be on business and economic development, improving roads and maintaining a strong relationship with local law enforcement.
"I'm very grateful to the voters of District 4 for their faith in me, and especially humbled by winning the primary by such a large and decisive margin," he said. "The upcoming general election will offer District 4 voters a striking contrast in candidates and philosophies. My campaign will showcase the accomplishments we've made during my first term as supervisor."
Diamond, a longtime Pima County resident with a career in information technology, is the co-founder of the Pima County Democrats' Labor Caucus and the co-leader of the Justice Alliance – Indivisible Southern Arizona.
"I want to thank the voters of District 4," Diamond said. "I'm gratified that more than 22,000 voted in my uncontested race. We have the momentum going into the general election to flip this seat blue for the first time since the district was created in 1972, which would be a victory for community values and the common good over ideology and special interests."
District 5
In the highly anticipated race to represent District 5, Adelita Grijalva, a native Tucsonan and daughter of U.S. Rep. Raúl Grijalva, garnered over 66% of nearly 19,000 primary votes, outperforming fellow Democrat Consuelo Hernandez. Grijalva will face Republican Fernando Gonzalez in November.
The death of Elías, who represented the district since 2002, left the seat up for grabs. The remainder of his term is being carried out by Betty Villegas. District 5 incorporates much of Tucson's west and southwest sides, downtown and south and east of downtown.
Grijalva has served as the director of Pima County Teen Court for the past 25 years, a program created to reduce the number of children of color in the juvenile justice system. She grew up in the Tucson Unified School District and received a degree in political science from the University of Arizona. She also serves as a member of the TUSD school board and was recently elected to her fifth term.
"Having had a moment to reflect on last night's election results, I would like to thank everyone who supported this campaign that none of us wishes we had to jump into," Grijalva said Wednesday. "We all miss our friend and advocate Richard Elías and will forever be grateful for Emily and Luz Elías' support. This was a grassroots effort with all of us trying to figure out how to run a campaign during a pandemic."
Gonzalez, a longtime Pima County resident and business owner, is the son of first-generation immigrant farmworkers and has served on a variety of boards and committees over the years, including his current seat as co-chairman of the Arizona Complete Count Census Committee.
"I believe in giving back to the community. I have 40-plus years of volunteer experience and I don't have an agenda," Gonzalez said. "I just want to give back to my community and take politics out of that particular position. We're here to serve the community as a whole — not our own interests or our political party's interest — but what is the best for the community as a whole."
---
Las solicitudes para el Fondo de Resiliencia We Are One / Somos Uno estarán en línea a través del Centro de Negocios de Mujeres de la YWCA del Sur de Arizona y la Fundación Comunitaria para el Sur de Arizona desde el viernes.
Be the first to know
Get local news delivered to your inbox!