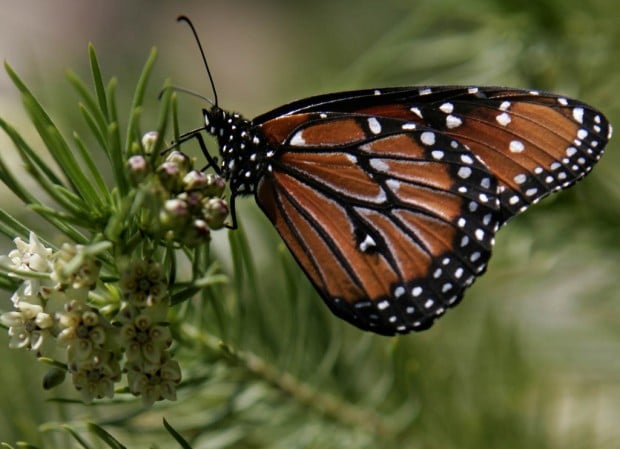 Since pollinators are so critical to our lives, it's a great time to consider planting your own pollinator habitat.
There are a number of factors to consider when designing your pollinator garden. Kim Matsushino, of Tucson Audubon's Habitat at Home program, has some basic tips. First, plant natives. "Planting native plants can offer everything an insect needs to live and reproduce," she says. Second, make the plants visible to insects by planting them in groups of at least three.
Another key step is to ensure you have blooms throughout the year so that your pollinators can keep feeding. This is called bloom time succession.
Carianne Campbell, of Strategic Habitat Enhancements, also suggests planting at different levels to mimic the natural environment. In natural habitats, there are ground-level plants, mid-story shrubs, and upper story trees and large bushes. Mimicking this, even on a small scale in pots with climbing vines acting as the overstory, will help create a more natural habitat.
Where to get pesticide-free native plants:
Pesticide-free native seed suppliers:
If you've already purchased your plants and are concerned they may be treated with pesticides, there are a couple of things you can do to help protect your pollinators. Sharon Selvaggio, Pesticide Program Specialist at Xerces Society for Invertebrate Conservation, says you can get rid of as much soil around the plant as possible before planting and throw it out. You can also consider netting the plant for the first year to keep pollinators away while the pesticide degrades. You can also check out this resource from the Monarch Joint Venture.
The components of a pollinator garden
Animals need three basic things in order to take up residence in your yard: food, water and shelter — ideally with resources conducive to breeding. The more of these necessities you provide, the more you are helping to save pollinators. Let's go through these one-by-one.
Food: For most pollinators, this means plants that provide nectar and pollen. Hummingbirds also like to supplement their diet with small flies, so leaving out some fruit to attract fruit flies will be helpful to them. As a bonus, when the fruit begins to spoil it will be food for butterflies!
Plant the food and shelter plants near each other; this ensures that the pollinators feel safe when they are foraging. Planting a wide variety of natives will help both you and your pollinators--you will have less watering and maintenance, and you will be providing a full-service ecosystem.
Water: Providing water is critical in our climate, and does not need to be complex or expensive. A hose with a misting nozzle attached will make hummingbirds very happy; they prefer splashing or moving water. Shallow water dishes with pebbles and wet sand will provide water for butterflies and bees. Use 1-2 inch deep dishes for birds; for deeper dishes put some rocks in the bottom that stick out over the water surface so that small birds can have access to the water without getting completely wet.
Keep the water clean — both for your health and the health of the animals. Mosquitoes need only three days to hatch from stale water, and your water vessels can grow algae and harbor bacteria that are harmful to your new guests. Ideally, hose out and refresh the water dishes every day or at most, every other day.
Insects like a little mess: leave out leaves, mulch, and some dead branches to ensure that they have plenty of shelter. According to Campbell, leaf litter provides shelter for hibernating bumble bee queens, as well as moth and butterfly larvae. Many of our native solitary bees also require special places to breed — either in hollow tubes, dead wood, or for the majority, in the ground. Make sure you leave some bare ground for the ground-nesting ones.
You can make your own bee condos for carpenter bees but keep in mind that you will need to clean them to prevent diseases.
Campbell says bee houses are a commitment. "If you want to really do something good for your native bees ... keep [bee houses] clean and maintain them. Smaller is better to reduce the risk of disease."
You can also provide dead native wood (like mesquite branches) and woody plant stems for shelter. Native bees forage in a small territory of about 200-300 feet, so keep their habitat, food, and water resources within this area.
Hummingbirds like to shelter in native trees and shrubs. If you want to go the extra mile, you can leave out nesting materials, which can be purchased in birding supply stores such as the Wild Bird Store. In the wild, hummingbirds use light flexible materials such as spider silk, bits of lichen, animal fur, and plant fibers such as cottonwood, so if you have these in your yard you probably don't need to purchase anything. They like to nest near their food sources.
Do you have any gardening topics you'd like to see covered in the Tucson Garden Guide? Email me at dheusinkveld@tucson.com with your suggestions and questions. Thanks for reading!