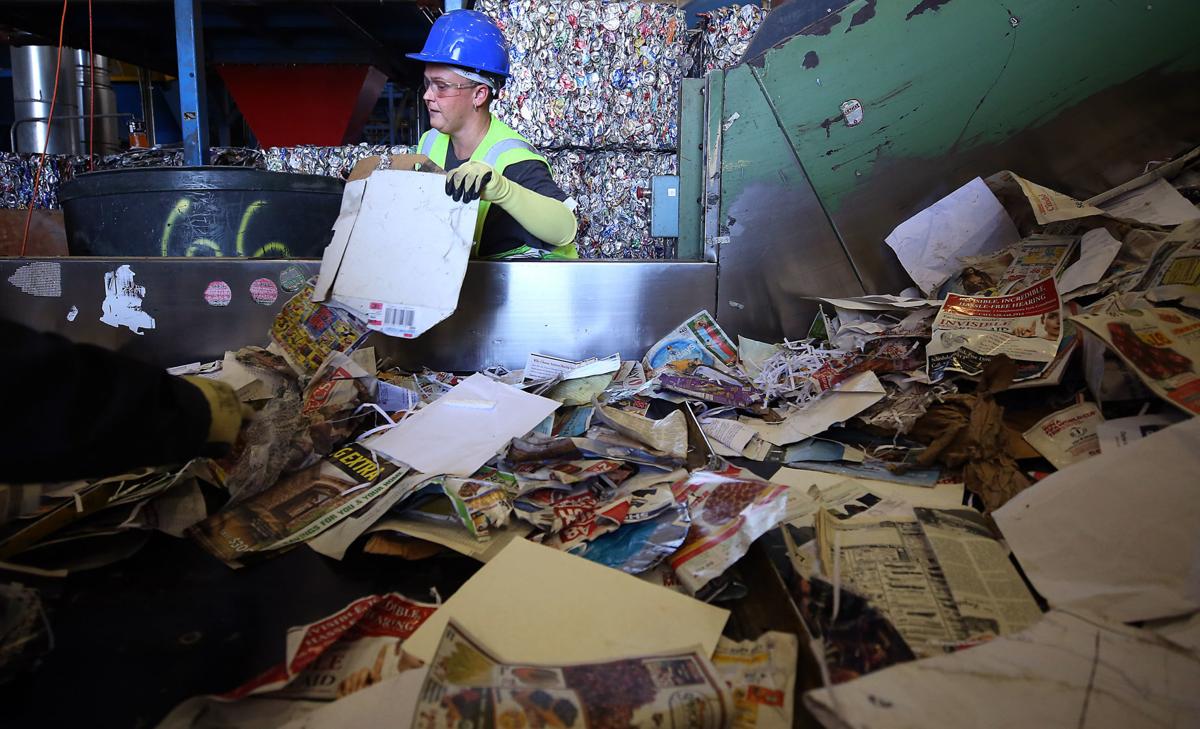 This article first ran in 2018.
To reduce losses for the city of Tucson and make the recycling program profitable and successful, residents should focus their efforts on the easiest products to recycle and those for which there is a market.
That was the advice Tucson residents got Wednesday when mostly dedicated recyclers attended a presentation hosted by Steve Kozachik, the city councilman representing Ward 6, on Tucson Environmental Services and recycling.
While 90 percent of Tucson residents now participate in recycling programs, contamination is at 20 percent and rising, according to Carlos De La Torre, director of Tucson's Environmental and General Services department. Contamination costs the city about $130,000 annually.
Most recyclables were sold to China until recently. In January, China reduced the allowable contamination from 4 percent to 0.5 percent. If a lot sent to China has more than 0.5 percent contamination, it is sent back, which is expensive. This means that if Tucson is to sell recyclables to China, contamination must be reduced.
The biggest contaminants in recycling are plastic grocery bags, Styrofoam and other plastic foam products, food waste, yard waste, textiles, human and animal waste, and tanglers such as cords, hoses, hangers and other items that can get caught in recycling machinery.
Recycling in Tucson is not self-supporting. Tucson partners with Republic Services, which runs the recycling facility and suffers the same financial success or hardship as the city with the program. The projected loss for fiscal year 2019 is $900,000.
Recycling costs include: collection; processing, including removing contaminants; and residual charges. Income from recycling includes: sale of recyclables, other revenues and the recycling surcharge. The total cost of recycling is approximately $850,000 a year.
De La Torre suggests recyclers first focus their efforts on the items that have a market when recycled: paper, including junk mail and newspapers; corrugated cardboard boxes; aluminum cans and cans made of other metals (like soup cans); and #1 and #2 plastics, including water bottles.
Aluminum cans have the most value. Recycle these by rinsing them out and allowing them to dry first. Don't crush them. The automated systems recognize them better if they aren't crushed. Many aluminum cans are not recycled, so there is a great deal of room for improvement.
Plastic bottles should not be crushed, either. Replace the lids once they are dry. Leave labels on. The lids add weight and have a higher plastic content, so there is value in recycling plastic lids as long as they are not separated from the bottles.
Corrugated cardboard boxes should be broken down. Labels and tape can be left on unless the box is covered in tape because it has been reused many times. In that case, throw the box away.
Oily pizza boxes should be thrown away, but if the top half is clean, you may tear it off and recycle the clean part.
Tin cans or other metal cans like soup cans should be clean as well. Leave labels on. If the lids are still attached, leave them on. Throw the lids away if they are detached.
De La Torre also recommends that residents put their blue barrels out only when they are full to save on collection costs.
Possibilities being considered by the city for the future include not accepting glass in curbside recycling, but accepting it at several locations around town. Tucson gets no revenue for glass and must pay to have it hauled to the Phoenix area for recycling. Rate adjustments, education and various methods of enforcement to reduce contamination are also possibilities.
Suggestions from the audience included analyzing contamination along routes to determine where education and enforcement are most needed and looking at the programs of other cities similar in size to Tucson. Both suggestions are already in the works.
Tucson Environmental Services handles recycling and trash for residents of Tucson, but many of the rules are valid outside the city limits as well.