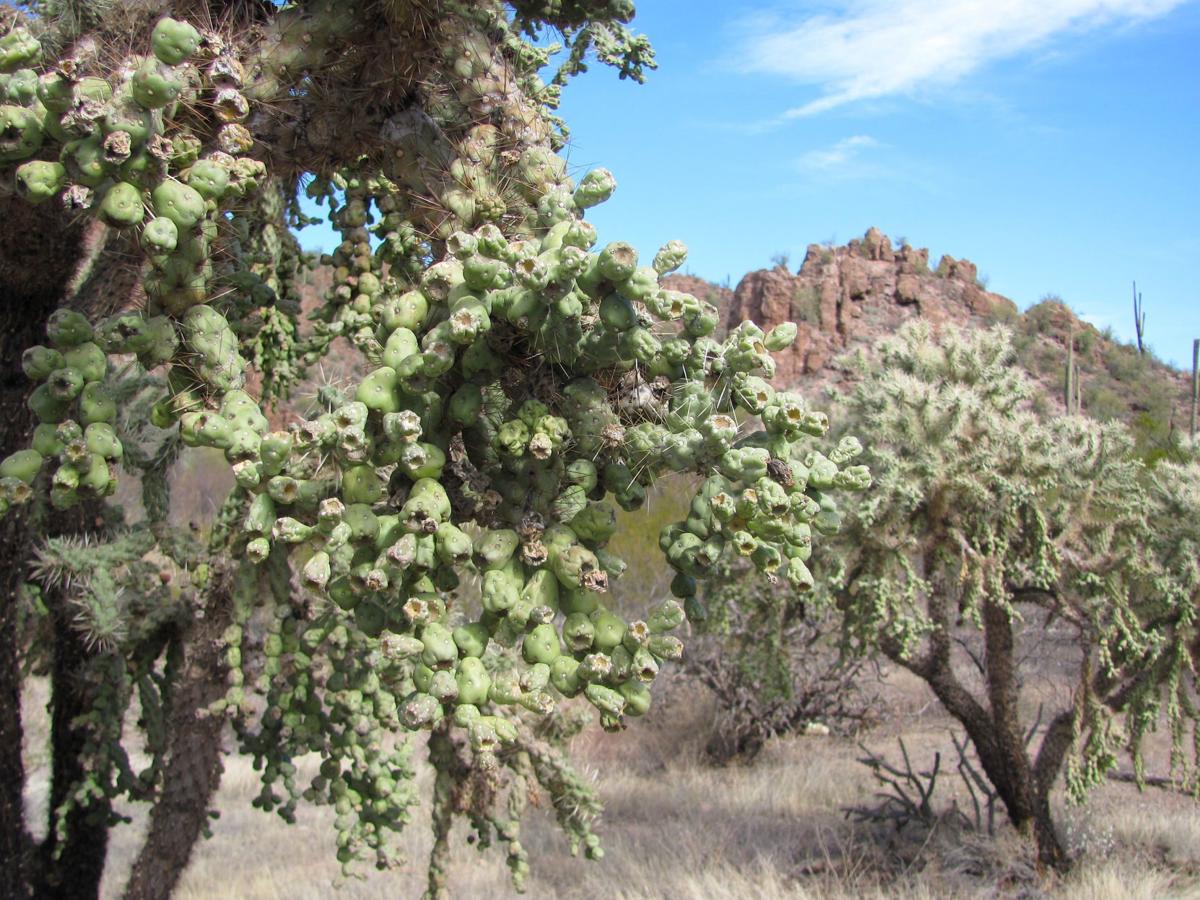 Most of the Sonoran Desert's cacti are beautiful to behold, but one species can have a nasty side when encountered by people.
It's the chain fruit cholla — also known as the jumping cholla for its habit of "jumping" from a parent plant or the ground onto the skin or clothing of a passerby.
The common reactions are "Ouch!" and "How do I get this bleeping thing off me?"
The barbed cactus spines don't actually jump, of course. But they detach easily from the main plant and hook tenaciously — sometimes painfully — into people who get too close.
"I don't think there's an outdoors person that hasn't had that experience — often numerous times," said John Wiens of the botany department at the Arizona-Sonora Desert Museum west of Tucson.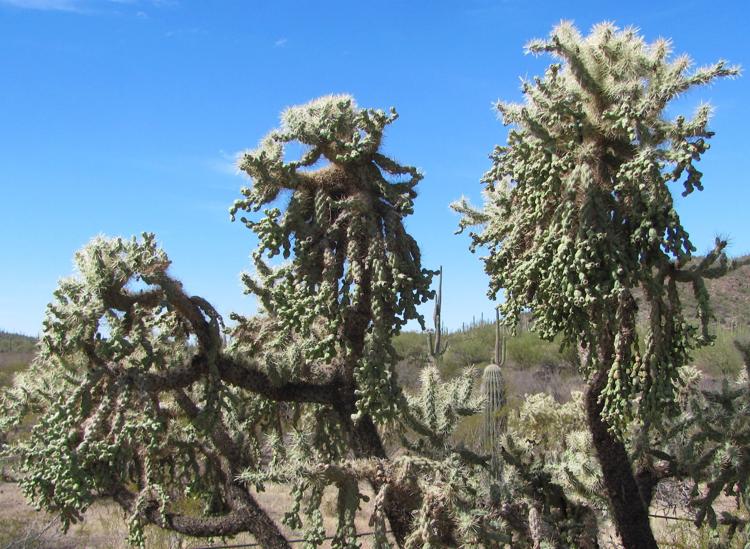 WHY THEY HITCH ONTO US
"Don't hate the plant" for stabbing you with its spines, Wiens said. "It's just trying to survive."
"It's a wonderful evolutionary adaptation the plant has developed," he said. "When a joint detaches and comes into contact with the ground, it will root. It's a great way to spread yourself."
Jumping cholla further increase their reproducing potential by hitching a ride — via those easily detached spines — on passing people or animals. When people or animals manage to remove the spines, they usually fall to the ground in a new location and can root right there.
"I've been out in the desert and seen cattle with the stems stuck on their noses," Wiens said.
What makes it so easy for the cholla to snag passers-by is that mature plants often have barbed spines growing near long "chains" of spineless fruit hanging from the trunk.
"The biggest chain I've ever seen might be 10 or 12 fruits long," Wiens said.
Stopping to admire the fruits often puts people in harm's way of the "jumping" barbed spines.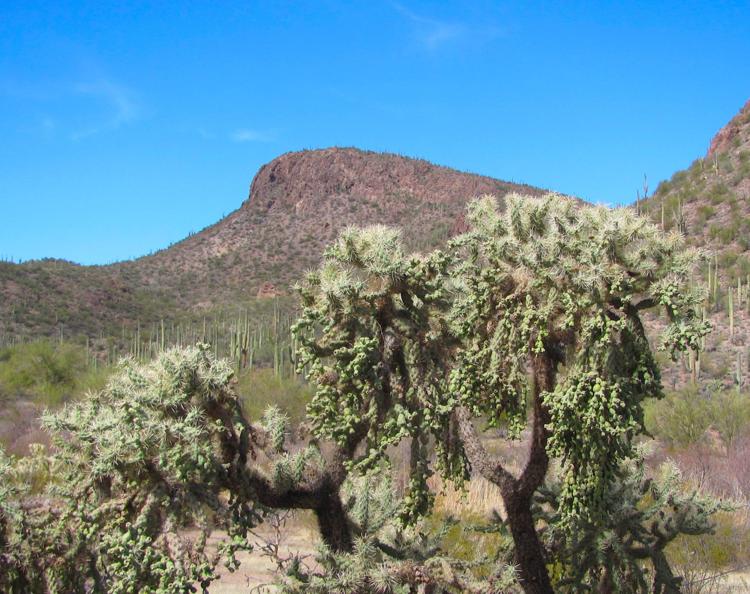 BIG AND BEAUTIFUL
For all their pesky habit of attaching themselves to people, jumping cholla are some of the largest and most beautiful of cacti other than giant saguaros.
"I've seen some that are 10 to 12 feet tall with long chains," Wiens said. Several cactus books note that some specimens can be up to 15 feet tall.
"They produce beautiful lavender-pink flowers in late May into June," Wiens said.
DEFENSE STRATEGIES
The best defense is to avoid approaching close to a jumping cholla and to watch where you're walking — because it's common for the fallen spines to attach to the shoes, skin or pant legs of passing hikers.
To remove spines that have attached themselves to your skin or clothing, be prepared ahead of time.
"Carry a big tooth comb when your hiking," Wiens said, noting that a comb can be used to pull the spines out of your skin. "A long pair of forceps also works."
Those not equipped with such tools can search for two sturdy sticks and use them to grasp the barbed spines and pull them free.
Contact reporter Doug Kreutz at dkreutz@tucson.com or at 573-4192. On Twitter: @DouglasKreutz.