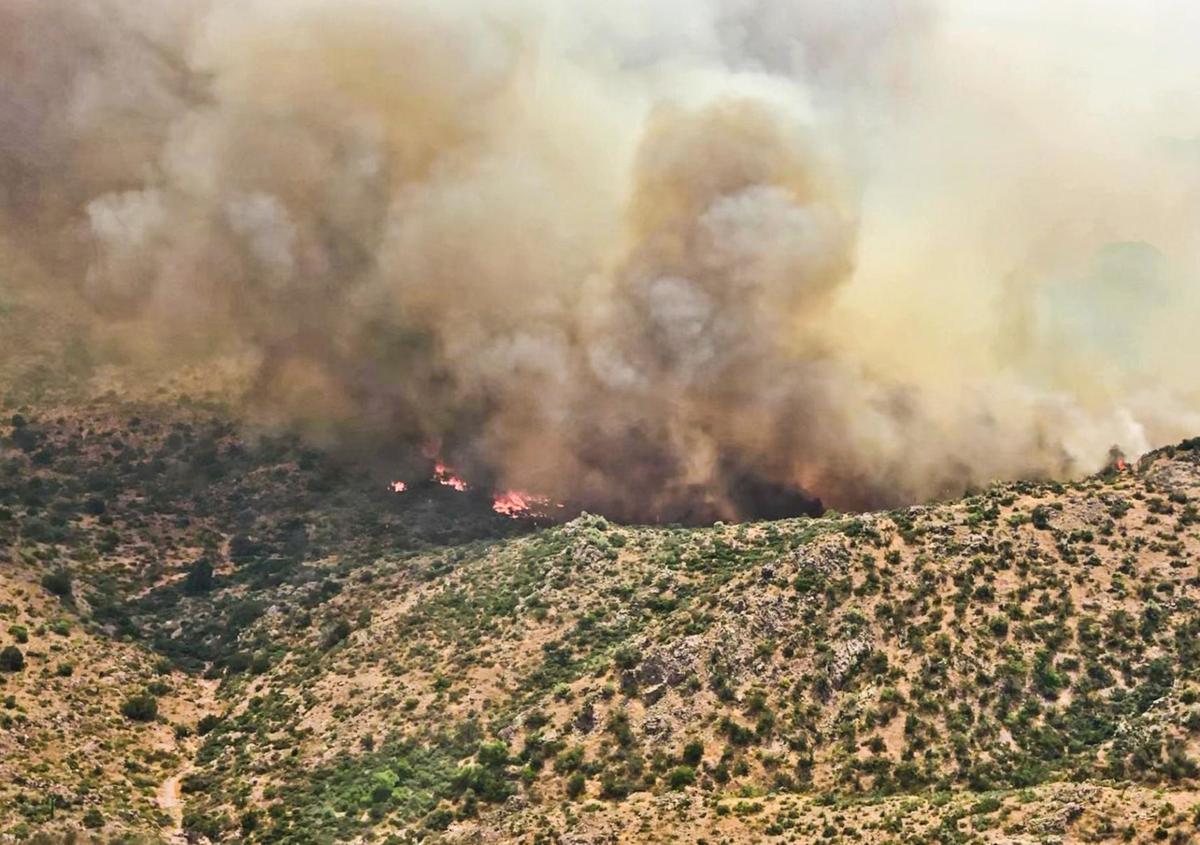 Wildfire season is in full swing with 19 active fires burning across Arizona, according to the Department of Forestry and Fire Management. There are an additional four prescribed or controlled fires burning across the state.
As of June 12, 682 wildfires have burned over 45,000 acres in Arizona this year. Of these fires, 641 have been human-caused. Arizona is experiencing fewer wildfires than previous years, however. This time last year, there were 889 wildfires burning over more than 81,000 acres.
"The abundant moisture we received last year significantly helped push us out of the severe drought conditions we faced last summer," said Tiffany Davila, public affairs officer for the Department of Forestry and Fire Management. "But, all of that moisture created a heavy grass load some areas of the state have not seen in some time. Now, as temperatures heat up, that grass continues to dry out and is prime kindling for wildfires."
While the moisture from the monsoon season, which officially begins Saturday, June 15, typically reduces fire activity, the National Weather Service reports that Arizona likely won't see its signature thunderstorms until late July. Officials say high wildfire activity is expected to continue until then.
Tucson saw its highest temperatures of the year this week and was under a red flag warning along with most of Southeastern Arizona on Thursday and Friday. According to the NWS, the warning was due to strong, gusty winds, low humidity and high fire danger. All of these factors can cause developing fires to spread rapidly.
State forestry officials ask that Arizonans use caution when outdoors and using equipment that can throw a spark.
"Campfires need to be completely out and cool to the touch — we are getting reports of abandoned campfires," said Davila. "We ask drivers to make sure tow chains are secure; roadside fires are a huge source of Arizona fires — and be sure vehicles are maintained and serviced before getting on the road."
The Coronado National Forest reported three recent wildfires on mostly forest land in Southern Arizona, including the Hell's Gate Fire in the Tumacacori Mountains north of Nogales, which burned about 340 acres. The two other wildfires, near Sonoita and in the Arivaca area, each burned less than 100 acres, according to the forest's Facebook page.
Here is an update on some of the largest fires burning in Arizona as of Friday.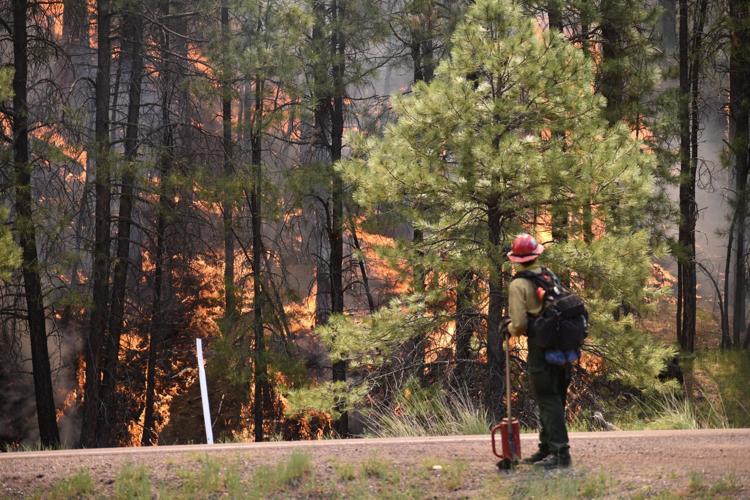 Coldwater Fire
With 16,760 acres burned and at 30% containment, the Coldwater Fire began on May 30 due to lightning in the Coconino National Forest. As containment continues, fire resources in the area are being reduced. Officials say the fire is likely to remain within the current perimeter.
The U.S. Forest Service issued a temporary forest closure that will remain in effect. In recent days, the public has experienced heavy smoke and fog due to the fires, but firefighters expect that to decline in the coming weeks.
Maroon Fire
Also located in the Coconino forest and 18 miles northeast of Flagstaff, the Maroon Fire began May 16 and has burned over 8,500 acres. It is 88% contained and was caused by a lightning strike.
According to Coconino forest officials, firefighters are continuing to extinguish sources of heat and remove hazardous trees in the area.
This fire is burning near the Maroon Crater, which was used for artillery training during World War II, and likely still contains unexploded ordnance.
Woodbury Fire
In the Tonto National Forest, five miles northwest of Superior, the Woodbury Fire has burned more than 12,900 acres and is 0% contained. This human-caused fire has continued to grow during the last several days with increasing winds pushing the flames west and northwest.
The fire, which began June 8, has resulted in a partial closure of Arizona Highways 88 and 188.
The forest will be under fire restrictions starting Saturday, June 15. Visitors to the forest won't be able to build campfires outside developed areas. Smoking is allowed but only inside vehicles or buildings, or at developed sites. Target shooting is prohibited.
Mountain Fire
Starting June 7 in the Tonto forest, the Mountain Fire is believed to be a human-caused fire and is currently under investigation. It has burned over 7,400 acres and is 57% contained.
Several roads and recreation areas reopened this week after being closed to the public. Officials say the public can expect to see visible smoke throughout the day as firefighters continue to suppress the flames. The fire is not expected to increase in size.