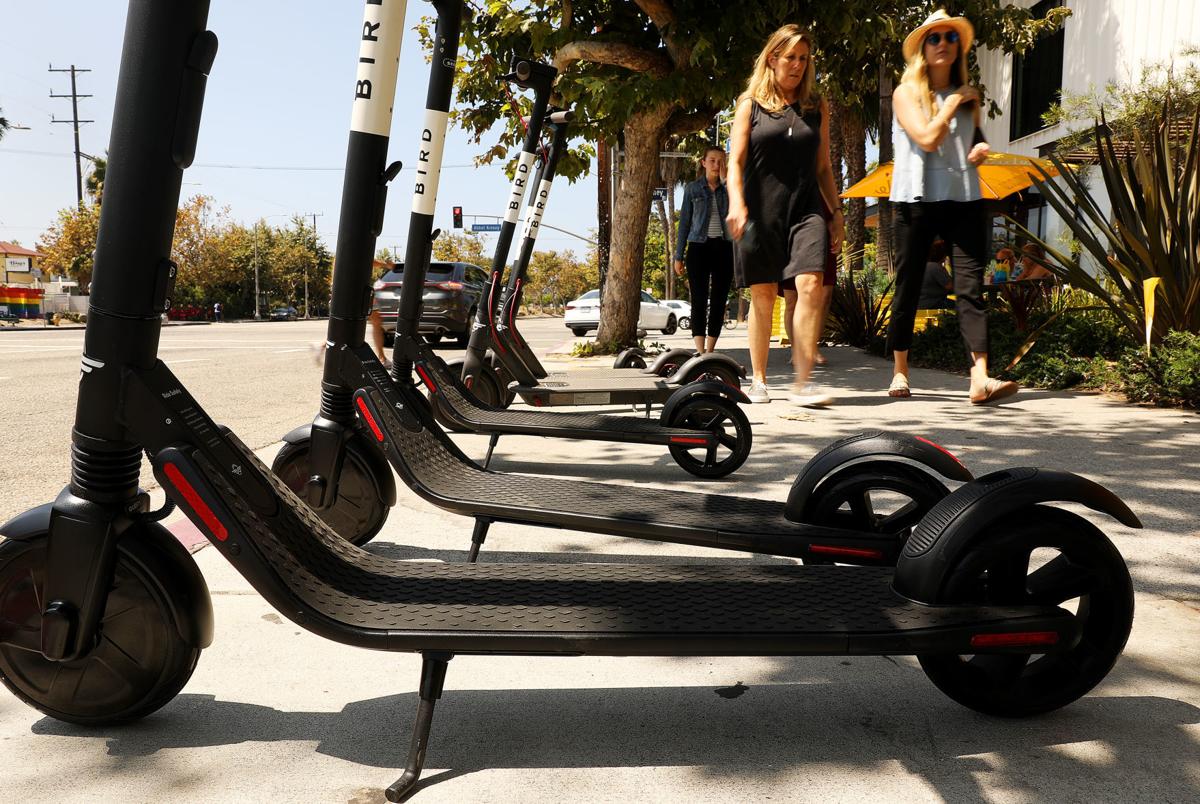 As many as 1,000 electric scooters could hit Tucson streets soon, but city officials are not rolling out the red carpet.
Before they've even arrived, the dockless scooters — often better known under various brand names like Bird and Lime — have been banned on all public roads inside the city limits. Furthermore, the police department has been instructed to direct other city departments to collect unattended scooters when they are seen in public.
Bird's business model, which allows customers who rent the electric scooters to leave them anywhere that doesn't block pedestrian areas, has caused much consternation in cities across the country where they've appeared, often without warning.
Thus far, Bird, which has advertised for contractors to collect, charge and redistribute the scooters in Tucson, has had limited contact with city officials. It has not obtained a business license.
Bird users can find nearby scooters via an app, paying $1 to start, followed by a set price per minute. According to Bird's website, in Scottsdale and Tempe the cost is 15 cents per minute.
A similar company, California-based Lime, recently began renting out dockless scooters in Tempe, competing with Bird for customers.
The cities of Tempe and Scottsdale greeted Bird with varying degrees of open arms.
Scottsdale initially issued a cease-and-desist letter before working out an agreement with the company, while Tempe took a more hands-off approach.
With a top speed of 15 mph, Tucson officials are concerned that the e-scooters — which resemble Razor kick scooters often used by children but with an electric motor — could pose a safety hazard for pedestrians and riders.
The e-scooters are treated differently under the law than battery-powered electric bikes, which are nearly identical to traditional bicycles.
Roi Lusk, an assistant city attorney, said the city classifies the devices as a "motorized play vehicle" rather than a form of transportation.
City officials hint that they may be willing to back changes in city laws to legalize their use, but only if companies like Bird are willing to enter into an agreement outlining some of their business practices.
Mackenzie Long, a spokeswoman for Bird, did not respond to a request for comment.
Councilman Steve Kozachik said he has a number of concerns about Bird.
"I'm all for engaging with Bird and other suppliers on how to allow their product into our market, but that will be based on everyone sitting down and hammering out rules of the road — where the scooters will be allowed, how they're stored when not in use, penalties Bird will pay if the scooters are just left laying around, and all the other pieces of this that other jurisdictions have had to deal with," he said.
He said he would be willing to support the companies if they made changes to their business model, but isn't backing down from threats to seize the devices as soon as they start showing up on city streets.
"Right now, they're illegal in Tucson. Until we affirmatively change that, with conditions, scooters they drop here will be confiscated," he said. "If that's their game plan, they're only going to be making any negotiations we may have otherwise had more difficult from the start."
A council discussion is planned for early September to discuss the issue, with the council asked to consider changes to existing laws, allowing the use of e-scooters on certain types of multi-use paths.
City officials declined to discuss specifics, saying the exact language is still being drafted.
The city of Tucson has been here before, wrestling to regulate gas-powered bikes back in 2006.
Following two fatal accidents with traditional bikes fitted with two-stroke gasoline engines — the type that powers chainsaws, leaf blowers, Jet Skis and dirt bikes — the city sought to regulate them.
Concerns that the high speeds of the motorized bikes could be hazardous for bike riders or cars, the lack of proper brakes, safety equipment, pollution and noise were discussed by the Tucson City Council before it eventually legalized their use.
Outside the city limits, it is a mishmash of competing standards on how electric scooters are treated under the law.
At the University of Arizona, for example, e-scooters are allowed.
Cindy Spasoff, the University of Arizona Police Department spokesperson, said the e-scooters would be treated pretty much like skateboards.
Chris Cawein, the director of Pima County's Parks Department, said the county has laws on the books banning motorized devices on various multi-use paths, including the expansive Loop project.
He said the issue is balancing the needs of everyone, and at this time, motorized devices are not allowed.
In Oro Valley, the e-scooters have a slightly different legal distinction. They are currently banned on roads, but are allowed on multi-use trails and paths.
Reporting that originally appeared in The Arizona Republic contributed to this story. Contact reporter Joe Ferguson at jferguson@tucson.com or 573-4197. On Twitter: @JoeFerguson