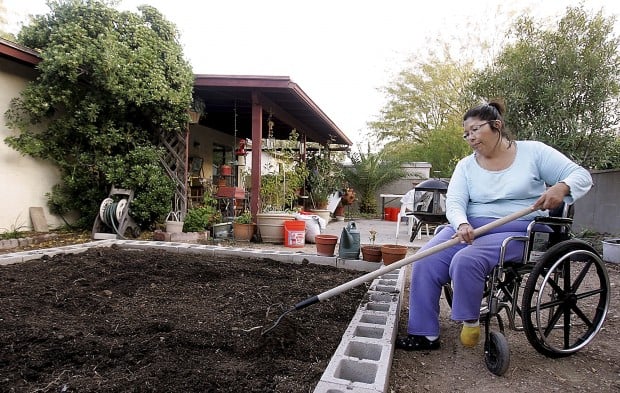 It's a weekly routine: her mother wheels Reva Mariah S. Gover-Shield Chief into the vascular clinic at University Medical Center, where a medical team works at healing what remains of her left foot.
The 41-year-old writer and Tucson resident has been overweight since she was 5, was diagnosed with Type 2 diabetes at 15, had a quadruple bypass at 35, and has had circulation and vision problems.
Last year she lost part of her left foot including all five toes because of complications from a diabetes-related infection. She now uses a wheelchair to get around.
Gover-Shield Chief is American Indian, an ethnic group that is at higher-than-average risk for obesity and diabetes. She is part Tohono O'odham and part Skidi-Pawnee, an Oklahoma tribe.
At least half of O'odham adults have Type 2 diabetes. That rate is expected to be 75 percent or more for O'odham children born in 2002 if there's no intervention, says Tohono O'odham Community Action, a nonprofit tribal group.
Only half a century ago, the O'odham thrived on foods they gathered and grew with irrigation from rivers that now run dry.
And for nearly 2,000 years, diabetes among tribal members was rare.
Some scientists believe what helped them survive in the desert was a so-called "thrifty gene" that slows metabolism and rapidly stores food as fat to get them through famine.
Some have theorized that the thrifty gene, which once kept the O'odham alive, backfired when combined with a more sedentary lifestyle and a high-fat, high-calorie American diet.
By the 1960s, Southern Arizona's tribes - the O'odham, the closely related Pima Indians and the Pascua Yaqui - were 10 times more likely to develop Type 2 diabetes than the rest of the country.
Gover-Shield Chief believes her weight climbed when she was young for a combination of reasons - genetics, emotional eating and lack of exercise. Once she got to high school, physical education was not mandated and she didn't do any activities outside of school.
By age 36, Gover-Shield Chief, who is 5 feet 8 inches tall, weighed "north of 300 pounds." She has since had gastric-bypass surgery and now weighs about 200.
Now living with her mother, Gover-Shield Chief, who has a master's degree in American Indian studies, devotes much of her time to staying healthy.
She has an 18-year-old son and monitors him for signs of pre-diabetes.
"When you are young," she says, "you don't know what the future might hold for you."
The U.S. Centers for Disease Control and Prevention says it costs $11,744 per year to care for someone with diagnosed diabetes - more than twice the cost of caring for a non-diabetic.
The unemployment rate on the Tohono O'odham Nation is 35.5 percent; 28 percent on the Pascua Yaqui Reservation. Statewide it's 9.5 percent.
SOURCE: Arizona Department of Commerce