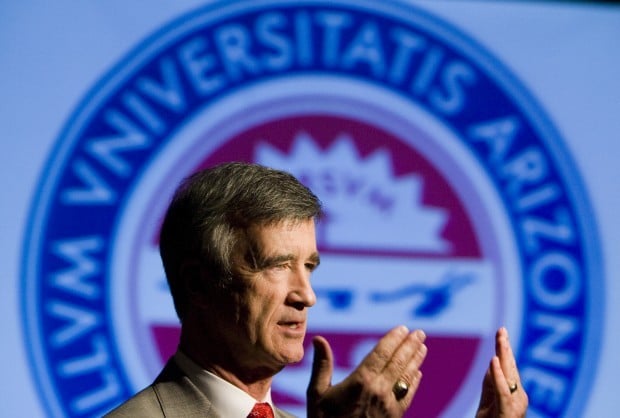 Robert Shelton announced today that he is resigning after five years as president of the University of Arizona.
Effective August 1, he will become the executive director of the Fiesta Bowl, which is troubled by allegations of illegal campaign contributions and extravagant spending.
In a statement released by the Fiesta Bowl, Shelton expressed excitement about his new job and called the Fiesta Bowl "an Arizona treasure."
In a statement released by the UA, Shelton said "this was probably the most difficult decision I've ever had to make."
"I have spent my entire career in higher education, and I care passionately about the UA," Shelton continued. "But there always comes a point in life where you feel that it is time to try something new."
Shelton, 62, has headed the university during a time of extreme state budget cuts that brought on job cuts, tuition increases and organizational changes at the UA.
Governor Jan Brewer praised Shelton's leadership and said he has "been a steady hand on the wheel during difficult economic and budgetary times."
Shelton also pushed the UA's commitment to give poor and minority students access to higher education by starting the Arizona Assurance financial aid program. And he oversaw the launch of the medical school's branch in downtown Phoenix.
In his statement today, Shelton also said this is "a good time to bring a fresh perspective to the leadership of the university."
In a memo to employees, Shelton said "I leave UA proud of what it stands for and what it means to Arizona's future."
Shelton was hired in 2006. In 2009, he won a raise and a contract extension through June 2012. He was paid $470,000 a year plus other benefits.
He will earn a base salary of $455,000 plus incentives in his 4-year contract at Fiesta Bowl. He replaces John Junker, whose salary was $592,000 before he was fired from the Fiesta Bowl in March.
In his new job, Shelton will oversee the Fiesta Bowl organization and its Festival of College Football, including the annual Tostitos Fiesta Bowl, Insight Bowl and more than 40 statewide events.
Shelton has been closely involved with college football as a member of the Bowl Championship Series Presidential Oversight Committee.
Fiesta Bowl chairman Duane Woods called Shelton the ideal leader for the group.
"We are so fortunate that someone of Dr. Shelton's caliber has chosen to lead our organization," Woods said in a press statement. "While we had an amazing number of talented applicants for this position, Dr. Shelton's impeccable record of integrity and his vast knowledge of collegiate academics and athletics are perfectly suited to restore trust and credibility with our volunteers, staff, community and key partners."
An interim UA president will soon be named by an Arizona Board of Regents committee, which will also organize a committee to search for a new UA president.