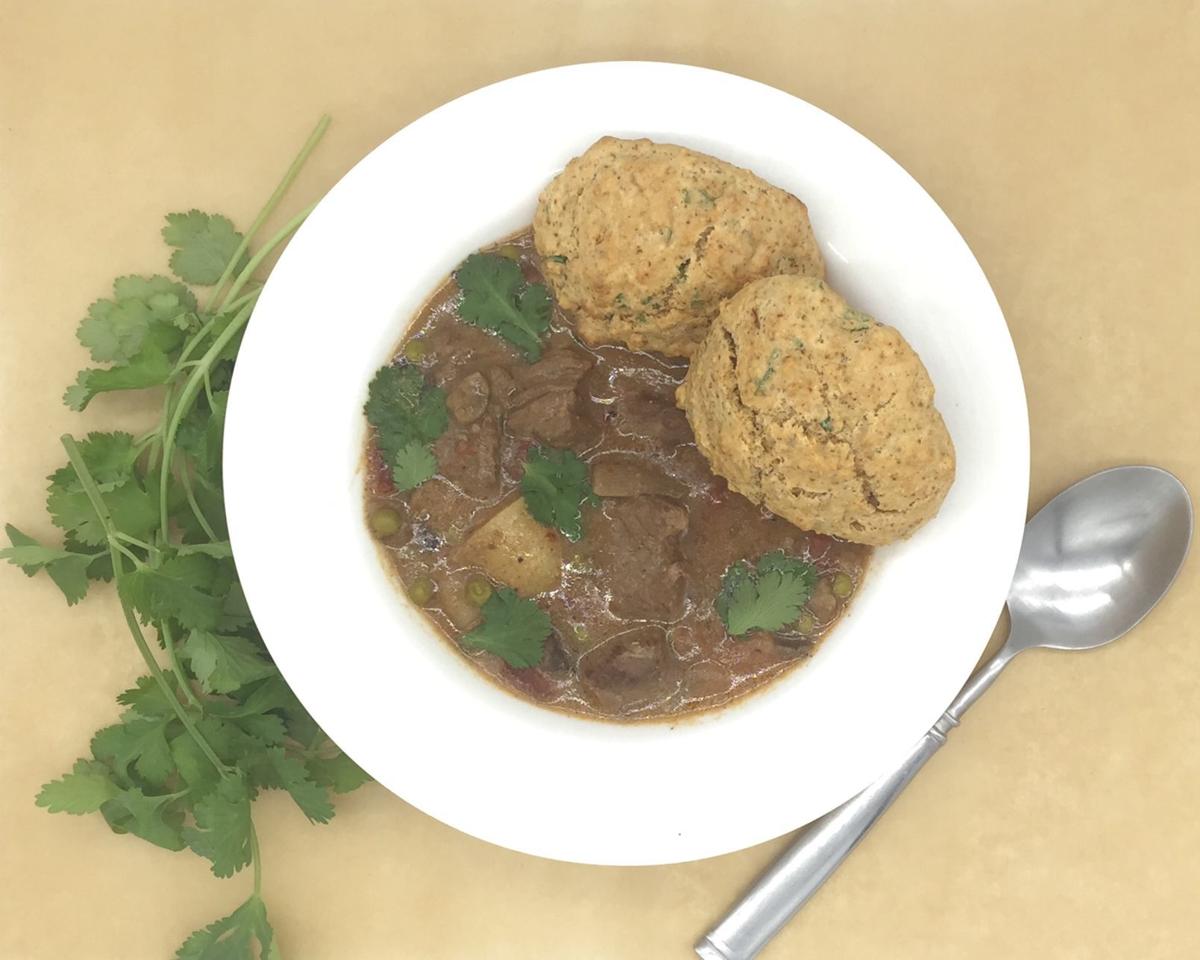 A friend, surveying the passing crowd at a chilly outdoor event last weekend, noted an insider's way to tell the Tucsonans from the visiting snowbirds.
The Tucsonans, he said, are the ones with the puffy warm jackets and pompom-topped hats, because 60 degrees to us feels cold. But the new arrivals from colder climes? They're the ones in flip-flops and shorts, because 60 degrees feels welcomingly warm to them.
I laughed as I snuggled my own hat down over my ears. I'm not Tucsonan by birth, but only by heart. And last weekend, after a day in the brisk breeze with clouds that threatened rain, I was glad I'd taken a little time earlier in the week to dig out the warmer clothes previously packed away. By the time I arrived home, I was ready for something sturdy and warming for supper.
A beef and green chile stew seemed like a good idea, and easy enough to get underway.
Beef-chile stew with chili cornmeal baked dumplings
Much easier to make and richer than dumplings dropped into the stew to poach, these are halfway to biscuits and can stand on their own with other dishes as well as this stew. They also freeze well, if you've a mind to do so. Let them cool before freezing.
2 pounds beef stew meat or beef chuck, cut into 2-inch pieces
4 large shallots, peeled and sliced, or 1 medium onion, chopped
3 cloves garlic, smashed and peeled
1 to 2 hot chiles, such as jalapeño or Hatch, seeded and diced
1 tablespoon chili powder
1 14.5-ounce can diced roasted tomatoes
8 ounces sliced mushrooms, optional
6 to 8 small potatoes, quartered
4 to 6 carrots, cut into chunks
Salt and pepper, to taste
3/4 cup half-and-half or full-fat milk
2 tablespoons butter, melted and cooled
2 tablespoons chopped cilantro
Prepare the stew: In a large heavy pot with a lid, such as a Dutch oven, heat the olive oil over medium heat. When it is fragrant, brown the beef pieces, turning as needed to brown on all sides. You may have to do this in batches. Remove beef to a plate and set aside.
Add the shallots or onion to the pan. Cook, stirring often, until the onions are translucent, about five minutes. Add the garlic, chiles and chili powder and cook, stirring, for a minute or two longer, until the garlic is golden. Pour in the beef broth and stir, scraping up browned bits on the bottom of the pot. Return beef to the pot along with any accumulated juices. Add diced tomatoes and sliced mushrooms, if you're using them. Bring the mixture to a boil, cover and reduce heat to low. Simmer the stew for 1 hour.
Add the potatoes and carrots. Simmer until the vegetables are done, about 30 minutes. Stir in the peas.
Meanwhile, prepare the dumplings: Preheat the oven to 450 degrees. Line a baking sheet with a piece of parchment paper or grease it well.
Whisk the flour, cornmeal, kosher salt, baking powder and chili powder together in a medium bowl. In a large measuring cup, beat the half-and-half, egg and melted butter together until well-combined. Stir the half-and-half mixture into the dry ingredients, using a rubber spatula. Blend in chopped cilantro. If you're making other additions, add them now. Drop the mixture in large tablespoonfuls about 2 inches apart on the prepared baking sheet. Bake for 12 to 14 minutes, or until golden.
To serve, ladle stew into serving bowls and add 2 dumplings to each bowl. Garnish each serving with cilantro leaves.
Robin Mather is a longtime food journalist and the author of "The Feast Nearby." Follow her blog as she writes her third book, "The Feast of the Dove," at thefeastofthedove.com.