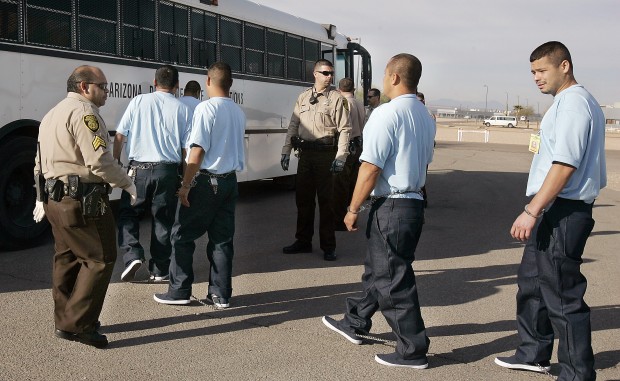 A group of state prisoners who faced deportation once their sentences ended got an early start on their departure Friday.
Thirty-nine non-violent criminal aliens, as the Department of Corrections classifies them, were transferred from the state prison complex south of Tucson to a U.S. Immigration and Customs Enforcement detention center in Phoenix.
The move was part of a mandate from Gov. Jan Brewer to ease prison congestion and save money.
The prisoners, all men from Mexico, had been convicted in Arizona of crimes such as drug possession, burglary and auto theft, and were within 90 days of their scheduled release dates, deputy director Charles Flanagan said.
The men would have been transferred to ICE at the end of their sentences, Flanagan said. But in December Brewer ordered the Department of Corrections to move deportation-eligible prisoners earlier.
About 50 Phoenix-area prisoners were transferred to ICE last week, Department of Corrections spokesman Barrett Marson said.
The departure of the Tucson busload, made up of prisoners that had been housed throughout Southern Arizona, will save the state about $2,500 per day, Flanagan said. Their average remaining term was 73 days, translating to a savings of more than $180,000.
"These are people for whom the federal government has responsibility," Flanagan said. "We had assumed that responsibility."
Flanagan said about 15 percent of the roughly 42,000 prisoners in the state system are criminal aliens and eligible for the early transfer. It is expected up to 1,000 of them will be transferred to ICE within the next 18 months, he said.
Once in the hands of ICE the inmates' deportation eligibility will be reviewed by a federal judge before a decision is made on whether they are to return to Mexico, ICE spokesman Vincent Picard said.
Approximately 80 percent of such inmates transferred to ICE from Arizona have been deported within 24 hours, he said.
Inmates deemed not eligible for deportation will be sent back to the state prison to complete their sentences, Flanagan said.
Despite the presence of armed guards, arm and leg shackles and several rounds of frisking, the inmates transferred Friday appeared to be in good spirits, said Flanagan, who chatted in Spanish with some of them before they boarded the bus.
"Most of these guys are very happy to be released," Flanagan said. "They know it means they're going to be processed back to their home country a lot more quickly than they normally would be."