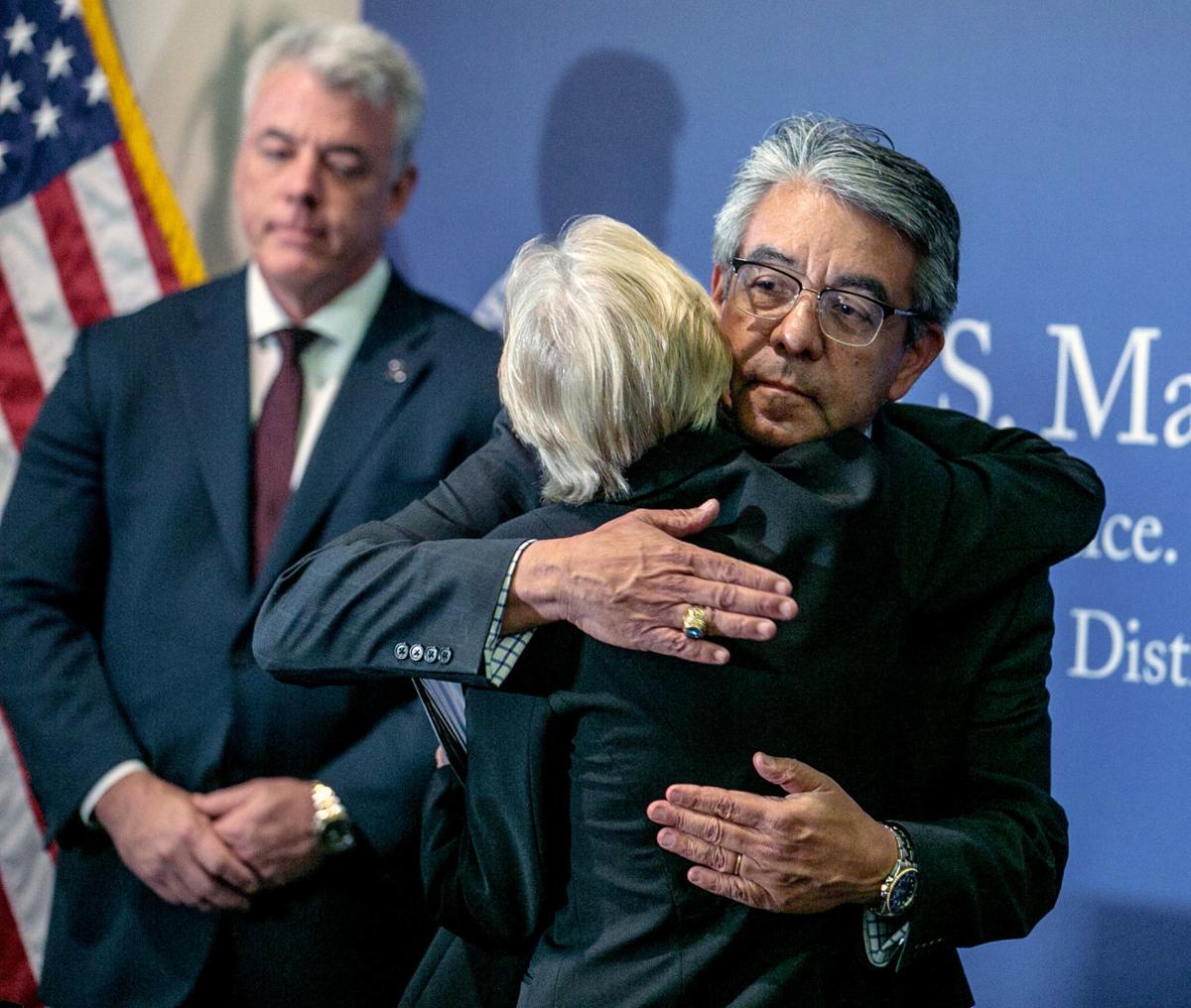 Chase White, the deputy U.S. marshal who was shot and killed while serving a search warrant Thursday night in Tucson, was a 41-year-old who had worked for the agency since 2015. He was also an Air Force reservist who was preparing for deployment starting Monday.
He leaves behind a wife and four children.
White was one of the agents who responded to a home at 2614 N. 15th Ave. to serve a felony arrest warrant for Ryan Schlesinger, 26, in connection with the stalking of a police officer.
Shortly before 5:30 p.m. Thursday, authorities approached the home, which was equipped with video surveillance, and attempted to force entry, according to a federal court complaint. Schlesinger fired through a window, striking White multiple times and leaving him seriously injured on the ground, the complaint said. Marshals returned fire while they pulled White off the property.
White died en route to Banner-University Medical Center.
After a nearly hour-long standoff, Schlesinger surrendered, wearing body armor and a ballistic helmet, according to court documents. Information about the gun Schlesinger is accused of using was not released.
Schlesinger faces a federal charge of murder in White's slaying, according to court documents.
U.S. Marshal David Gonzales said at a Friday news conference that Schlesinger had been "very difficult to deal with" as an "anti-police person."
White, who is the first deputy U.S. marshal killed in the line of duty in Tucson in 66 years, was serving a search warrant at Schlesinger's home because of prior threats he made toward Tucson police officers.
The federal complaint said Schlesinger was upset with Tucson officers after they tried serving an emergency mental-health petition against him at his home in August 2017. During that incident, Schlesinger threatened to kill the officers. He was Tasered and taken into custody. Officers confiscated his Glock handgun and ammunition.
Over the following months, Schlesinger sent Tucson police emails demanding his gun be returned. He even showed up at the Miracle Mile police station to make a "citizen's arrest" of the police officers involved in the initial incident, the federal complaint said.
Schlesinger also showed up at the parents' house of one of the police officers, the complaint said. He had a Dec. 5 court date scheduled on charges of harassment by communication.
Gonzales said Schlesinger's mental-health status is something that will be looked at "very closely" during the investigation. He added that it wasn't unusual to have U.S. marshals take the lead on a case involving possibly violent suspects involving law enforcement.
White was a lieutenant colonel in the Air Force Reserve. "He was preparing to report to the 612th Air Operations Center at Davis-Monthan Air Force Base for a three-year deployment," a U.S. Marshals Service news release said. He was scheduled to report on Monday.
Timothy Hughes, chief deputy of the U.S. Marshal Service in Arizona, called White a hero at Friday's news conference.
"Yesterday we lost a brother," Hughes said. "When Chase died, it was a family member who died. We're going to be there for his family."
Schlesinger is scheduled for a preliminary hearing on Tuesday. From there, U.S. attorneys will have 30 days to present a case to indict him.
Funeral plans have not been announced.
"This just doesn't have a ripple effect on the family, and the wives or husbands and the children, but all of us that don the uniform every day to keep this community safe," said Chad Kasmar, deputy chief of the Tucson Police Department.
"So the next time you're out, and you see one of your law enforcement officers out in this community, that work in the community, make sure you take an opportunity to thank them for what they do."
Contact Star reporter Shaq Davis at 573-4218 or sdavis@tucson.com
On Twitter: @ShaqDavis1