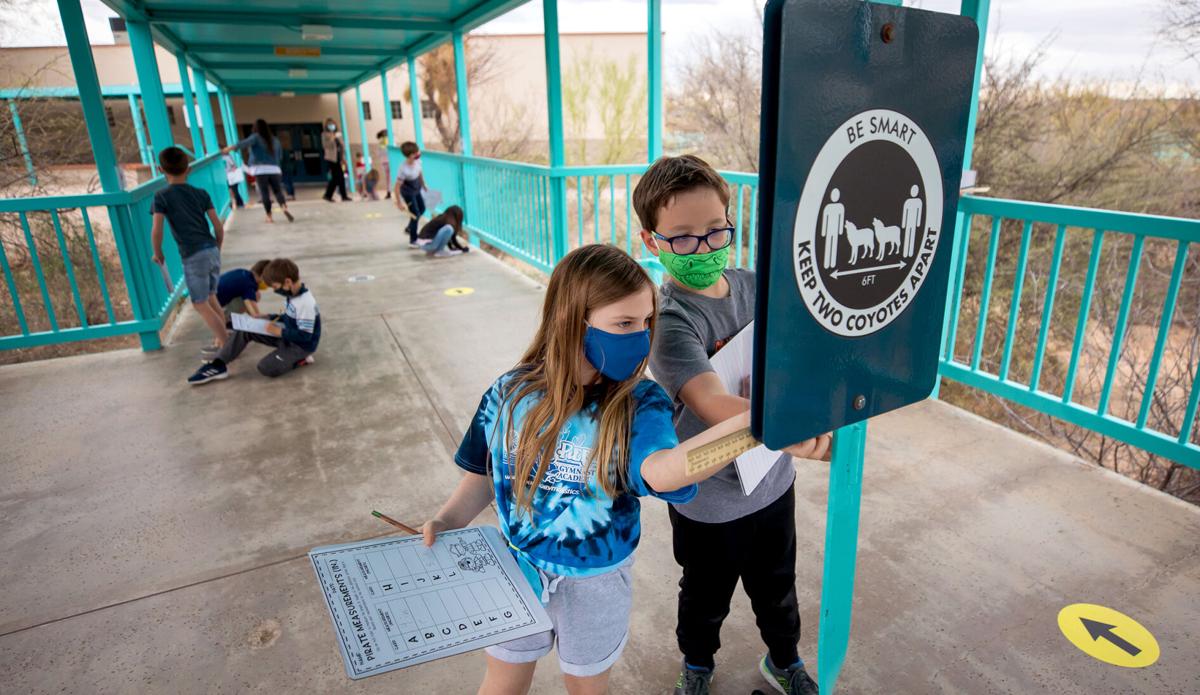 Arizona Gov. Doug Ducey called out Catalina Foothills School District in a tweet on Wednesday, saying the district's policy that unvaccinated students quarantine for 14 days after an exposure to COVID-19 is breaking state law.
"Specifically, the practice of instituting a mandatory 14-day quarantine for unvaccinated students who have a COVID-19 exposure, but exempting vaccinated students, is contrary to Laws 2021, Chapter 404, Sec. 12, which states, 'A school district or charter school may not require a student or teacher to receive a vaccine for COVID-19 or to wear a face covering to participate in in-person instruction,'" the letter to Catalina Foothills says.
The tweet contained letters to two school districts — Catalina Foothills and Peoria Unified.
Catalina Foothills School District and the Arizona School Boards Association both found the governor's statement confusing and even contradictory to state health department guidelines, which says a person who had close contact with a confirmed COVID-19 case should quarantine for 14 days unless they meet certain conditions, including being fully vaccinated.
"Like other public school districts, we do not write our own COVID-19 isolation and quarantine guidance policy," the school district said. "We use the practices set forth in the Arizona Department of Health Services Release from Isolation and Quarantine Guidance. We are perplexed by the letter, as it seems to indicate that the current ADHS guidance to K-12 schools is not in compliance with state law. We will definitely follow up with the ADHS and the (Pima County Health Department) for their review."
Most local school districts continue to have guidelines that exposed students need to quarantine, following not only the state's own guidelines but county and federal guidelines as well.
The Arizona School Boards Association said the governor's communication was "nonsensical" and that it would "once again place school boards at the center of a political conflict and place students and staff at risk."
"At this time, ASBA encourages all districts to continue following the guidance of the Arizona Department of Health Services and your local county health departments," the organization said in a statement. "Changes to guidance on the issue of quarantine due to exposure must be communicated through proper channels to avoid confusion."
The law, which went into affect on July 1, outlines guidelines for schools that are different than health guidelines for the general public, says gubernatorial spokesman CJ Karamargin.
"We expect Arizona's public school to comply with state law and we're not going to allow anyone to deny Arizona kids an education," he said. "Governor Ducey and the Arizona Legislature addressed this issue just a few weeks ago. Lawmakers passed HB 2898 on June 30, Governor Ducey signed it the same day and it went into effect on July 1. The language in this legislation is specific to schools and it's not the same as general public health guidelines. It takes into account that school is the safest place for kids, whether they are vaccinated or not, and that they have a right to receive in-person education."
State schools chief Kathy Hoffman said in a tweet that with a prohibition of mask and COVID-19 vaccine requirements in schools, a quarantine period for exposure is one of the last tools schools have left to maintain a safe learning environment, especially in younger grades where there is no vaccine yet approved for students.
As well, she said it's "beyond frustrating" that he would call out specific school districts while also contradicting public-health guidelines.
"I am tired of Arizona's public schools being a leverage point for the governor's political conversation on COVID-19 that growingly has nothing to do with science or public health," she said.