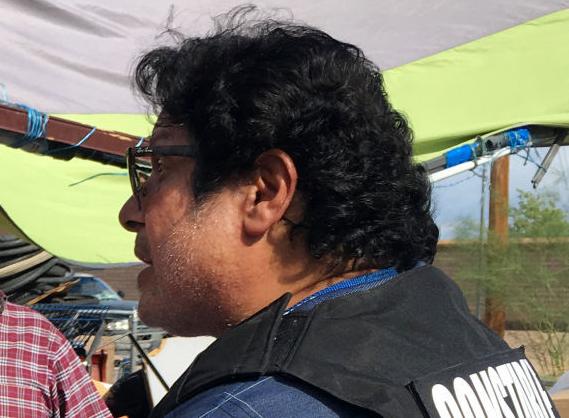 The Pima County Board of Supervisors voted recently to suspend a constable for nearly six months.
The state ethics board that oversees constables' performance asked Constable Oscar Vasquez, who serves eviction papers and other legal summons in Justice Precinct 4, to resign from his position while asking the Board of Supervisors to suspend him 180 days without pay.
Supervisors voted 3-2 last week to do so. The Constable Ethics, Standards and Training Board voted unanimously to urge Vasquez to resign from his elected position.
The complaint fueling the disciplinary action had to do with Vasquez refusing to serve an eviction while waiting for the tenant to find another housing option.
"I have never nor will not put an evicted Pima County resident in a worse situation by making them homeless due to the current COVID-19 pandemic and housing crisis," Vasquez wrote in response to the complaint. "It is morally wrong and unjust and as an elected constable, I represent the residents of Pima County."
Constable Kristen Randall in Justice Precinct 8 said she usually deals with evictions that put tenants at risk of homelessness by communicating with the landlord. The landlord in Vasquez's case said Vasquez wouldn't answer the landlord's calls after leaving him several voicemails.
"Typically, I'll just call the landlord and keep them in the loop. This landlord in particular is someone that I've worked with pretty closely before, she's let me delay evictions," Randall said. "She's always been really fair with me, but she wants to be kept in the loop, and I think that was the issue with this one."
The ethics board found Vasquez deliberately disobeyed a lawful order by delaying a writ of restitution for five days without a CDC declaration protecting the tenant from eviction. Given the housing crisis worsened by the pandemic, Supervisors Matt Heinz and Adelita Grijalva voted against the suspension.
"I have some concerns," Heinz said. "The primary reasons for the recommendation by the state board is failure to serve a court-ordered eviction during a time of a pandemic when he was attempting to actually secure housing for the person who was being evicted."
But the severity of the punishment has to do with past violations from the constable, according to Scott Blake, chairman of the state ethics board for constables.
"We weigh any other infractions that he's had, and he's had several," Blake said. "When you continue to not follow the rules and get in front of the ethics board, and they move forward with the complaint, then the severity of the punishment can continue to move up depending on what it is."
Vasquez said he's seeking legal counsel and couldn't say much about the situation, but that other constables have delayed evictions without consequence. He will not resign and plans to continue his duties after the suspension.
The eviction spurring his suspension was of a 43-year-old women and her three kids, and Vasquez said he didn't call the landlord back until he secured housing for the tenant.
The Pima County Constables' Office hired a social worker in January to help prevent homelessness. Vasquez said he's been relying on the social worker, Nahrin Jabro, to find alternative housing options for those he has to evict.
"I did my job correctly and I utilized the resources that were given to us by the Board of Supervisors, and it's just not enough. I shouldn't be punished for doing the right thing. Vasquez said. "It's just amazing that the Board of Supervisors couldn't understand that — how compelling the situation is with a housing shortage and a pandemic."
Contrary to the state ethics board's reasoning for the suspension, Vasquez claims the woman being evicted did have a CDC declaration after losing her job. He said Jabro was able to find the woman and her children a hotel room to stay at temporarily.
"He was given a court order to execute an eviction action, and that eviction did not fall within the CDC guidelines," said Michael Stevenson, the presiding Pima County constable. "He's compelled to do the eviction; it's a court order. If there's a question about it, he should contact the judge that issued that order. And if there is not a question about that, that order should be followed through and the court order should be executed."
A rocky past
Vasquez was first elected to serve as the constable for Justice Precinct 4 in 2016 and was reelected in 2020. His history is riddled with at least seven formal complaints and a four-month suspension from the previous Board of Supervisors at the end of his first term.
Complaints against Vasquez include damaging several county vehicles, excessive speeding, confronting a citizen during a driving incident and public urination.
A citizen filed a complaint against Vasquez in May 2019 for following him home after the two nearly collided at a four-way stop.
The complainant said Vasquez followed his vehicle, parked in his driveway and yelled at him.
"Mr. Vasquez had entered my property without permission and was approaching me in an aggressive manner, and yelled again, 'Do you know what you did? You just made a California Rolling Stop and I almost plowed into you!' At this time, my children were exiting the vehicle," the complaint said.
The complainant alleged Vasquez threatened him, "saying he would give me a ticket the next time it happened. This is the time that I noticed it said Constable on his badge."
Vasquez responded to the complaint, saying the incident was exaggerated and that he never threatened to issue a ticket, "since I know I don't have any citation powers."
The state ethics board placed the constable on probation for 30 days. After receiving another complaint of damage sustained to at least four county vehicles issued to Vasquez and several instances of excessive speeding logged in the cars' GPS systems, the board placed him on probation for 180 days in December 2019 and required him to take anger management and driving classes, which the constable didn't complete.
Vasquez received another complaint for public urination in January 2020 that caused the Board of Supervisors to suspend him in September until the end of his term on Dec. 31.
The complainant said a neighbor caught Vasquez on security video, "stopping at the end of their travel trailer, laying his papers on top of something sitting there and obviously urinating."
Vasquez responded to the complaint saying, "I needed to urgently relieve myself and with the nearest restroom being nine miles away, I immediately relieved myself in order to avoid wetting myself due to being older."
"A dark cloud"
Now that Vasquez has again been suspended in his second term, Stevenson said his workload in Precinct 4 will be the responsibility of other county constables.
"What we need to do is pick up what he's not going to be doing for the next six months," Stevenson said. "That increases the workload in the Tucson metropolitan area, because that precinct is basically vacant for the next six months due to his actions, and the other constables have to pick up that workload."
But the nature of the latest incident of Vasquez delaying an eviction is surfacing differing opinions on the disciplinary action waged against the constable.
"It brings a dark cloud over the rest of (Pima County's constables), because you have people on both sides of the fence," Blake said. "You have people who think that he did the right thing and that he didn't make them homeless, and then you have others who said, well, he's not obeying the law and he should have."
According to Randall, the negative attention also casts a dark light on the positive efforts of the county constables.
"In the last few years, we've tried really hard to change the role of the constable in the community from the sort of the people who get papers and and go and serve them to people to being more involved in these community issues like homelessness and eviction," she said. "When we get this kind of bad press, it hurts all of us in everything that we're trying to do because then it pulls attention away from the good things that we're doing."