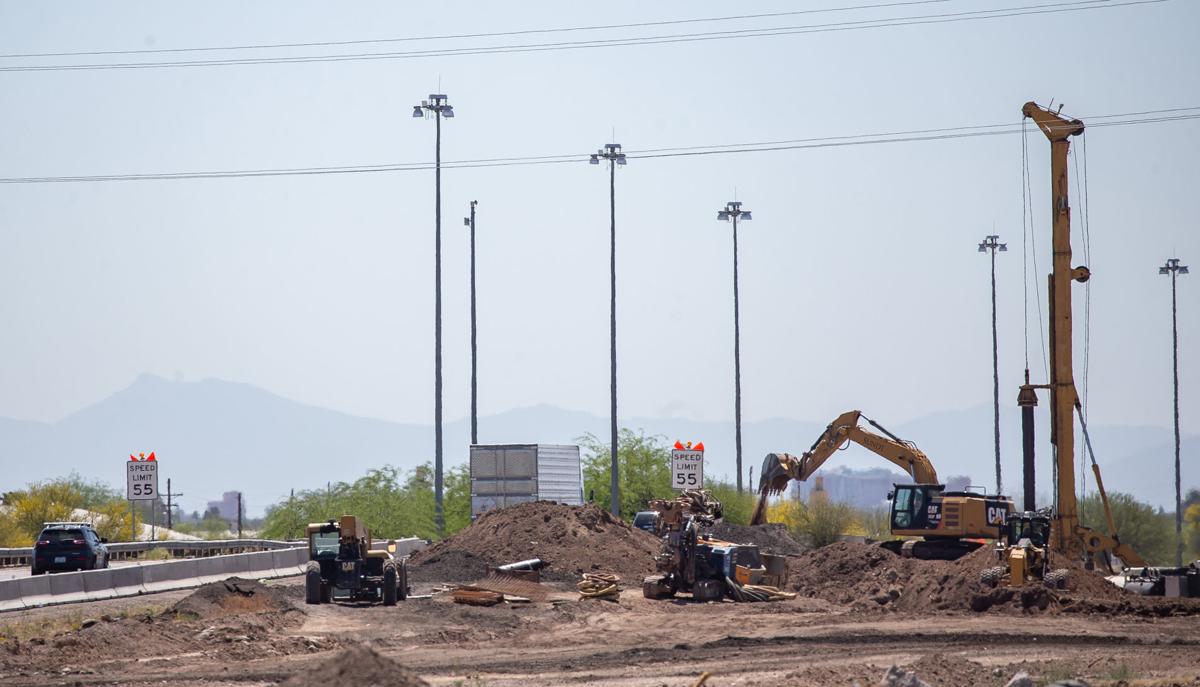 Shutdowns from the coronavirus pandemic aren't delaying work by construction crews handling transportation projects across the state. In fact, reduced traffic has benefited many projects, the Arizona Department of Transportation says.
"We have been able to start overnight lane restrictions a little earlier in the evening because of the lighter traffic, and overall the project timeline looks to remain the same," said Garin Groff, an ADOT spokesman.
Among the projects set to be completed on time is the Ruthrauff and Interstate 10 interchange that update crews started earlier this year, Groff said.
There will also be fewer overnight closures than other projects have seen, he said.
"One thing about the Ruthrauff project is the way the project's designed and the way the work zone is set up, there aren't a great number of overnight restrictions that are required in the first place. Most of the work is occurring, without the need to do lane restrictions," he said.
Although ADOT doesn't anticipate an earlier completion than fall 2021 — for now — there shouldn't be any delay in hitting that mark, Groff said.
Crews have taken safety precautions related to the coronavirus to make sure that happens, according to Sundt Construction, Inc., the company picked to build the project.
The company's safety measures include: required COVID-19 safety awareness training, social distancing measures, increased hygiene and sanitation protocols at each site, daily temperature checks performed by trained professionals, and health and travel history questionnaires for crew members.
"Our COVID-19 Task Force meets daily to monitor progress, update our plan, and provide our project teams with every resource possible to support them so they can continue their important work for our clients – safely," a company statement said.
As crews take safety precautions, ADOT also reminds motorists to take their own precautions traveling through work zones.
"We're forging ahead with every kind of routine maintenance activity to major projects, like I-10 and Ruthrauff, and that means workers alongside the road. It's vital for drivers to observe and obey all the posted signs as they get into and drive through those work zones," Groff said.
Work Zone Awareness Week, which ended Friday, comes a month after 55-year-old Frank Dorizio was struck and killed while installing a traffic sign along I-10 near Phoenix.
ADOT says motorists should:
Pay attention: Observe and obey posted warning signs, as well as flaggers.
Drive alert: Speed limits might be lowered, travel lanes could be narrowed or eliminated, and people may be working near your travel lane.
Slow down: Speeding is one of the leading causes of work zone crashes.
Merge safely: Do it carefully and as directed by signage.
Don't tailgate: The most common crash in a work zone is the rear-end collision. Don't follow too closely.
"One thing that may not occur to a lot of drivers is that national crash data shows more than 80% of work zone crash fatalities are drivers or passengers," said Groff.
"So it really is in the best interest of drivers to pay attention and to slow down in work zones. Regardless of the traffic volumes, it only takes one careless driver for something tragic to happen."
Down the Road
Lane, ramp closures set for I-10 in Tucson: Motorists should expect overnight lane and ramp closures in both directions of I-10 due to pavement work beginning Monday.
Crews will work each night between 6 p.m. and 5 a.m. in the following areas:
On Monday, auxiliary lanes and entrance and exit ramps will be closed between Miracle Mile and I-19. Motorists should enter or exit I-10 at the Prince Road or Sixth Avenue ramps.
On Tuesday and Wednesday, April 29, there will be alternating lane closures between Rita Road and state Route 83. All ramps will remain open.
On Thursday and Friday, there will be alternating lane closures from state Route 83 to east of Davidson Canyon. All ramps will remain open.
Sun Van provides transportation to Tucson's homeless: Sun Van has partnered with the city of Tucson to provide transportation for individuals going to or from homeless shelters during the pandemic.
Since April 17, more than 60 people have received rides around Tucson, including hospitals when discharged.
To prevent the spread of the coronavirus, drivers are provided with personal protective equipment and riders must show no symptoms.
The vans are sanitized after each trip.
Contact Star reporter Shaq Davis at 573-4218 or sdavis@tucson.com
On Twitter: @ShaqDavis1
Concerned about COVID-19?
Sign up now to get the most recent coronavirus headlines and other important local and national news sent to your email inbox daily.