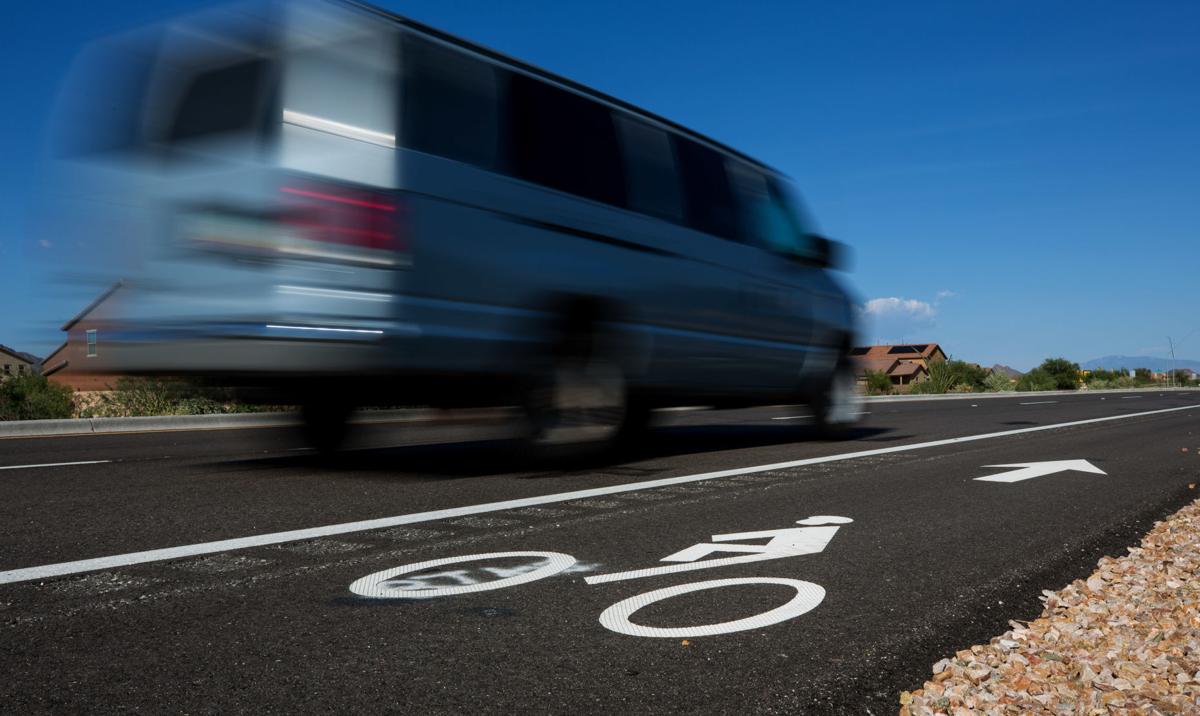 Tucsonans are being asked to provide their opinions in the final phase of a master plan set to shape the city's infrastructure improvements for decades to come.
The Tucson Department of Transportation and Mobility's "Move Tucson" initiative to create a 20-year, long-range master plan is full of hundreds of potential projects for residents to weigh in on until Sunday, Aug. 1.
It was developed over the last 18 months with the help of residents' suggestions to the tune of 234 projects that would cost about $5.7 billion in total.
More than 5,000 Tucsonans have participated in the process by completing online surveys and adding specific project suggestions using the interactive online map built by the department.
The department reported in February there were over 6,000 interactions on the online map and more than 1,500 project ideas were submitted.
Each of the 234 projects in the plan was separated into four project types and labeled in three tiers with the first being "higher priority" and third being "lower priority," the department said.
The projects fall into the following four categories:
Catalyst corridors are described as "large-scale complete streets projects that create space for multiple modes along an entire corridor, creating significant change to the look, feel, and operations on the street. These projects improve safety and access for most modes of travel," the department said.
There are 122 miles worth of projects identified in this category. These projects combined would cost $1.8 billion.
The catalyst corridor's tier-one (higher priority) projects include construction of grade-separated intersections on Golf Links Road from Kolb Road to Alvernon Way, a 3-mile project area that would cost $289 million.
There's also a project to reduce a travel lane on Mission Road between the Santa Cruz River Park and 36th Street to install an enhanced bike lane improving connection to the Chuck Huckelberry Loop as well as upgrading pedestrian infrastructure and road repaving. Construction in the nearly 1.5-mile area would cost nearly $10 million.
Strategic solutions projects would "improve access for two or three modes (of travel) and are generally smaller in scale and/or less complex than catalyst corridors. These projects may involve protected on-street bikeway improvements, expanded sidewalks and Americans with Disabilities Act improvements, or improved connections," the department said.
There are 198 miles of project area identified in this category.
Included in the tier-one proposals is a new shared-use path along the west side of the I-10 frontage road between Grant Road and 29th Street, about 4 miles, that would cost about $10 million.
Projects in the local connections category "fill (travel) mode-specific gaps to create complete, connected networks. With each gap closed, the city increases the usefulness and return on investment of the network that connects to it," the department said.
There are 266 miles within the city tied to projects in this category. These projects include bicycle boulevards, greenways and the completion of sidewalk gaps.
An example of the higher-priority projects listed is an 11-mile, nearly $31 million greenway, or off‐street shared-use path with occasional low‐volume, on‐street connection along the Rodeo Wash.
Move Tucson's high-capacity transit projects include "streetcar and bus rapid transit, which provide faster and more frequent service that can serve more people. High-capacity transit projects often include upgraded transit stops and may change street design," the department said.
There are 53 miles of project area identified with a combined cost of nearly $3 billion.
The biggest project in this category is a streetcar connection on Stone Avenue connecting the Tohono Tadai Transit Center, near Tucson Mall, to University Boulevard, about four miles in length, costing $460 million.
Another is adding bus rapid transit on Oracle Road between the Tohono Tadai Transit Center and the Ronstadt Transit Center downtown, which is about 5.3 miles and would cost about $30 million.
Down the Road
Oracle Road work: Construction crews will begin making improvements along the 10-mile corridor of North Oracle Road from the Interstate 10 junction to Calle Concordia in Oro Valley beginning the second half of July.
Most work will take place overnight from 8 p.m. and 6 a.m. Sundays through Thursdays. One lane will always remain open during the paving work.
During the day, all lanes on Oracle Road will remain open throughout most of the work.
Houghton Road, I-10 ramp closure: Houghton Road and all four of the Interstate 10 ramps there will close for several hours overnight Tuesday, July 13, for a major traffic switch.
The closure is scheduled between 11 p.m. and 4 a.m.
In addition, Houghton will close between Brekke Road and Mary Ann Cleveland Way.
Traffic will be detoured to Rita Road during the closures. I-10 traffic will not be affected.
I-19 ramp closures near Tubac: Motorists using Interstate 19 near Tubac can expect northbound ramp closures at Arivaca Road between 6 a.m. and 5 p.m. on July 13-14 as well as July 19-21.
The southbound ramps at Arivaca Road will also be closed between 6 a.m. and 5 p.m. on July 14-16 and July 20-21.
Motorists can use Agua Linda Road as a detour.
Contact Star reporter Shaq Davis at 573-4218 or sdavis@tucson.com
On Twitter: @ShaqDavis1