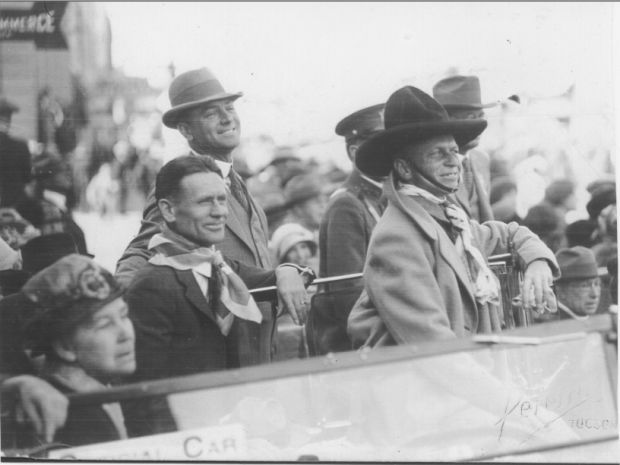 Kramer Avenue, which is one block west of the Arizona Inn on East Elm Street, is named in honor of the man who gave Tucson its famed rodeo and parade.
Frederick Leighton Kramer was born March 19, 1882, to Francis and Mary (Leighton) Kramer, in Philadelphia. He spent his freshman year at the University of Pennsylvania but left school after his father died.
In his early career he was a member of the First Troop Philadelphia City Cavalry, a military unit that began during the Revolutionary War. He became vice president of Star and Crescent Co. in 1912 and president of the Kramer Woodworking Co. in 1914. Both companies were in Philadelphia.
In April 1923 Kramer began purchasing land east of North Campbell Avenue and north of East Elm Street; later buying the remainder of Calvert Wilson's original holdings, then owned by Lavilla Wheeler. Calvert's legacy lives on today in the form of Wilson Avenue.
In 1924, Kramer built Rancho Santa Catalina north of Elm between Campbell and Tucson Boulevard, believed to be the city's largest private residence at the time.
Along the way he became a prolific writer and an acknowledged expert on several subjects pertaining to the Southwest. Many of his articles appeared in magazines.
Kramer, himself a winter visitor, came up with the idea of a rodeo and parade to bring tourists to Tucson during the winter season. In 1925, he and the Arizona Polo Association, of which he was president, established La Fiesta de los Vaqueros. The first rodeo was held at Kramer Field - land Kramer owned that is now part of the Catalina Vista neighborhood between East Grant Road and East Elm Street, just east of North Campbell Avenue. It later moved to an abandoned municipal airport on South Sixth Avenue and East Irvington Road, now known as the Tucson Rodeo Grounds.
Kramer and his wife, Mary (Allan) Kramer, had several children. He died in 1930.
In 1940 the Hardy-Stonecypher Realty Co. obtained Kramer's former land to create the Catalina Vista subdivision and named one of the streets for Kramer.
Each week the Star tells the stories behind Tucson street names. If you have streets to suggest or stories to share, contact writer David Leighton at streetsmarts@azstarnet.com
Sources - Special thanks to Bob Stewart of the Tucson Rodeo Parade Committee. - Phone interview with Jake Jacobson, grandson of Albert H. Condron - Office of Vital Records - death certificate - Ellis P. Oberholtzer, "Official Pictorial and Descriptive Souvenir Book of the Historical Pageant," George H. Buchanan Co., 1912 - "Rodeo Sponsor Dead in Tucson," Arizona Daily Star, Nov. 7, 1930 - "Rancho Santa Catalina Ideal Home," Tucson Citizen, May 1925 - Rodeo website: http://www.tucsonrodeoparade.org - Catalina Vista Historic District website: http://cms3.tucsonaz.gov/sites/default/files/hcd/THPO/CatalinaVistaHD2003_2_Significance.pdf - Ed Smith file (Arizona Historical Society)