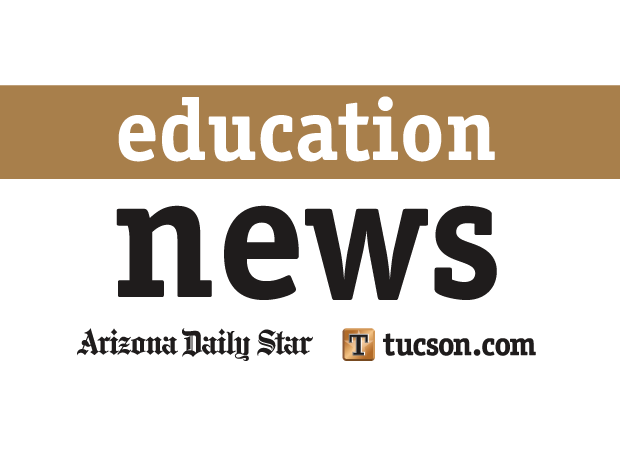 A Tucson student was among three students and three veterans who were awarded scholarships from the Arizona Veterans Hall of Fame Society and the Unified Arizona Veterans.
Graduating senior Chloe Choquette from Ironwood Ridge High School earned the Copper Lamp of Knowledge Scholarship Award, which is given to teens who are engaged with the Veterans Administration Student Volunteer Program or the Veterans Heritage Project and have put in at least 500 hours of volunteer work at VA facilities as well as maintaining a strong grade-point average, a news release said.
Choquette and the other two students are members of the Veterans Heritage Project, a nationally recognized education program that connects students with veterans to record their personal histories of wartime experiences.
Choquette interviewed and wrote three veteran essays and helped new chapter members do the same. In the fall, she'll attend the University of Arizona Honors College to study psychology.
Group honors teachers, student
The Community Foundation for Southern Arizona awarded the 2020 Waters Excellent Educator Award to Ironwood Ridge teacher Janet Ackerman and University High teacher Marcos Flores.
The foundation also awarded the 2020 Hiremath Student Integrity Prize to University High student Camila Grubb and Ironwood Ridge student Ben Hernandez.
The awards were established in 2014 by Rev. James Briney and his wife Sandy through a fund held at the Community Foundation for Southern Arizona, which awards a cash prize each year to educators nominated by colleagues for their excellence and authentic inspiration and students who demonstrate a commitment to integrity.
Amphi hosting job fair July 14
Amphitheater School District is hosting a career fair on July 14.
The district is hiring for multiple positions, including teachers, substitutes, paraprofessionals, custodians, office staff, bus drivers and more.
The event is 9 a.m. to 2 p.m. at 701 W. Wetmore Road.
Visit amphi.com/jobs for more information, to register for the job fair or to apply for available positions.
Program donates to those in need
Community Extension Programs, Inc. has run community programs to serve the needs of Tucson's youth and their families for 50 years, enriching the lives of more than 35,000 local families, a news release said.
During COVID-19, the organization expanded its focus from primarily supporting child-care programs to reaching a larger sector of those in need by partnering with local nonprofits.
Their most recent donations include $15,000 to the Assistance League of Tucson for Assault Survivor Kits, Operation School Bell and Starting Over Supplies Programs and $10,000 to Youth On Their Own for its alumni program that provides scholarships, monthly stipends, and funding basic needs, transportation and bill assistance.