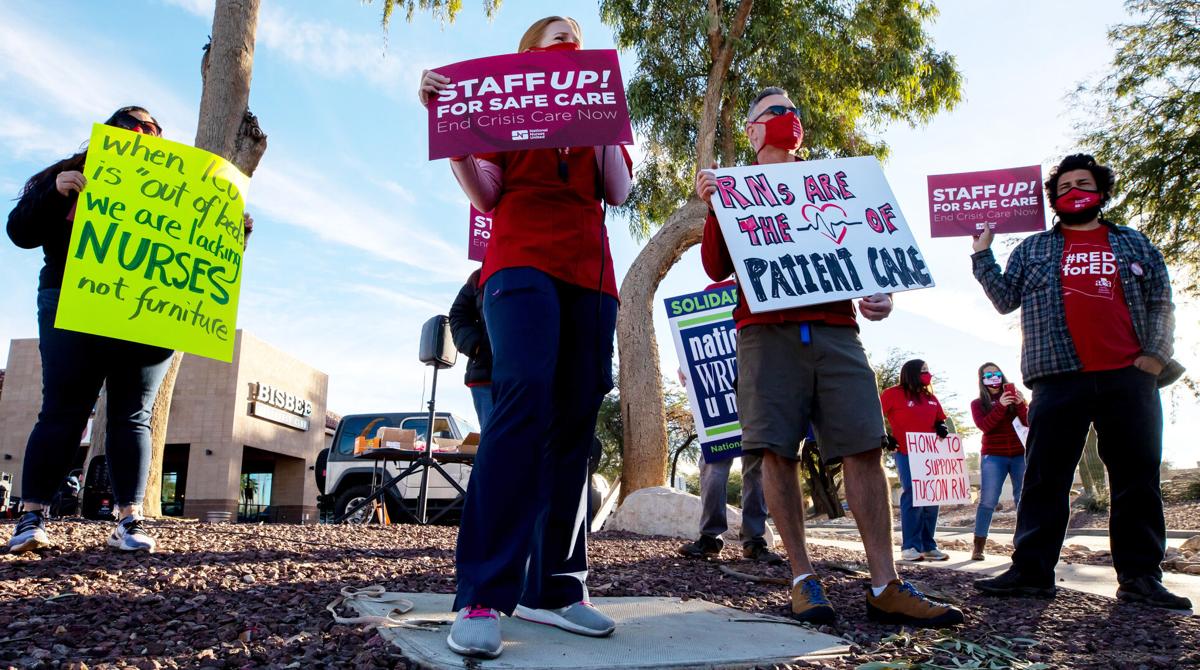 Roughly 80 nurses and their supporters gathered Thursday to protest what they say are unsafe and unsustainable conditions in Carondelet Health Network's two Tucson hospitals.
Three registered nurses spoke at the National Nurses Union news conference near St. Joseph's Hospital, 350 N. Wilmot Road. They said staffing shortages and restricted communication with hospital administration have made their jobs extremely difficult and patients are at risk.
"They do not work with us," said Richard Dooley, a registered nurse who has worked at St. Mary's Hospital for 11 years, currently in the cardiac unit. "They even block us from going to their offices."
Nurses are having to tend to more patients than they should, said Mellissa Fatula, a registered nurse who has worked at St. Mary's Hospital, 1601 W. St. Mary's Road, for seven years in the medical-surgical unit. Under best practices, nurses in her unit should have no more than four patients at a time, she said, but currently they have as many as seven.
Fatula said another concern is that there are no reassurances that the personal protective gear, or PPE, shortages that occurred during surges earlier in the pandemic are not going to occur again with the latest omicron spike. 
The National Nurses Union has condemned the U.S. Occupational Safety and Health Administration's failure to implement permanent standards for health-care workers during the pandemic.
An emergency temporary order was put in place in June, Fatula said, but that's at risk of expiring now.
Carondelet Health Network, which is owned by by the Texas-based Tenet Healthcare Corp., released a prepared statement:
"We would like the public to know that our hospital will continue to operate as usual while the rally takes place, and our patients will continue to receive uninterrupted, quality care. Our hospital and emergency room are open, fully operational and safe places for our community to receive care," the statement reads. 
"Engaging in union picketing campaigns during this time creates risk for everyone in the community. We remain interested in constructive dialog with union and community leaders but the fact is that our hospital is responding with leading solutions during a pandemic that has caused a national and local nursing shortage."
Fatula said there is not a staffing shortage, but rather a shortage of nurses willing to work when conditions are so dire. 
"Overall, nurses are experiencing extreme compassion fatigue," she said.  "Ultimately, what it boils down to is a lack of safe staffing locally at St. Joseph and St. Mary's hospitals."
The nurses participating in the protest were either coming off a night shift or had the day off, she said. No one left an active shift, she said.