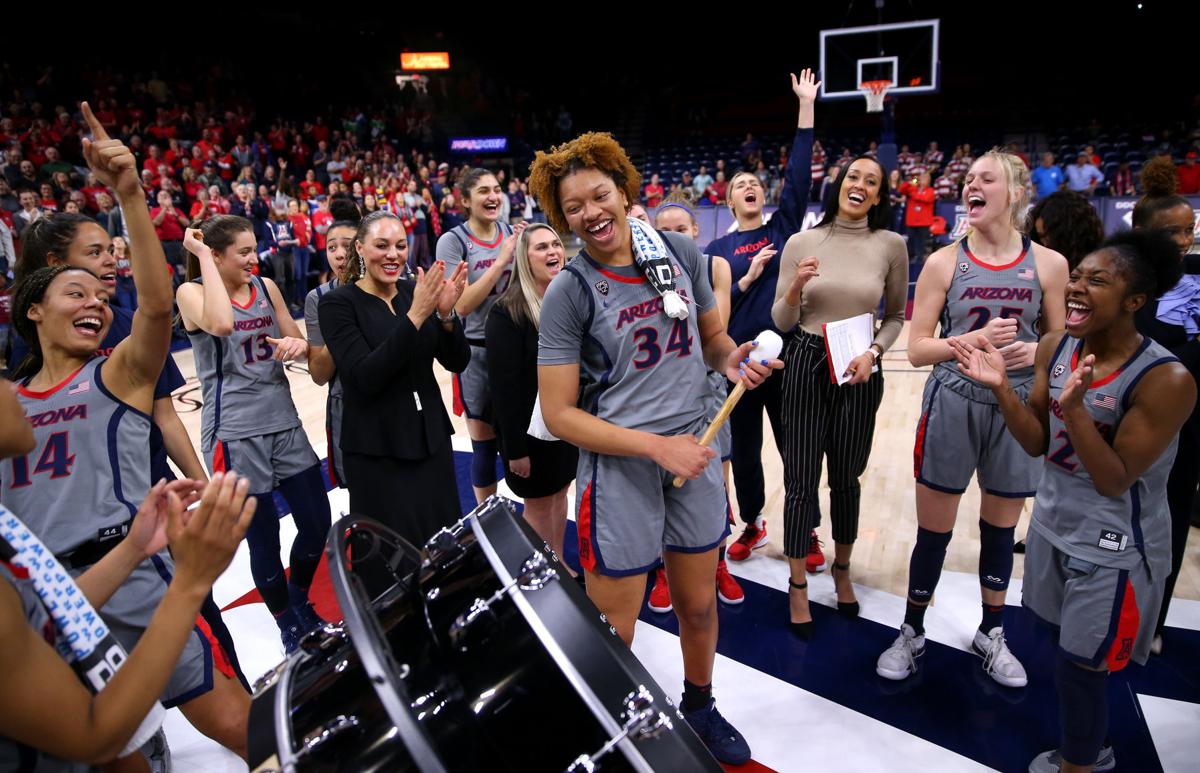 Ten of the NCAA's 351 women's Division I basketball teams remained undefeated through Friday. Five of them are in the Pac-12, which has not escaped Adia Barnes' attention.
The only criticism lightly sprinkled into the UA's historic 11-0 start, which includes Saturday's 61-42 victory over UC Santa Barbara, is that the Wildcats' home schedule was, shall we say, a bit light.
"I don't pay attention to it," Barnes said. "I just roll my eyes.
"I don't believe in having a monster nonconference schedule, getting beat up and not winning. It's not good for us. When you go into the Pac-12, you play five or six ranked teams. It's like every weekend."
Barnes said the Pac-12 is not only the best women's basketball conference in the country, but also that "it's brutal."
Gone are the days that teams from the Big Ten and Big 12 would call Barnes and ask to play the Wildcats in November and December.
"My first year here, my phone was ringing off the hook," she said with a laugh.
Arizona celebrated Saturday's victory by literally throwing confetti in an impromptu locker room celebration. Junior forward Sam Thomas showed up in the media room with red, blue, silver and gold sparkles covering her hair.
"We're just celebrating being 11-0 and going home for Christmas," she said.
Barnes did not get sprinkled with locker room confetti, but her message sparkled.
"We are no longer in the rebuilding stage," she said, a reference to overcoming back-to-back Pac-12 seasons of 5-13 and 2-16 in her first two Arizona seasons. "Now we're in the 'how are we going to get in the top 10 or to the Final Four' stage. Now we have another test."
That test begins next Sunday at Arizona State; the Sun Devils have been a consistent Top 25 program for most of this century.
Arizona won't return to McKale Center until a massively difficult Jan. 10 game against No. 4 Oregon State and a showdown against No. 3 Oregon two days later. It will surely be the most anticipated homestead in UA women's basketball history.
Through its nonconference schedule, Arizona averaged a record-high 4,649 fans at McKale. Barnes believes 10,000 or more might be in the house for games against the Ducks, the Beavers, No. 1 Stanford and No. 10 UCLA.
"I'm so excited," said junior point guard Aari McDonald, who scored 21 points Saturday. "I've been waiting for this. I'm excited to show what we can do."
In anticipation of a season to remember, Barnes teamed with UA associate athletic director Ben Chulick to create a way to celebrate the school's newfound success in women's hoops.
Ultimately, Chulick went to Tucson Guitar and bought a massive bass drum, brought it to McKale and had an Arizona logo applied. Now, a Wildcats player bangs the drum — loudly — once for each victory in the season.
"We wanted something that is just ours, something no one else had," said Barnes. "Those are things that connect you to your fans."
On Saturday, UA sophomore Semaj Smith banged on the drum 11 times. Most of the 4,498 at the game stayed for the celebration, cheering loudly, wanting more.
I don't think we've seen the last of that drum.
---
Hiring of Paul Rhoads, buzzwords hardly quick fixes for UA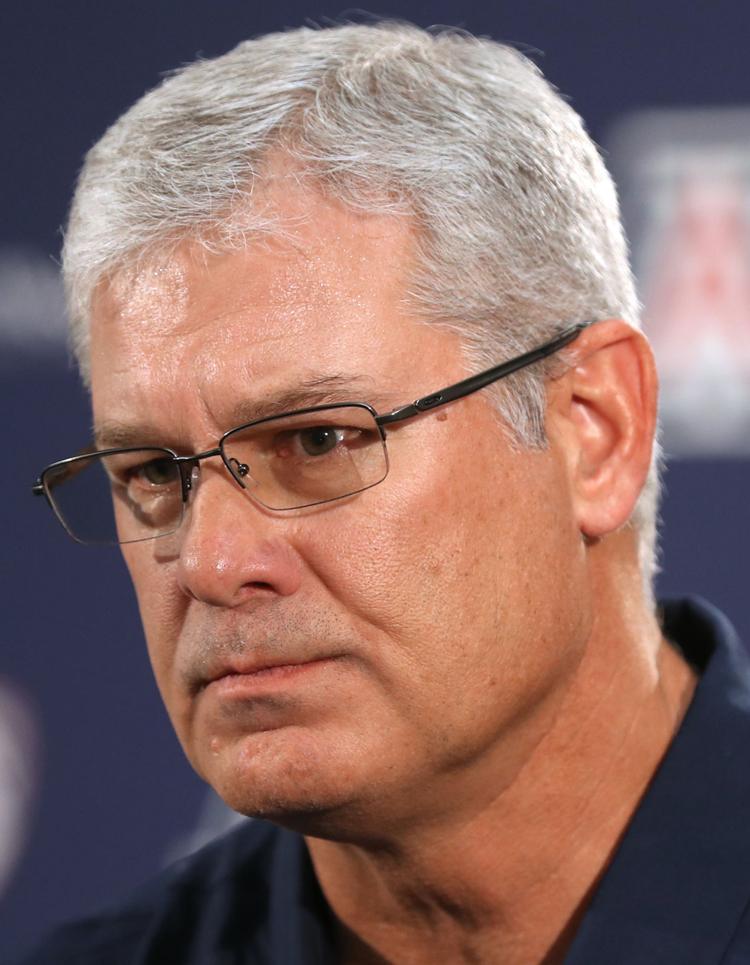 Arizona's football high command opted for Damage Control 101 last week, using the hiring of defensive coordinator Paul Rhoads to deflect attention from the news of another low-level recruiting class.
The UA further attempted to divert attention from its recruiting class by posting a year-old video about the school's culture. That video folded awkwardly into last month's request to "trust the process," which was the school's way of saying it will double-down on a troubled future under coach Kevin Sumlin.
Either way, "culture" and "process" aren't going to help Arizona score a point in Pac-12 football.
The only way for Arizona to rise from last place is to recruit better players. Rhoads seems to be a capable college football coach, but after he accepted a 10-year, $21 million contract from Iowa State in 2011 he was ultimately fired for the same problem that faces Arizona: ineffective recruiting.
One of the head-shaking variables that probably contributed to Arizona's Class of 2020 ranking as low as 70th in the nation — remember, there are only 64 Power 5 conference football teams — is that Sumlin chose to send acting linebackers coach Hank Hobson and associate athletic director Dennis Polian on the road recruiting instead of say, Arizona's College Football Hall of Fame safety Chuck Cecil.
Cecil spent the last month in Tucson, not allowed to participate in the recruiting process. It's mind-boggling stuff.
How is Arizona going to fix its football troubles? By hiring Paul Rhoads? By distributing a video about "world-class culture?"
One thing Rhoads knows as well as anyone in college football is how to play musical chairs with assistant coaches in attempt to stall the inevitable.
After Iowa State went 3-9 in 2013, its fourth consecutive losing season, Rhoads hired six new assistant coaches. And then the Cyclones went 2-10 and 3-9.
The coaching industry in college football is so transient that Rhoads' new, save-the-program staff of 2014 splintered in record time. Where are they now?
Todd Sturdy is the head coach at MidAmerica Nazarene University; Stan Eggen was just fired with the New Mexico Lobos staff; Tony Mangino is an analyst at North Texas; Wally Burnham and Mark Mangino retired; Louis Ayeni is a running backs coach at Northwestern; Brandon Blaney is an analyst at Michigan.
And Rhoads is now working at his third school since 2016. Since he left Iowa State for Arkansas and UCLA, he has coached defenses on teams that went a cumulative 18-31.
---
Bad nights in college basketball are nothing new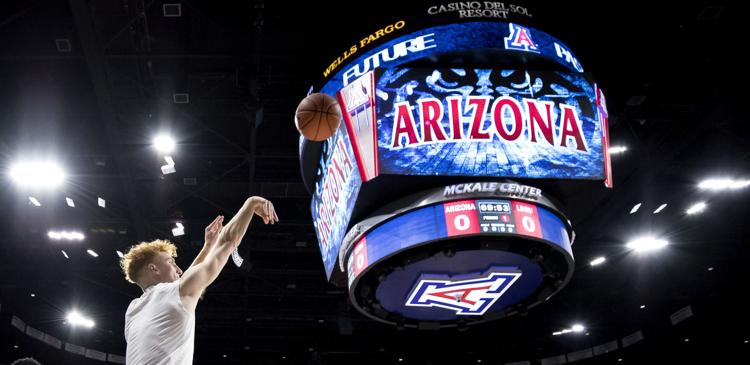 1. When UA freshman guard Nico Mannion shot 3 for 20 from the field against Gonzaga, including 1 for 10 on 3-point shots, it actually put him in celebrated company.
In the 2003 Pac-10 Tournament, all-conference guard Jason Gardner shot 2 for 20 from the field, including 0 for 12 from 3-point distance. In a 2001 home loss to Kansas, future all-conference guard Salim Stoudamire shot 2 for 19, including 1 for 12 from 3-point range. And in a devastating 1998 Elite Eight loss to Utah, future NBA players Miles Simon, Mike Bibby and Michael Dickerson combined to go 6 for 36 overall and 0 for 13 on 3-pointers. Stuff happens, right?
2. Arizona State lost by 40 last week to Saint Mary's, 97-57. Do you realize how difficult it is to lose by 40 points? It tied the Sun Devils' most lopsided defeat in history; they lost 99-59 at McKale Center in 1988. Arizona's worst loss ever? It was 42 — a 66-24 loss at New Mexico in 1965.
3. Only three Sun Devils scored against Saint Mary's, which doesn't seem possible. But it happened once before in Pac-12 history. In late January 1980 — I was at Maples Pavilion covering a game between No. 2 Oregon State and a really bad Stanford team — the Beavers won 18-16. Yes, 18-16. There was no shot clock in 1980 and Stanford coach Dick DiBiaso chose to hold the ball the final 30 minutes. The Beavers scored in the final minute to break a 16-16 tie. Only three Cardinal players scored.
---
Ian Kinsler ends career 1 hit shy of 2,000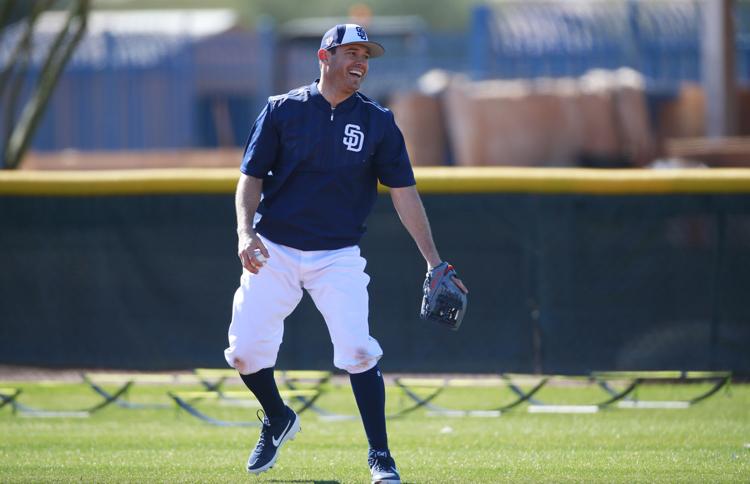 Canyon del Oro High School grad Ian Kinsler's decision to retire from baseball last week left him with career earnings of $106 million, according to baseball-reference.com. Kinsler's timing was financially beneficial. He played 14 seasons; former Tucson High catcher Ron Hassey also played 14 MLB seasons — tied with Kinsler as the most in Tucson history — but his highest salary was $534,000. Kinsler twice was paid $16 million per season. If Kinsler indeed doesn't play another game, he will finish with 1,999 career hits. It ranks tied for No. 288 in baseball history. Only one other player in MLB history finished with 1,999 hits — Jimmy Collins of the Boston Red Sox, 1895-1908. Collins is in the Hall of Fame. Kinsler, who played in five All-Star Games, will probably get votes in future Hall of Fame voting — he had a terrific career — but his .269 career batting average might not be enough to draw significant voting attention. …
---
Matt Bushman will make NFL decision after bowl game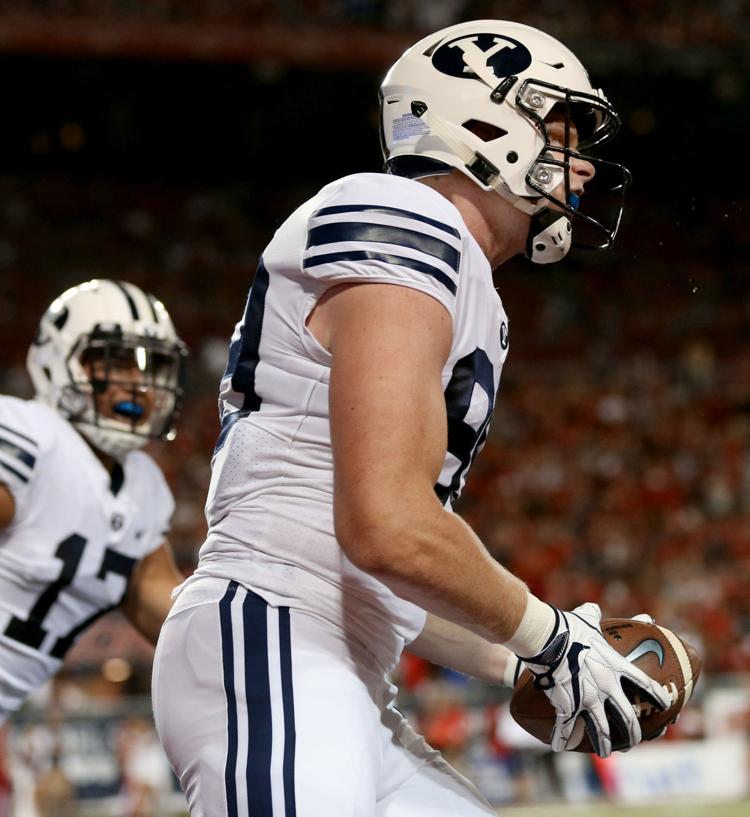 Sabino High School grad Matt Bushman, who caught 41 passes as a BYU junior tight end this season, said he will play in the Aloha Bowl against Hawaii and then decide whether he'll enter the NFL draft. One of the mock draft websites ranks Bushman as the No. 4 tight end available. Bushman will have insider advice on his football future; his father-in-law, Chad Lewis, played 10 seasons as an NFL tight end following a strong college career at BYU. Lewis is now an assistant athletic director at BYU. …
---
Wildcats honor 'Winger' on his birthday
Arizona's three-time College World Series-winning pitching coach Jim Wing celebrated his 83rd birthday last week, and he hasn't been forgotten. Ex-Wildcat standouts such as Chip Hale, Joe Estes, Eddie Leon and Jerry Stitt joined Wing and Arizona baseball coaches Jay Johnson and Dave Lawn to honor the 1952 graduate of Tucson High. What has always amazed me about Wing's remarkable college coaching career is that he had been the head baseball coach at Palo Verde High School for nine years when Jerry Kindall was hired as Arizona's baseball coach in 1972. Kindall interviewed 14 potential pitching coaches before deciding on the high school coach from Palo Verde. Talk about a good hire. …
---
Pima's women haven't lost a step
After losing first-team NJCAA All-America point guard J.J. Nakai — she is now a junior guard for the Nevada Wolf Pack — Pima College hasn't missed a beat. Coach Todd Holthaus' Aztecs are ranked No. 9 in the NJCAA Division II entering the holiday break. "We've got a lot of new faces but the expectations are still high," said Holthaus. The Aztecs play the Arizona Christian University JV and Snow College in the Bruce Fleck Classic at Pima on Dec. 30-31. …
---
Cienega grad a top baseball prospect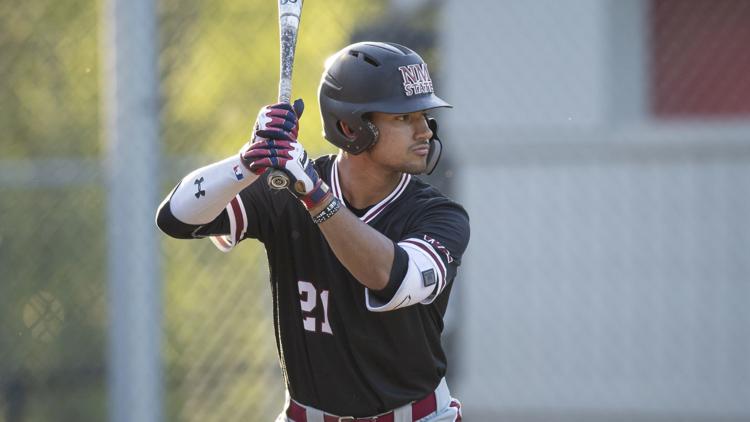 Baseball America last week ranked the Top 100 prospects for the 2020 major-league draft and included Cienega High School grad Nick Gonzales as No. 4 overall. Gonzales, a junior at New Mexico State, hit an NCAA-leading .432 last year. Gonzalez will play at Hi Corbett Field when the Aggies meet Arizona on March 24. Arizona catcher Austin Wells, the 2019 Pac-12 Freshman of the Year, is ranked No. 23 by Baseball America. Wells is draft-eligible because he will be 21 before the 2020 draft.
---
My two cents: Holidays happy for longtime friends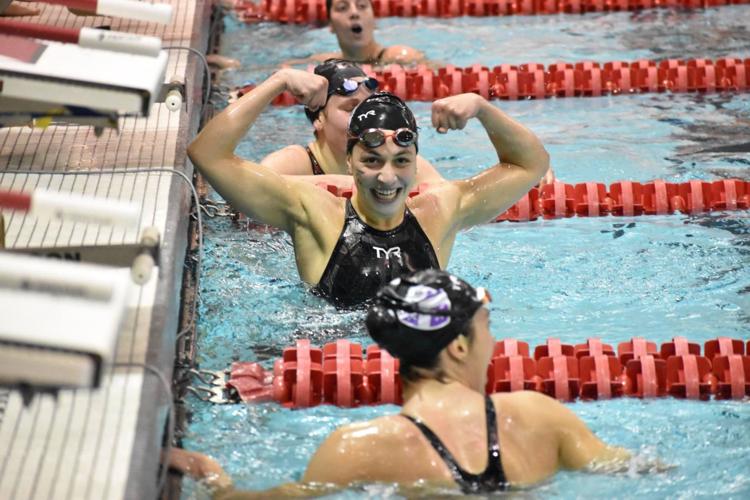 This is the happy holidays story for Tucson sports, 2019:
In 2011, Hannah Orbach-Mandel and Katie Izzo were soccer and track teammates at Orange Grove Middle School.
When they got to Catalina Foothills High School, both excelled. Orbach-Mandel became a state championship swimmer; Izzo won the state title in the 800 meters. Then they went their separate ways: Orbach-Mandel to Division III swimming power Kenyon College and Izzo to Cal Poly.
They could not have imagined how good 2019 would be for the former soccer teammates.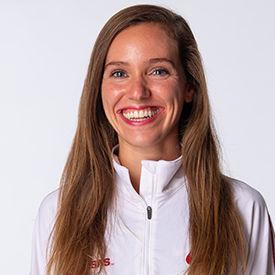 Izzo became a graduate transfer and enrolled at Arkansas. A month ago, she finished No. 3 overall in the NCAA women's cross country championships, becoming a first-team All-American as the Razorbacks won the national title.
Orbach-Mandel became a 25-time swimming All-American at Kenyon, helping her team finish No. 2 in the 2019 NCAA finals.
She was then one of nine finalists (out of 535 nominees) for the prestigious NCAA Woman of the Year Award in October.
Last week, Orbach-Mandel learned she has been selected as one of the NCAA's "Today's Top 10" winners, the highest athlete-scholar honor in college sports.
She and the other nine winners — which include a tennis player from Baylor, a women's golfer from Duke, a men's gymnast from Nebraska and a fencer from Columbia — will be honored at the 2020 NCAA Convention next month in Anaheim, California.