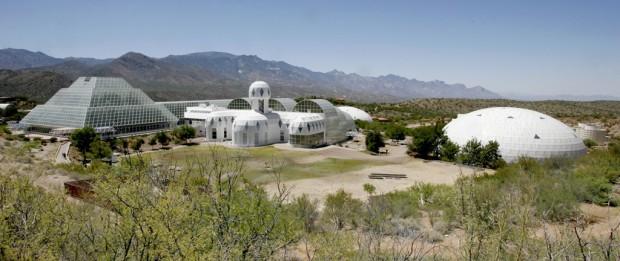 On Sept. 26, 1991, a grand experiment began. Eight people were locked in the giant terrarium, Biosphere II, to live without physical contact with the outside world for two years.
Biosphere II was a miniature version of Earth with an ocean, a desert, a rainforest and the other ecosystems of Biosphere I — also known as Earth.
From the Arizona Daily Star, Sept. 26, 1991:
'Bon voyage' 8 biospherians begin journey in greenhouse
Jim Erickson; The Arizona Daily Star
ORACLE - Ed Bass slammed the massive front door of Biosphere 2 shut yesterday morning, but it popped back open a fraction of a second later, as if one of the eight crew members had second thoughts about spending two years sealed in a greenhouse.
But with a little help from Margret Augustine, chief executive officer of Space Biospheres Ventures, the Texas multibillionaire finally secured the airlock at 8:18, signaling the long-delayed start of the $150 million ecological experiment.
Biosphere 2, the latter-day Noah's ark that's been praised by some as visionary and panned by others as pseudoscientific glitz, set sail yesterday in a ceremony attended by more than 500 people and featured on national television.
After being blessed by a chanting Crow Indian in headdress, a robed Buddhist monk from Tibet and a Mexican dancer burning incense, the eight bio-spherians filed up the steps of a stage designed by Evening Star Productions.
With the sun rising behind the eight-story glass-and-steel structure, the great-grandson of Alfred Nobel, founder of the Nobel Prizes, extolled the project and the eight "courageous humans" who will join 3,800 species of plant and animal life "on a two-year odyssey to find answers and solutions to the survival of the planet."
Someone from the governor's office stepped up to proclaim the day Arizona Biosphere 2 Closure Celebration Day.
Bass, the project's main financial backer, compared Biosphere 2 to Galileo's telescope, Leonardo da Vinci's imagined flying machines, and the Wright brothers' airplane.
"Today we gather here to inaugurate a new instrument to probe not the heavens, but the mysteries of our very own home planet," Bass said.
"Like Galileo, we don't know what we'll find; and like the Wrights, we hope to soar.
"So, biospherians, my good friends, bon voyage and fly your spaceship well, that all humanity may fly its Spaceship Earth better in the future," he said.
Wearing blue jumpsuits with green piping, the four men and four women of the Biosphere 2 crew stepped to the podium, one at a time, to deliver brief and sometimes teary farewells. Then it was down the green astroturf runway, a wave to the crowd, and into their new 3.15-acre home, the largest airtight self-sustaining life-support system ever built.
A few seconds later, they appeared at an inside window to wave to the crowd one last time - as had been rehearsed earlier in the morning - and then the "closure" was over.
Shut inside are: Mark Van Thillo, 30, of Belgium; Sally Silverstone, 36, of England; Mark Nelson, 44, of New York; Linda Leigh, 39, of Racine, Wis.; Taber McCallum, 27, of Albuquerque; Roy Walford, 67, of Los Angeles; Abigail Alling, 31, of New York; and Jane Poynter, 29, of England.
For the next two years, or at least until something goes seriously wrong, they will tend the self-sustaining miniworld, with its tropical rain forest, savannah, marsh, marine and desert habitats.
They will breathe recycled air, drink recycled water and grow all their food. After a hard day harvesting corn, milking goats and picking agaves, they will relax in plush private apartments equipped with stereos, computers and personal libraries.
They hope to learn more about the Earth's ecological systems while making money for Space Biospheres Ventures through technology development and tourism. Some 100,000 people have already visited the sprawling complex 35 miles north of Tucson and near Oracle. Tours, by reservation only, resume today.
The company expects to show a profit within two years, Bass said Wednesday night during a brief interview at a catered pre-closure party attended by several hundred Biosphere 2 backers, curious locals, and media representatives. The finale was a laser-light show and fireworks.
"Certainly I expect to see a return on my investment, but I also want to open people's eyes about our own biosphere, planet Earth," the maverick son of the Texas oil family said as guys in white hats carved slices of ham and turkey onto paper plates.
Bass, standing in the center of a big-top tent, was surrounded by firefighters from San Manuel, the Tibetan monk, planetary scientists from the University of Arizona, members of the stage crew, former Arizona governor and presidential candidate Bruce Babbitt, former countercultural icon Timothy Leary, and long-time friend John Allen.
Among the other celebrities in attendance were comedian Steve Guttenberg, and several members from the television show "Cheers."
Allen is director of research and development for Space Biospheres Ventures and lightning rod for much of the criticism that has recently been heaped on the desert megaproject.
Carol Line, a former associate of Bass', has repeatedly alleged that Allen exerts unusual control over his associates, and that Allen physically abused Bass years ago at a New Mexico ranch. Those accusations have been repeatedly denied.
The other main source of criticism comes from the "it's not real science" faction. Some scientists say Biosphere 2 tries to do too much. With 3,800 species in seven interconnected habitats, it will be impossible to determine the relationships between any of the components, some critics charge.
"To know what's going on in there, to understand dynamics, forget it," said Bassett Macguire, a professor of zoology at the University of Texas in Austin.
"It just seems to me this is a situation where they're multiplying the complexity much more than is useful and necessary, and that makes understanding what's going on in there that much more difficult," said Macguire, an expert on the ecology of closed systems.
"Maybe what we're doing here isn't science but the engineering and tinkering that will lead to a science, which is biospherics," said botanist Tony Burgess, designer of Biosphere 2's desert habitat.
"We're not quite to the science level yet - it's premature for that - but it's a new way of looking at things to lay the foundation for a science to come," said Burgess, of the U.S. Geological Survey in Tucson.
The crew did, indeed, remain in Biosphere II for two years, but there were hiccups along the way. A crew member, Jane Poynter, sliced off the tip of her finger and had to leave the biosphere for surgery. Oxygen had to be pumped in when the oxygen levels inside were too low for the health of the biospherians. The airlocks were also opened a time or two for samples to be removed.
On the morning of Sept. 26, 1993, the crew emerged from Biosphere II thinner and craving foods they had missed during their mission, but otherwise healthy.
From the Star, Sept. 27, 1993:
Biospherians return to world 2-year mission described as 'magnificent'
Jim Erickson, The Arizona Daily Star
ORACLE - More than 2,000 people gathered outside Biosphere 2 yesterday morning to greet the project's eight crew members as they emerged, gaunt and pale but smiling, after two years in the giant terrarium.
Trumpets sounded a fanfare and the crowd rose to its feet and applauded as the four men and four women stepped through the airlock doors and walked down a red carpet at about 8:25 a.m.
Abigail Alling, 34, the first crew member out, appeared to be trying to catch her breath as she stepped to the microphone to address the crowd.
"It's really a very different atmosphere," Alling said, gasping. Oxygen was pumped into Biosphere 2 twice because levels of the life-sustaining gas declined slowly but relentlessly throughout the two-year experiment.
"This has been an extraordinary experience and a magnificent journey for the last two years," said crew member Linda Leigh, 41. "I glimpsed paradise."
Critics lambasted the $150 million Biosphere 2 project throughout the experiment, dismissing it as more show business than science. Even Biosphere 2's own scientific advisory committee said the project's research program was plagued by poorly defined goals, excessive secrecy and a lack of qualified personnel.
And though the crew succeeded in raising most of its food on a half-acre farm and recycling all wastes, the self-proclaimed "self-sufficient system" opened its doors 29 times in 24 months to remove research samples and bring in supplies.
But yesterday morning belonged to project supporters, who declared the first mission an unqualified success and lauded the crew as brave, selfless pioneers who helped blaze a trail toward the human colonization of space.
"This is one of the magic moments in history, and we're sharing that moment together," said renowned primate researcher Jane Goodall, whose Tucson-based institute will be moving to Washington, D.C., next month.
Ed Bass, the Texas billionaire who bankrolled the Biosphere 2 project, also donated the building on Speedway that houses the Jane Goodall Institute.
Bass, who slammed the airlock doors shut two years ago, was back yesterday to open the door for the Biospherians.
"Biosphere 2 has flourished," he proclaimed. "Today we can say to the eight Biospherians, 'Welcome home, and save me a good hug.' "
The Biospherians wore the same blue jumpsuits that they donned two years ago when they embarked - about 15 percent heavier than they are today - on their stormy maiden voyage. But the jumpsuits fit snugly yesterday, suggesting that the garments were altered for the occasion.
Gone were the matching black Reeboks that carried all eight of the Space Biospheres Ventures employees into the big greenhouse on Sept. 26, 1991. In their place was a mix of hiking boots, running shoes, tennis shoes and cowboy boots.
Dr. Roy Walford, 69, sported sunglasses, and three of the women wore earrings. Makeup lessened the crew's pallor, and seven of the eight appeared to be wearing pinkish lipstick when they faced more than 200 reporters and photographers at a press conference later in the morning.
"It was a tremendous feeling to inhale, and I kept wanting to breathe more because it felt so good," Alling said at the press conference.
"I was taking very deep breaths to get an idea what the air was like," crew member Taber MacCallum, 29, said of his first moments outside the 3.15-acre, glass-and-steel structure.
"The air in Biosphere 2 smells like rich farm soil - it has that musty, good, earthy smell to it, and it's very rich," said MacCallum. "The air out here, when it comes off the mountain, it's very, it sort of smells like rain. It's nice."
MacCallum lost 46 pounds in the first six months inside the Biosphere and cut his total serum cholesterol level by 90 points during that time.
Cloudy weather and pest problems reduced Biosphere 2's crop yields severely during the first six months, and daily caloric intake for the crew members averaged 1,780. The average American ingests 2,500 to 3,000 calories a day.
Mark Nelson, 46, said that adapting to the dietary regimen during the first six months was the toughest part of two-year endeavor. Hunger was a nearly constant, nagging presence. It was tough even to concentrate on a movie, he said, because he tended to focus on what the actors were eating.
Crew members looked thin yesterday, but not as hollow-cheeked and haggard and they appeared a year ago. Food production was up during the second year and the crew regained some of the lost weight. Nelson, for example, entered Biosphere 2 at 147 pounds, bottomed out at 117 and left the miniworld weighing 126.
Walford has recommended a fiber supplement to ease the crew's transition from a low-calorie, mostly vegetarian diet. But that transition might be abrupt since Smitty's grocery stores presented crew members with baskets crammed with their most-missed delectables yesterday at noon, and a private cocktail party and dinner was scheduled for last night.
Other hardships cited yesterday by crew members were fatigue and sleep problems caused by the oxygen decline, and criticism of the project that appeared in the press.
"It's hard to do something that is challenging, that demands all that you can do, and to have people misinterpret you and misunderstand you," Alling said. "But it never got to the point where we all wanted to quit."
The other members of the first Biosphere 2 crew are: Jane Poynter, 31; Sally Silverstone, 38; and Mark Van Thillo, 32.
Several of the team members will be back inside Biosphere 2 today to begin mapping and measuring every plant in the structure.
The location of all of the roughly 12,000 plants was mapped before the two-year experiment began, and new maps will be drawn up for comparison.
"We need to figure out who lived, who died, who grew, and how much they grew, and that's not a trivial effort," said University of Arizona botanist Tony Burgess, who will participate in the mapping project.
A different crew will begin a new, one-year Biosphere 2 mission in February.
Biosphere II is no longer a completely enclosed operation. It is used for scientific research, but people come and go through the airlocks. But the experiment did give scientists insight into what may be necessary to set up such a living area on another planet if we someday are able to colonize other worlds.