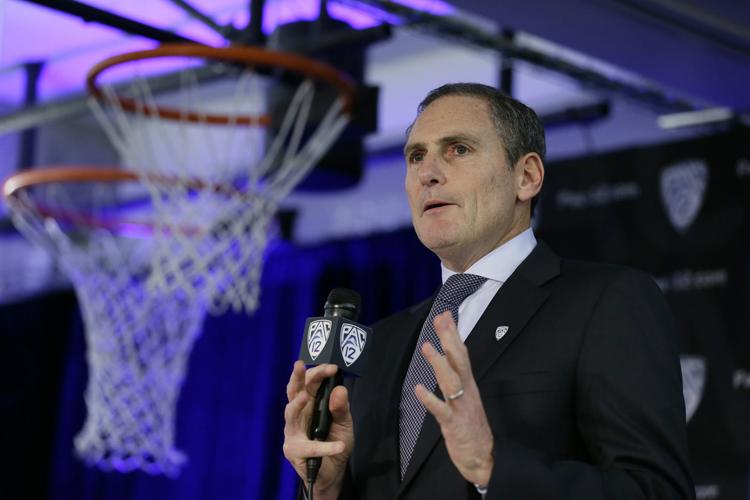 When Pac-12 commissioner Larry Scott held his annual press conference Saturday at T-Mobile Arena, he was accompanied by Colorado chancellor Phil DiStefano. It was a long overdue change.
Scott has always gone solo. It has always been about Larry.
But Pac-12's presidents and athletic directors have finally changed that course. This is no longer The League of Larry. Eight of the presidents who hired Scott in 2009 and essentially allowed him to bypass the ADs, have since been replaced.
Now the ADs, not Scott, are in charge of setting policy; Arizona athletic director Dave Heeke is the new chairman of the ADs' council.
Scott's power base eroded the last few months as revelations of excessive spending, officiating screw-ups, inconvenient football/basketball starting times, the relative lack of income from media rights and the disappointing performance of the Pac-12 Networks, among other things, put the league in a bad light.
Scott's arrogance, his ability to reign with little opposition, has been replaced by the AD council, and by a board of presidents, chaired by DiStefano.
Scott's longtime supporters, Arizona State president Michael Crow and Oregon State president Ed Ray, are not on the three-person president's board and have, in a sense, lost significant influence.
Scott's contract runs through 2022. But he will no longer be the face of the Pac-12, which is a long time coming.
Perhaps the AD council will consider moving the Pac-12 Tournament back to the MGM Grand Arena, across the street from T-Mobile Arena.
I was initially taken by the size of the T-Mobile facility — it seats 7,000 more fans — but after three seasons its shine has dulled.
The upper deck seats are so far from the playing surface that it's a growing deterrent for fans to pay as much as $150 for a game — although Saturday morning the demand for Oregon-Washington championship tickets was so light that tickets on StubHub were available for $25.
The MGM Grand Arena, with a capacity of 12,900, was sold out on Friday and Saturday nights in 2014, 2015 and 2016. It had a buzz. There is little buzz at T-Mobile.
In its first season at T-Mobile, Arizona drew successive crowds of 18,153, 19,224 and 18,927. This year, through Friday, the highest single-session attendance was 13,955, and that figure appeared to be inflated.