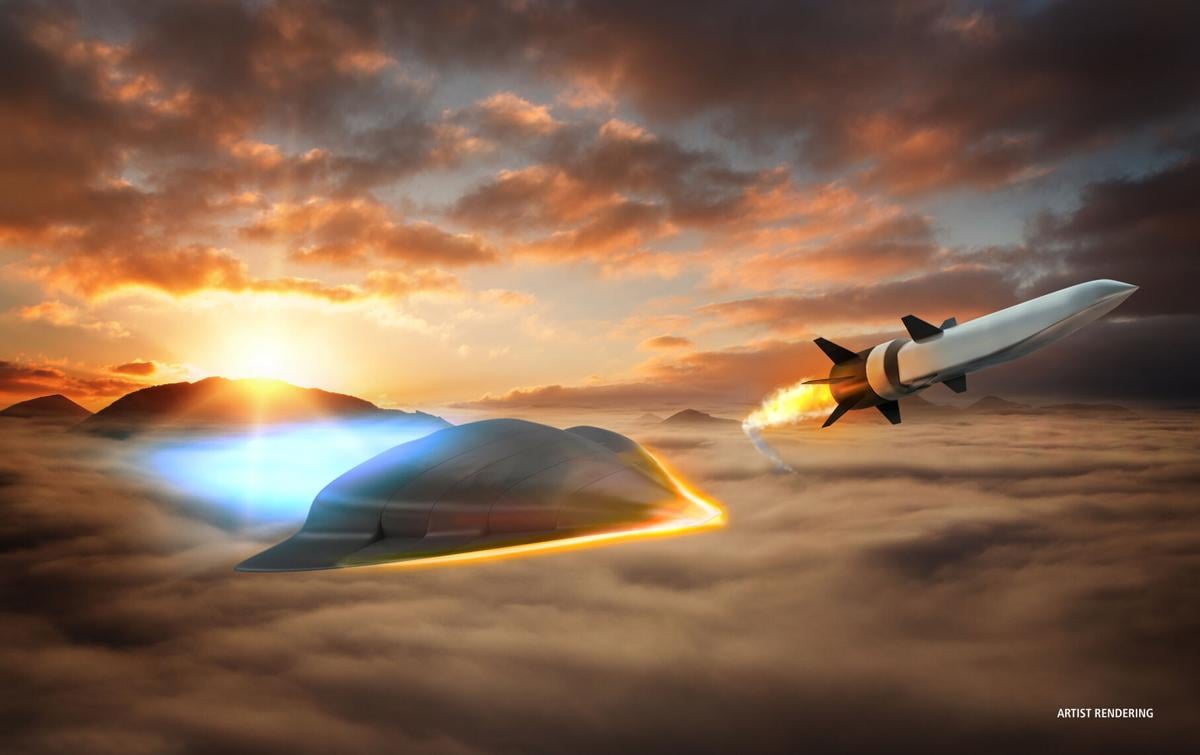 Tucson-based Raytheon Missiles & Defense has been awarded a new contract to develop an air-launched hypersonic missile, as the Pentagon looks to accelerate development of the ultra-fast weapons in response to recent testing of hypersonics by Russia and China.
In mid-June, the Air Force awarded separate development contracts to Raytheon, Boeing and Lockheed Martin as part of the initial phase of a program known as the Southern Cross Integrated Flight Research Experiment, or SCIFiRE, a cooperative program with Australia to develop hypersonic capabilities.
Raytheon was awarded $33.7 million, while Boeing was awarded $47 million and Lockheed got $33.5 million under the SCIFiRE program, which aims to develop a solid-rocket boosted, air-breathing, hypersonic conventional cruise missile that can be launched from existing fighter or bomber aircraft.
Hypersonic missiles are designed to fly at sustained speeds above Mach 5, or five times the speed of sound, with the ability to maneuver at high speed at altitudes that avoid long-range radars.
Hypersonic missile testing by China and Russia — which recently announced a successful flight test of a hypersonic missile that flew at Mach 7 — has led to a hypersonic arms race of sorts as the Pentagon rushes to counter development of the hard-to-hit weapons.
Raytheon also is working to develop the Hypersonic Air-breathing Weapon Concept (HAWC) system and the Tactical Boost Glide system for the Air Force and the Defense Advanced Research Projects Agency.
The company also is involved in the Navy's conventional "prompt strike" hypersonics program and the Army's long-range hypersonic weapons program, along with other classified hypersonic and counter-hypersonic programs.
Rival Lockheed Martin is developing the Air-Launched Rapid Response Weapon (ARRW), a so-called boost-glide weapon that is propelled to hypersonic speeds on a rocket before separating and gliding towards a target.
Overall for fiscal 2022, the Pentagon has requested $3.8 billion for hypersonics research — up from $3.2 billion in 2021.
But the House Appropriation Committee has proposed cutting requested fiscal 2022 funding of $161 million for the ARRW program by $44 million, citing test delays.
The ARRW program suffered a setback in early April, when the first booster flight test of the weapon system failed to launch from a B-52 bomber off the California coast.
There is wide support for hypersonic missile development in Congress, but only the most promising concepts will win funding, said Loren Thompson, chief operating officer of the Lexington Institute, a Virginia-based policy institute.
"Hypersonics are the flavor of the year at the Pentagon, but it's not clear all of the programs will go forward," Thompson said.
Others question the wisdom of fast-tracking hypersonics development.
Some military experts say the hypersonic missile capabilities of Russia and China are likely overstated, citing the difficulty of hypersonic development and their history of touting technical achievements as a propaganda tool.
Meanwhile, the Union of Concerned Scientists recently released a technical analysis concluding that "hypersonic weapons offer few meaningful advantages over existing missiles in terms of speed, maneuverability, accuracy, stealth, or the evasion of missile defenses."